Cadillac Unveils Elmiraj Concept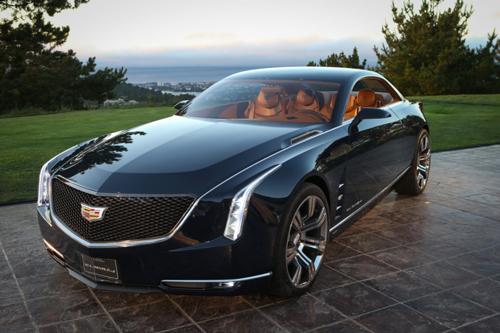 We're not sure how to pronounce the name of Cadillac's newest concept, but one thing is clear — it oozes elegance — which is exactly what the automaker was going for. "The Elmiraj Concept showcases a new vision for luxury driving and the top of the brand's expanding range," Cadillac said in a statement.
The rear-wheel-drive coupe is 205 inches long and offers seating for four passengers. It's a follow-up to the popular Ciel convertible and builds off that concept's long, lean body and bold, provocative face.
Under the hood is a twin-turbocharged 4.5-liter V-8 good for an estimated 500 hp and 500 pounds-feet of torque. The concept's two hood vents are functional, acting as hot air outlets for the twin turbo. It may look powerful on paper, but the Elmiraj checks in at a portly 4,000 pounds.
But will Cadillac build it? Unlikely, though Cadillac is developing a new flagship sedan. "Elmiraj is constructed with chassis and structural elements of an ongoing Cadillac vehicle development project slated for future production. This new vehicle architecture expands the brand's commitment to lightweight RWD [rear-wheel-drive] performance, exemplified in the ATS sport sedan and the all-new and elevated 2014 CTS launching this fall in the U.S.," the automaker said in a statement.
Check out the photo gallery below.
Related
Cadillac Ciel Concept: First Look
More Cadillac News
More Photos Galleries