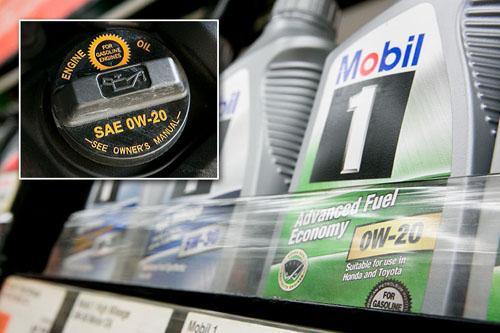 CARS.COM — Compact car shoppers may not be too happy when their budget-friendly car requires a $40 — or more — oil change. Automakers including Honda and Toyota are almost exclusively switching from well-known 5W-30 and 10W-30 oils to low-friction, and pricier, 0W-20 engine oils. The slippery low-friction oils helps squeeze every last bit of fuel economy out of the engine, but their synthetic and synthetic blend man-made origins raise the cost of routine maintenance.
Cars.com received its first taste of 0W-20 oil — not literally, the car was serviced at a dealership — when the 2013 Subaru BRZ long-term tester's first oil change totaled $76 with full-synthetic 0W-20 oil. The pricey oil isn't just for sports coupes like the BRZ. Our other long-term tester, a 2013 Honda Civic, is a best-selling car every month and requires the exotic-sounding 0W-20 oil.
Changing a 2013 Honda Civic's oil is roughly a $40 service with the recommended blended synthetic 0W-20, which is much easier to swallow than the $76 for our BRZ that uses full-synthetic oil and more of it at $7.69 per quart. Most owners are probably more familiar with $20 or $30 oil changes from express-oil-change service centers. The switch to 0W-20 engine oil has been a gradual transition over the years; a 2007 Toyota Camry four-cylinder recommends 0W-20 or 5W-20, for example, and many inexpensive cars require the expensive oil.
"Every new Honda and Acura vehicle currently on sale recommends using 0W-20 oil except for the SH-AWD version of the 2013 Acura TL, which recommends 5W-20," said Honda spokesman Chris Martin in an email.
Breaking down the 0W-20 code, "0" is the oil's viscosity at startup when the engine is cold, "W" stands for its winter certification, and "20" is the viscosity at higher temperatures. Lower numbers designate thinner, lower-friction oil. An additional perk of the thinner oil at startup comes with improved cold-start emissions, according to Martin.
Pennzoil's technical data for its 0W-20 full-synthetic oil claims a 1.2% improvement in fuel economy over 10W-30. Not everyone should go out and ask for 0W-20 oil at their next oil change to improve fuel economy. An engine's recommended oil is still the best bet for maintaining a warranty.
"The limited warranty [Honda] is not automatically voided by using another oil viscosity, but if there is a problem with the engine that is linked to use of the wrong oil type, the cost of that repair may not be covered by the limited warranty," said Martin.
Dealerships aren't the only ones with 0W-20 oil, so do-it-yourselfers horrified by $40 and $70 oil changes can find 0W-20 on the shelf at auto parts stores. Pennzoil and Quaker State Technology Manager Jeff Hsu said their low-viscosity 0W-20 engine oils — available only in full synthetic or blended synthetic — are currently available for consumers to purchase in major automotive parts and supply stores in quart and gallon quantities.
Hsu fully expects the trend of automakers requiring 0W-20 oil to continue in the quest for better fuel economy. Here's the good news: Traditional 3,000-mile oil change recommendations are being phased out for 5,000-mile or more frequencies. Our BRZ didn't recommend an oil change for 7.5 months or 7,500 miles, whichever comes first.
Oil changes may be more expensive with the required 0W-20 weight oil compared to conventional oil, but only having to service the car once or twice a year keeps annual costs to nearly a wash.