Smart ForTwo Tops List of Most Embarrassing Cars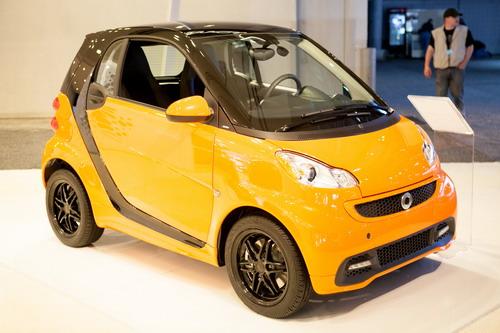 Drive a Smart ForTwo and you have one of the most embarrassing cars in America, according to a new survey by CarInsurance.com.
The Foster City, Calif., company asked 1,500 drivers age 25 and older to pick the most embarrassing car from a gallery of 12 current or recent vehicles: the Chevrolet HHR, Chrysler PT Cruiser, Nissan Cube, Smart ForTwo and Volkswagen New Beetle hatchbacks; the Chevrolet SSR and Subaru Baja pickup trucks; the Honda Element, Hummer H2 and Pontiac Aztek SUVs; the Lincoln Town Car sedan; and the Nissan Murano CrossCabriolet convertible.
Respondents were asked to deem each car embarrassing or not and then ranked the three most embarrassing. The ForTwo pulled an '84 Reagan — it won by a landslide. (Or it lost by a landslide, depending how you see it, in which case it pulled an '84 Mondale.) Nearly half of the respondents said they'd be embarrassed to drive Smart's tiny hatchback, and a third said it was the most embarrassing car. The survey allowed respondents to specify a reason, including write-in options. "It looks like I couldn't afford a real car," CarInsurance.com says one respondent wrote.
A distant second was the Nissan Cube, followed by the Hummer H2, Chevrolet SSR and Volkswagen New Beetle. We have to agree with the options; after all, we've named some of them the
ugliest cars on the road
and others — like the ForTwo —
the worst
.
"I was really kind of shocked," Des Toups, the website's managing editor, told us. "We gave options because everybody can look at pretty much any car and find a reason to put it on a list like that."
Toups thought the PT Cruiser would win out. But its ubiquity may have blunted the disdain. Chrysler sold the iconic hatchback from 2000 to 2011 (the car spanned the 2001 to 2010 model years), according to Automotive News, and the nameplate accounted for 1.05 million cars in that span. That's more than 16 times the total from Smart's five years and counting.
As for car colors and accessories, survey respondents named purple (17% of the vote), bright yellow (16%) and orange (13%) as the most embarrassing car colors, though the answer "depends on the car" (38%) beat any specific color. Headlight eyelashes walked away as the most embarrassing car accessory, garnering 34% of the vote. The next two runners-up — "Fast and Furious"-style spoilers and a bumper sticker for a losing political candidate — combined for 33%.
So if you drive a purple car with headlight eyelashes and a giant aluminum spoiler, you might have something as embarrassing as a ForTwo. But a Mondale '84 sticker would really put you over the top.
Related
Top 10 Ugly Cars
Worst Cars of the 2000s
More Top 10s