What to Drive to the World's Biggest Classic-Car Cruise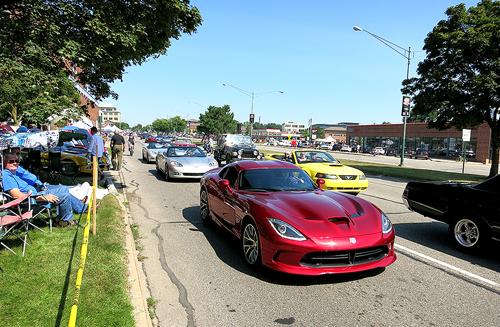 The Woodward Dream Cruise happens every year on the third Saturday in August as it has since 1995, when a group of volunteers decided to try and relive their youth from the 1950s and 1960s, back when evening entertainment in the Motor City often involved aimlessly cruising up and down the well-known street.
What to Drive to Your High School Reunion
The street is M-1, Woodward Avenue, stretching 25 miles from the heart of Detroit into the suburb of Pontiac, crossing a dozen communities and the sites of many former drive-in restaurants. Since its humble beginning, the event has become the largest classic-car gathering in the world, with this year's event reportedly drawing 1.5 million people and more than 60,000 classic and modern specialty cars over the course of roughly a week. It is the ultimate event for the classic-car enthusiast, and the perfect place to take a classic, interesting or just plain fun car.
It just so happened this year that I had a test car that met all three descriptors. In a sea of extraordinary muscle cars, classic rarities and outrageous iron, what could possibly make the spectators sitting on the side of the road drop their Big Gulps, quickly whip out cameras, yell encouragement, flash thumbs-up and even in one case burst into applause en masse?
How about the redesigned 2013 SRT Viper GTS coupe in stunning, eye-popping Stryker Red Tinted Pearl?
The folks at Chrysler figured the Viper and the Dream Cruise would be a good match, and they weren't kidding — I have never driven a car that received this much attention. It's a 10-cylinder, rumbling, snorting, snarling beast of a sports car. Even amid tens of thousands of amazing cars driving (or in many cases sitting and idling in traffic) up and down Woodward Avenue, absolutely everyone gave the Viper some love.
To see how it went, scroll through our photo story below.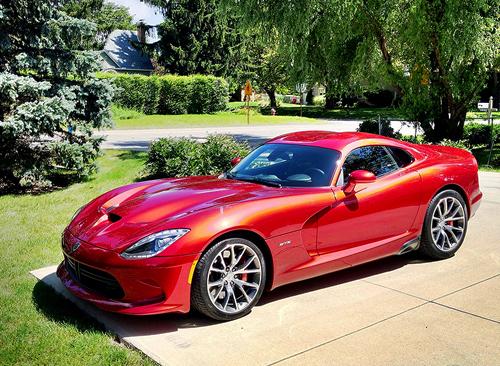 Imagine waking up in the morning to find that this has slithered onto your driveway! The 2013 SRT Viper GTS coupe, equipped with an 8.4-liter V-10 making 640 horsepower and 600 pounds-feet of torque. The redesigned 2013 is a kinder, gentler Viper in much the same way that Raul Castro is a kinder, gentler Castro.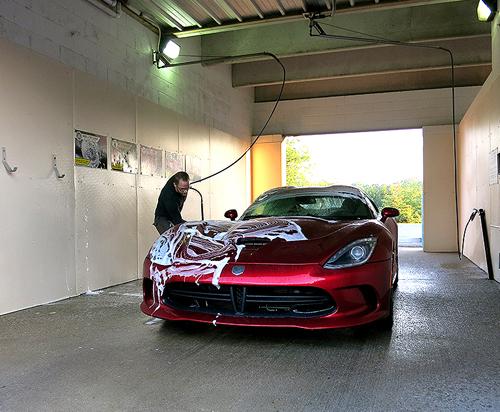 Before heading to the Dream Cruise, you gotta wash off the bugs and grime that accumulate at seriously fast speeds! Automatic car wash? Not on your life — this Viper is covered in Stryker Red Tinted Pearl paint, a (get ready for this) $14,600 option. That is not a typo.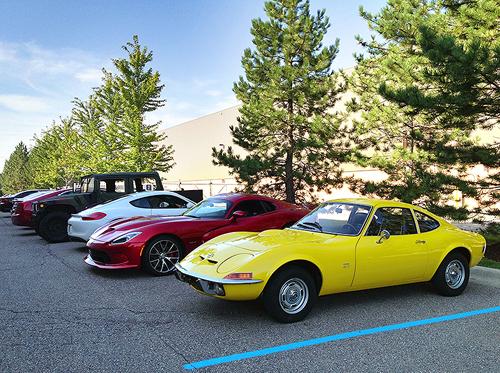 Starting the day off in enemy territory, the Viper visits the GM Heritage Center for a press breakfast. GM maintains a secret museum that isn't open to the public, but sometimes media folks are allowed in for special events. The bright yellow Opel GT belongs to the global quality communications guy at GM.

Any time you get invited to visit the GM Heritage Center, you go. The company has a collection of more than 400 significant, concept, one-off prototype and production cars from its 100-plus years of history, a rotating hundred or so of which are on display at any given time.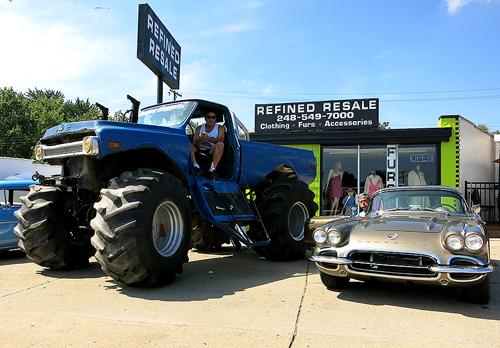 Out onto Woodward, where you see all sorts of metal at the Dream Cruise. Regardless of what people were driving, all eyes fixated on the Viper as it rumbled past.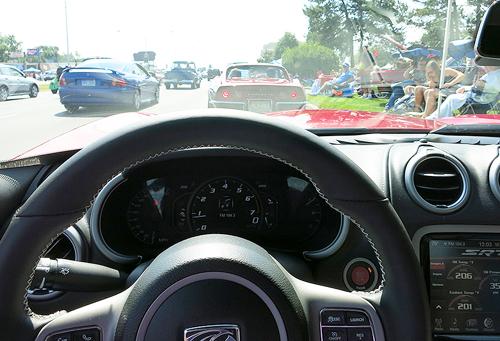 The view out isn't an easy one — a super-low roof means you're always hunched down to see out of the bunker-slit windshield, and stoplights can only be viewed by their reflections on the Viper's shapely hood. Please don't comment about the safety of taking pictures behind the wheel. Average speed at the Woodward Dream Cruise is actually walking pace, so thick is the traffic.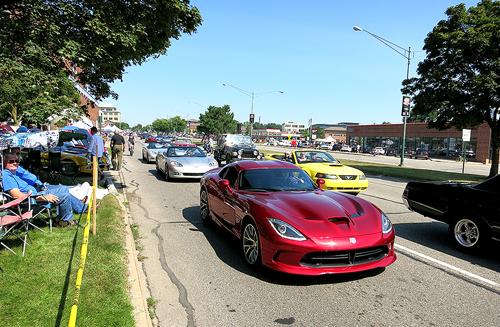 I'd stop and stare too, if I saw me rolling by! Aside from the Crusher Orange Viper TA at the Chrysler display (all automakers rent out huge areas for vehicle displays and parties), mine was the only 2013 SRT Viper I saw all weekend.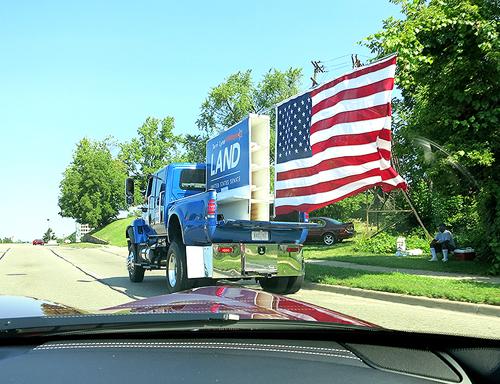 Politicians use the Woodward Dream Cruise as great free advertising for local votes. Here, one of Michigan's prospective U.S. Senate candidates makes a subtle appeal for support. Hint: She's not representing the Green Party.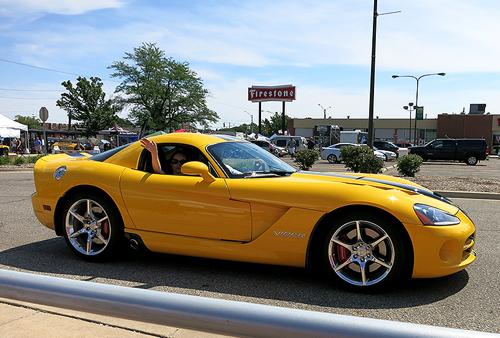 While 2013 models were scarce, previous model years were out! Here's a beautiful fourth-generation Viper SRT-10 rolling by.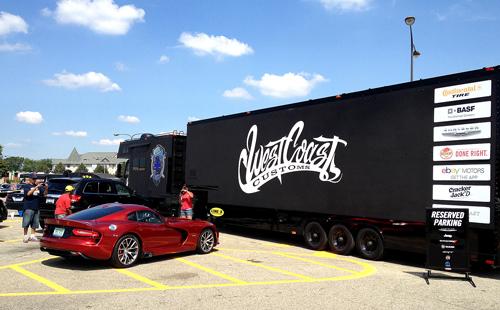 Finding parking along Woodward Avenue during the Dream Cruise will either cost you serious coin or generally be impossible. Unless, of course, you have a brand-new Viper and roll up to the Chrysler display. VIP parking? Don't mind if I do!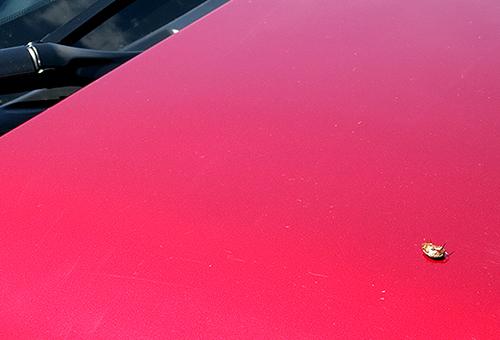 That 8.4-liter V-10 puts out some serious heat. How serious? After cruising (actually, sitting in traffic) all morning and parking for lunch, a fly landed on the hood of the Viper — and promptly expired.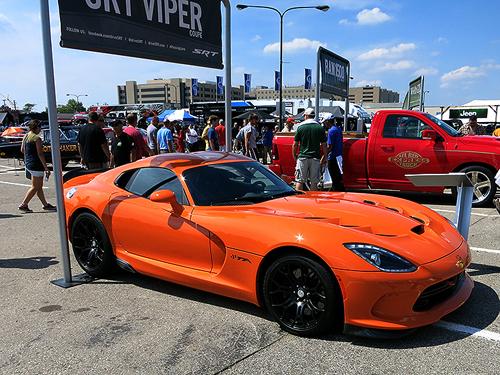 Chrysler had a huge parking lot in a key spot filled with significant vehicles from the past and present. Here's the 2013 SRT Viper TA (for "Time Attack") — a track-focused, hard-edged version of the Viper intended to slot in between the base and the GTS.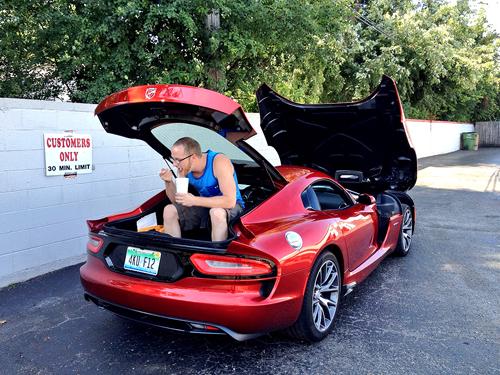 That hot V-10 engine and those side-exit exhausts can cook you in a hurry, especially in bumper-to-bumper cruise traffic. We took a break to cool off both man and machine with frosty chocolate milkshakes.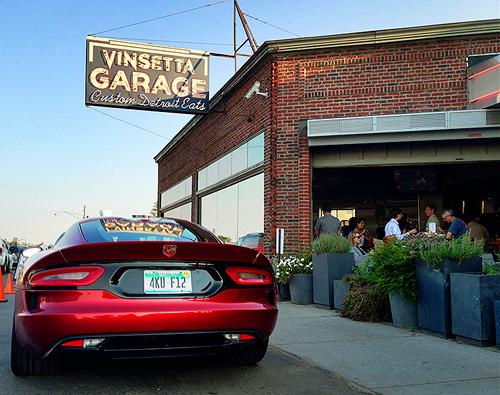 Dinner at one of the Detroit area's hottest new eateries. The new Viper gets special parking placement from the valets on account of, well, being a new Viper.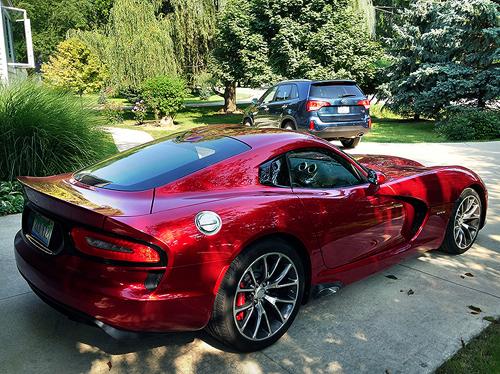 It was an amazing weekend in a fantastic car. And lest you think that my life is all supercars and luxury rides, here's what I swapped the Viper for the subsequent week. Balance is important, I suppose.
Related:
2013 SRT Viper: First Drive
2013 SRT Viper GTS at Roebling Raceway Video
More Sports Cars on Cars.com