Are Backless Booster Seats Safe Enough?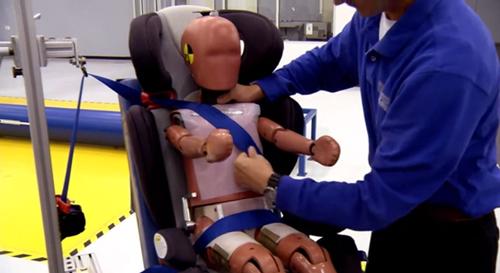 For most young kids and their parents, graduating to a booster seat is a highly anticipated event. No more fighting with the maddening clips, clasps and buckles of a five-point harness every time the child gets in or out of the car. The prospect of a self-sufficient child who can climb in and buckle up independently looks pretty good, but the booster you choose can be the difference between life and death for your child.
Even though backless booster seats may look more "grownup" than their bulkier high-back counterparts (not to mention easier to deal with if switching it between caregivers' cars), they're generally not regarded as the safest option. A study by a United Kingdom consumer organization found that nearly half of the children between the ages of 4 and 12 who ride in a backless booster are "at risk of serious injury if the car in which they are travelling in is hit from the side."
It doesn't take a scientist to understand the physics. Just
watch the video
and you'll see what might happen to your child in a side-impact crash while riding in a backless booster, as opposed to a high-back booster.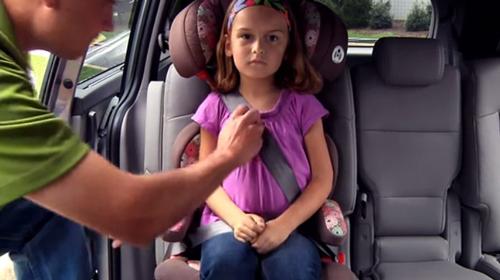 High-back booster seats have the added benefit of being more comfortable for youngsters who still have a tendency to nap in cars. It allows them to rest their heads against the head restraint, rather than flopping forward over the seatbelt buckle.
While this video will hopefully be enough to sway parents of the youngest booster-seat riding children toward high-back boosters, we have to balance this information with reality. At some point in time, it may make sense to switch your older school-age kids into backless boosters. My youngest two daughters (ages 9 and 11) still ride in booster seats occasionally, depending upon their fit in the specific test cars we're driving. However, they would be wildly embarrassed to go through the carpool lane in their old high-back Britax Parkway booster seats with side-impact protection. At some point in the past two years, we've switched over exclusively to our backless Cleck Olli seats or the highly transportable Bubble Bum booster seats.
For more information on the safety and proper fit of different booster seats, check out the Insurance Institute for Highway Safety's most recent booster seat evaluations here.
Related
Is a Luxury Booster Seat Worth It?
IIHS Names 47 Booster Seats Best Bets
More Family News