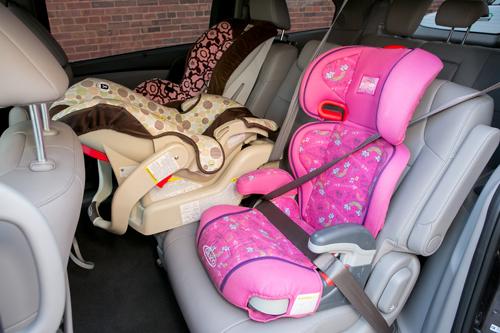 Child Passenger Safety Week, which runs today through Saturday, puts the spotlight on keeping our kids safe in cars, but for parents, car-seat safety should be a focus throughout the year. Child-safety seats can be confusing — what type to get, how to install it, when to switch to a new one — so we've put together a resource guide to help answer those common questions and ensure kids stay safe in the car every day.
Which Seat is Right?
The National Highway Traffic Safety Administration's Right Seat campaign aims to answer this question. The agency's site walks parents through what seats are appropriate from birth through age 12 as well as keeps parents up-to-date on the latest child-safety-seat guidelines and regulations. To check it out, click here. The Insurance Institute for Highway Safety takes a different angle when answering that question. It rates booster seats in terms of fit and usability, ranking them from Best Bet to Good Bet and Not Recommended. Click here for the agency's results. NHTSA has a similar rating system that covers infant seats, convertibles and boosters.
How Do I Install My Car Seat?
You might think the hard part is over once you've figured out the right seat, but installing it correctly is just as important. NHTSA offers step-by-step videos on how to install all types of child-safety seats. Click here to check them out.
Where Can I Get it Inspected?
NHTSA estimates that as many as three out of four child-safety seats are improperly installed or the child improperly restrained within the seat. While it may look and feel good to you, it's important to have the car seat inspected by a professional. Click here to find a certified child safety seat installation technician and car seat checkpoint near you.
How Do I know if it's Been Recalled?
Once your seat is installed correctly, the danger isn't over. A safety recall could put your child at risk. Sign up to receive recall emails, and find out if your child-safety seat is affected.
Lastly, if you're car shopping, you'll need to make sure your new vehicle and your car seat are compatible. Cars.com editors Jennifer Geiger and Jennifer Newman are not only moms, but certified child safety seat installation technicians. We install three car seats in nearly every car the editors test-drive, testing room, ease of Latch use and overall fit. Check out our Car Seat Checks.
Related
Child-Safety Seat Use Drops As Kids Age
NHTSA: Car Seat Enforcement Pays Off
NHTSA Unveils New Test Dummy and Child Seat Guidelines