Toyota World Hybrid Tour Shows What We're Missing
Toyota is flexing its hybrid chops with a special traveling road show of the company's hybrid cars. The automaker recently brought the automotive media to a private test track in southeast Michigan to try out not only the cars it sells in the U.S., such as the venerable Prius and Camry Hybrid, but also a selection of international offerings that aren't available here. We were treated to a closed loop handling course followed by a highway-speed 3-mile oval and all day to drive the hybrid vehicles as many times as we liked.
Perhaps the biggest take-away from this event is how differently Toyota tunes its vehicles depending on the market in which they're sold.
The offerings sold in Toyota's Japanese home market were ponderous, cushy and not meant for aggressive driving. The European vehicles felt nimble and quick, and the American cars somewhat bridged the two. Material quality is also vastly different: Interiors on the Japanese market cars are the luxurious, high-quality Toyotas we remember from our youth, not the current hard plastic, blocky surroundings that adorn modern American Toyotas. Click through below to see some of Toyota's more unusual hybrids from other markets — as well as a sneak peek at a model some Toyota officials suggested we pay special attention to.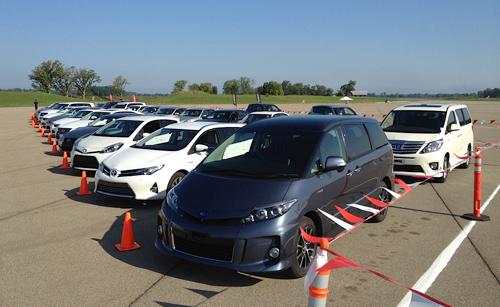 Hybrids, hybrids, everywhere! Toyota brought two-dozen hybrids and electric vehicles for the assembled media to drive — some stuff we don't currently get in the U.S. and some we never will. All four Prius models were present, as were the Camry, Avalon, and Highlander hybrids. Lexus had its hybrids out as well, including the LS, RX, ES, GS, CT and European IS models. But you've seen those before. We're going to look at the stuff you may not know about.
Toyota Yaris Hybrid
The smallest hybrid offered in Toyota's U.S. lineup is the Prius c, but there's another option in Europe: the Yaris Hybrid. It features a 1.5-liter four-cylinder engine and just 100 horsepower, getting it from zero to 60 mph in a relaxed 11.8 seconds. The upside is an astonishing maximum fuel-economy rating of nearly 76 mpg in European urban testing.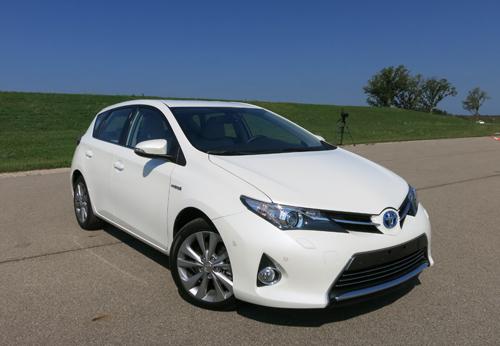 Toyota Auris Hybrid
Another option the Europeans have is the Auris Hybrid, which is available in five-door hatchback or "Touring Sports" (wagon) form. Take a good look at these two because Toyota unofficially hinted that they could make an appearance in the U.S. soon (that hybrid wagon might make an interesting replacement for the discontinued Matrix, no?). Featuring an independent rear suspension, Auris Hybrids felt light and tossable, if rather underwhelming accelerating up to highway speeds. Low-speed maneuvers were quick and surprisingly enjoyable, however. They're Corolla-sized, get up to 65 mpg in European urban testing and are actually attractive.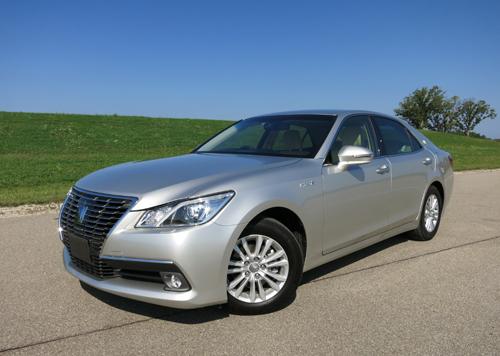 Toyota Crown Royal Saloon
Over to Japan now. This beast was the star of the show. It's a Toyota Crown Royal Saloon and it's only available in Japan. This is the Lincoln Town Car of the Japanese domestic market; a big, floaty, immensely cushy and comfortable sedan used primarily as a taxi and executive express or an older gentleman's personal car (average customer age is more than 60 years old). This one is the hybrid version, with a 2.5-liter four-cylinder engine and electric system powering the rear wheels (it shares its platform with the Lexus GS).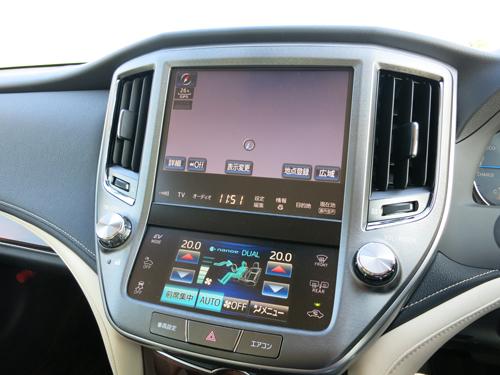 It makes 217 hp in hybrid guise and is mated to an eight-speed automatic transmission, but it has to move nearly 4,177 pounds of car. That hybrid system does manage to net the Crown Royal nearly 55 mpg in Japanese fuel-economy testing, however.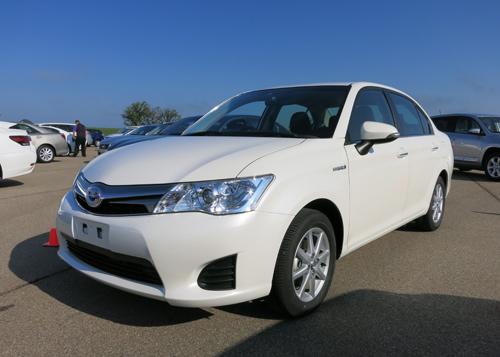 Corolla Axio Hybrid G
Want something a bit smaller and more affordable? Here's the Japan-only Corolla Axio Hybrid G, a compact sedan with a 1.5-liter engine and 100 hp. It's nothing special to look at and is slower than a molasses milkshake, but it's affordable at just 2.075 million yen, or slightly more than $21,000. And it gets nearly 78 mpg in Japan-cycle testing.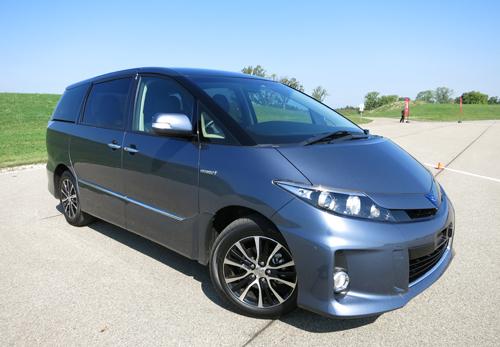 Toyota Estima HV
Back in 2001, Toyota introduced the world's first hybrid minivan in Japan. The Estima HV is still only in Japan, and that's a shame. This tall, narrow but comfortable minivan would be a unique addition to its U.S. lineup. Its hybrid system uses a 2.4-liter four-cylinder engine to produce a healthier 190 hp, but it's still slow — zero to 60 mph in 10.8 seconds (your average Toyota Sienna does it in 7.7 seconds). It's tippy, ponderous and slow to react to directional inputs, but it looks cool and returns a respectable 47 mpg.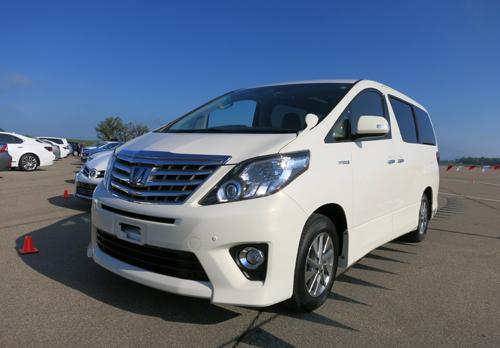 Toyota Alphard HV
For the ultimate minivan experience, try this on: the Alphard HV. Yes, it's a special kind of ugly on the outside, but on the inside, the Alphard has the comfort and technology to rival the Mercedes-Benz S-Class. High-quality leather, wood and thick carpets combine with fully reclining power passenger seats to make this the ultimate limo.
Its 2.4-liter four-cylinder hybrid powertrain makes only 168 hp, and with 4,400 pounds to haul around, it's not going anywhere quickly. The Alphard is not about speed; it's all about luxurious shuttling around town or between cities while getting about 40 mpg. Like the luxury of a Lexus LS but want an upright seat and tons of headroom? The Alphard is for you.
Related
Toyota To Build 20 New Hybrids Globally by End of 2015
Cars.com Reviews 2013 Toyota Highlander Hybrid
Search for Hybrids on Cars.com