2013 Honda Civic: Road Trip Report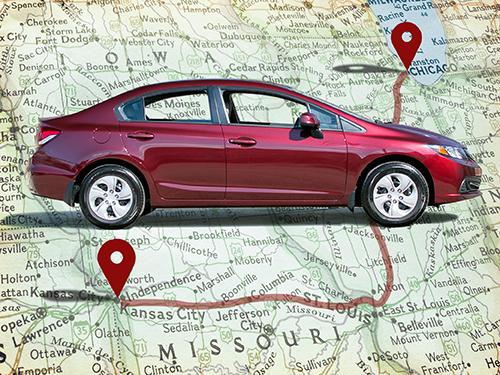 When I think "long trip," the words "compact sedan" aren't what come to mind. Many hours behind the wheel of an entry-level car crammed with three adults, one child and loads of luggage doesn't sound pleasant, but in our long-term Honda Civic it was actually pretty close.
Follow Our Long-term Test Cars
I recently took the sedan on a trip from our downtown Chicago headquarters to Kansas City, Kansas, and the Civic managed to get us and all of our stuff there without breaking the bank. During the 1,061.7-mile highway trip, I traveled an average speed of 55 mph and got an impressive 35.6 mpg; the sedan is EPA rated at 28/39/32 mpg city/highway/combined.
Fuel economy is great, but how comfortable could you be spending 17 hours in a Civic?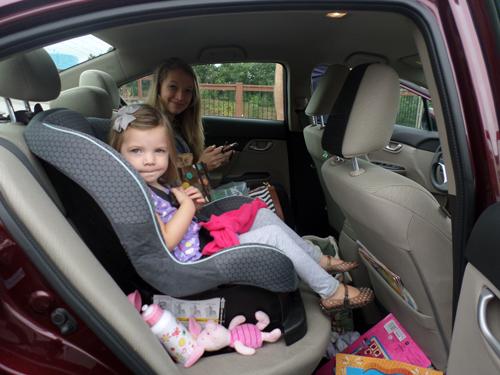 During the first few hours, I had no complaints. The seats in our LX trim level were adequately comfy, visibility good and the only thing missing was satellite radio. Streaming Pandora internet radio from an app on my phone worked, but only some of the time; I frequently lost the connection driving through rural areas.
Connecting devices was a breeze; the Civic offers lots of connection options, and they're all in handy places. There's an auxiliary input port and a 12-volt power outlet under the instrument panel and a USB port in the center console; we put all to use with our phones, a tablet and an iPod.
Surprisingly, cargo room wasn't a problem either. We were headed to a wedding, and I was worried that all of our extra gear wouldn't quite fit in the compact sedan's trunk. I was wrong. In terms of space, it trails the competition, however, with just 12.5 cubic feet of room in the trunk. The Nissan Sentra (15.1), Ford Focus (13.2) and Kia Forte (14.7) [JLB1]all offer more.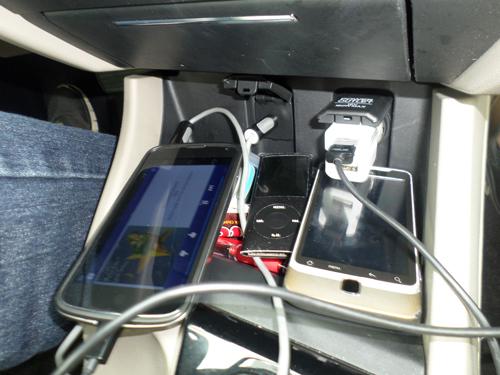 What got on my nerves after a couple hundred miles was the ride quality. Though I've always felt it's on the hard side, it wasn't that big of a deal during my shorter drives. After several hours, the firmness started getting tiresome. It's not a deal breaker, but one definite shortcoming of an otherwise pleasant sedan.
The worst part of the drive was making it through an evening thunderstorm. Though I normally like the gauge cluster setup (large, colorful info screens directly in front of the driver), they create a distracting glare on the windshield at night. Add in driving rain and visibility quickly became very poor. It could've been worse, however.
Long-term fleet editor Joe Bruzek took care of one important maintenance issue right before I left on the trip: The standard wipers were completely shot after just six months of use. "The streaky wipers left sightlines blurred and important things like road lines and pedestrians in a fog. The Civic does sit outside overnight, though, so maybe being exposed to the elements destroyed the wipers quicker. I even wiped the blades before replacing them to make sure it wasn't just a dirty blade. Nope. They were trashed," Bruzek said. He replaced the faulty blades with Rain X wipers for $32.45, and they were well worth it.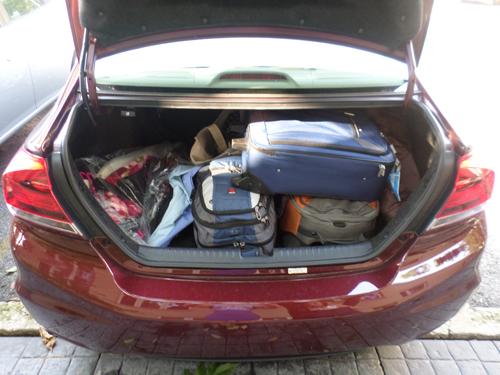 Firm ride and averted wiper crisis aside, the Civic was overall an agreeable traveling partner. Two important things that make for a successful road trip are comfort and fuel economy. During my trip, the Civic did a pretty good job of delivering both.
Related
Research the 2013 Honda Civic
2013 Honda Civic Review
We Bought a Honda Civic, And It Wasn't Easy