2014 Corvette Stingray Front Plate Stays Legal, Looks Good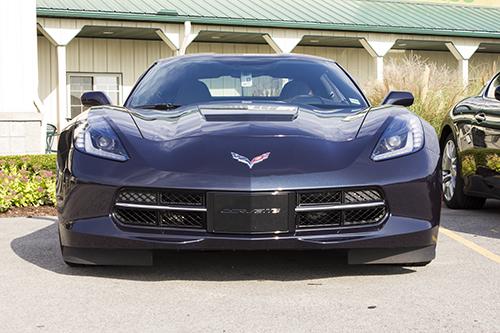 One of the most painful moments of owning Cars.com's 2013 Subaru BRZ took place on day one when the dealership drilled holes in the front bumper for a front license plate bracket. Few sports cars wear a front license plate stylishly — our BRZ certainly doesn't — which is an unfortunate reality faced by many in the 31 states requiring a plate not just on the rear bumper but also the front.
The 2014 Chevrolet Corvette Stingray's new grille-mounted Aero Cover puts the budget supercar on the short list of sports cars that wear a front plate nearly seamlessly.
Kirk Bennion, Corvette's exterior design manager, says owners' biggest complaint about the previous-generation Corvette was how it wore a front license plate. We sympathize. Those Corvettes' looked like a buck-toothed beaver with the plate positioned smack dab in the front bumper's crease or in some other unsightly location.
The 2014 Stingray's Aero Cover is considerably less intrusive, fitting flush with the front grille. Plus we give Chevrolet bonus points because the cover doesn't require any drilling or maiming of the front bumper to install. Push-in clips on the brackets' backside grab onto the grille and only need a few screwdriver turns to secure once clipped into position. The bracket is just as easily removable, which racers will need to do at the track. Bennion says that while the Aero Cover actually reduces drag, he warns it should be removed for maximum cooling system airflow once on the track.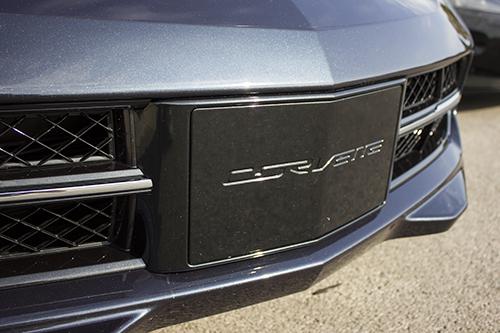 The Aero Cover is standard on all 2014 Corvettes, according to Chevrolet Corvette Product Manager Harlan Charles, while an optional carbon fiber cover is an available accessory. Owners in states with a height requirement for the front plate will need a $15 front license plate bracket — separate from the Aero Cover — that positions the plate slightly above the grille and on the 'Vette's nose. That bracket is included when shipped to states that require a front license plate, so check your state's front license plate law to determine whether you can use the Aero Cover.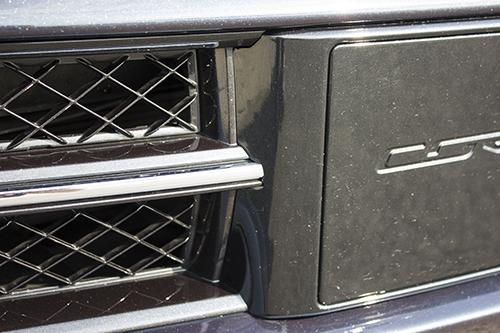 No matter which you choose, the Corvette's dark grille lends itself to the specialty dark license plate some states offer that may blend in more sleekly than a standard plate design. In Cars.com's home state of Illinois, a predominately black White Sox plate may look good enough in the Corvette's front Aero Cover panel for even a Cubs fan to buy.
Related
More Corvette News
2014 Chevrolet Corvette Stingray Review
2014 Chevrolet Corvette Stingray: Photo Gallery