2014 Kia Sorento: Family Checklist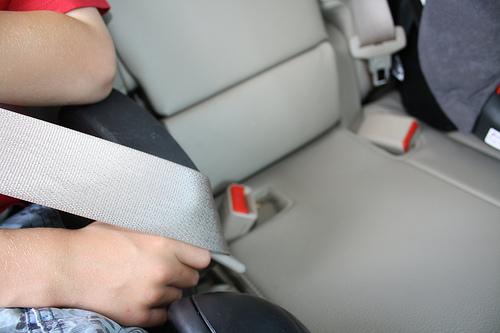 I recently read the novel "Beautiful Ruins" by Jess Walter, which features a small hotel nestled in an uncelebrated town along the northern Italian coast. This hotel's name translates to "Hotel Adequate View." This seems like an unflattering name, but the hotel's existence and merits are simply overshadowed by the posh hotels in the surrounding towns.
The 2014 Kia Sorento could be similarly called "Midsize SUV Adequate Performance, Price and Looks." In a crowded market segment that's full of superstars, the unassuming Sorento deserves a look. It offers solid satisfaction and is acceptable for most people's daily needs.
My test car, a Sorento EX, came with the available 3.3-liter V-6 engine that produces 290 horsepower. It also had available all-wheel drive that directs power to the tire with the most traction. The ride quality, acceleration and handling were all agreeable. I was able to maneuver in and out of tight city spots and pass others on the highway without too much struggle. The Sorento even handled a winding canyon climb without hesitation. The only thing that's not entirely satisfactory about the V-6's performance is its EPA-estimated 18/24/20 mpg city/highway/combined.
When it comes to looks, the Sorento plays it safe. From the outside, it looks like most crossovers roaming the streets, and though the inside has a bit too much black plastic to be called elegant, it's pleasant enough. The front seats are comfortable, and Kia's UVO multimedia system, which controls navigation and audio, is easy to use.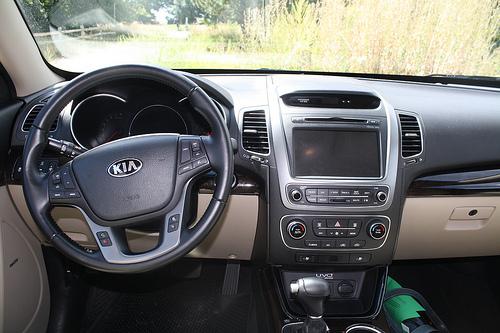 The Sorento can seat five or seven with an optional third row ($1,200). My test car had just two rows of seats, and my family found the backseat to be cramped and uncomfortable, especially for adults. The Sorento has 38.8 inches of rear legroom. That beats the five-seat Dodge Journey's 36.1 inches, but the Ford Edge bests it (39.6). A convenient 40/20/40-split folding backseat and reclining seatbacks improve things a bit, but since the rear seats don't slide forward and back, legroom is eternally limited.
When it comes to getting children in the Sorento, mine could climb in and out easily and all but my youngest, age 3, were able to open the doors.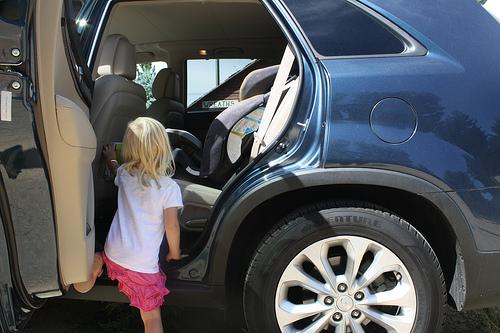 The second row isn't wide enough to fit three child-safety seats, so folks like me who have three kids in safety seats might want to consider the available third row, but be warned that by the numbers, the third row's legroom looks tight at 31.7 inches. The two-row Sorento's two sets of lower Latch anchors are situated in the folds of the seats. They were tough for me to use due to the stiff leather seats. Rear-facing car seats will likely be a tight fit.
The new-for-2014 height-adjustable power liftgate is great, but it's part of a $4,400 optional package that also includes a blind spot warning system, a panoramic sunroof and ventilated front seats.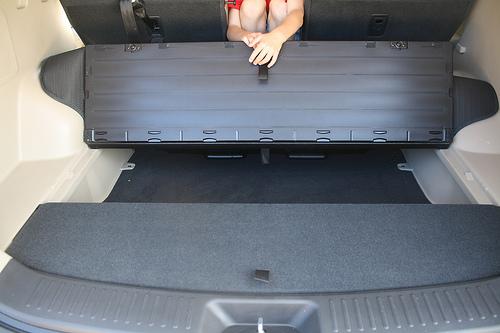 With my gaggle of young ones, storage is important. The Sorento's cargo area has 36.9 cubic feet of space behind the backseat; the Journey has 39.6 cubic feet and the Edge, 32.2. I especially appreciated the handy under-floor storage in the cargo area. Throughout the cabin, storage for smaller items is somewhat limited, but there is generally enough for day-to-day life.
The same goes for the 2014 Sorento itself: It is enough for day-to-day life. It's not extravagant or exaggerated, but it's perfectly adequate and that's not a bad thing.
Related
2014 Kia Sorento Video
2014 Kia Sorento Photo Gallery
More Family News