GM Offers Siri Eyes Free Integration on Six More Vehicles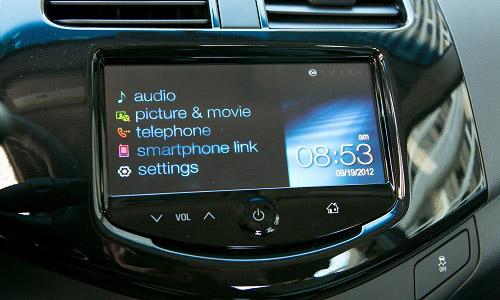 Look for Siri Eyes Free Integration on a host of 2014 GM vehicles. Previously offered on the Chevrolet Sonic and Spark, Apple's voice-activated "intelligent assistant" — requiring neither the driver's hands nor eyes for use — will now be available on the Chevrolet Camaro, Cruze, Equinox, Malibu, SS and Volt, the automaker announced Monday.
Through the vehicles' available Chevrolet MyLink multimedia system, users with a compatible iPhone running the iOS 6 or iOS 7 operating systems can direct Siri to perform a number of tasks while they keep their eyes on the road and hands on the wheel. To use the feature, motorists connect their iPhone with the MyLink radio via Bluetooth, pair with the system and use the steering-wheel voice-activation button to begin and end sessions. In addition to the feature's no-look use, it prevents the iPhone's screen from lighting up, further mitigating distraction.
Siri in Eyes Free mode allows users to:
Make voice-activated calls to iPhone contacts
Play songs in their iTunes libraries and iPods, or switch to AM/FM or satellite radio
Listen to, compose and send text messages to phone numbers or saved contacts
Access calendars and add appointments
Related
iPhone's Siri makes its way to the Spark and Sonic
Cadillac CUE to Get Update in March, Includes Apple Siri Integration

More Car Gadgets News on Cars.com