Dodge's Centennial Brings Special Editions to 2014 Charger, Challenger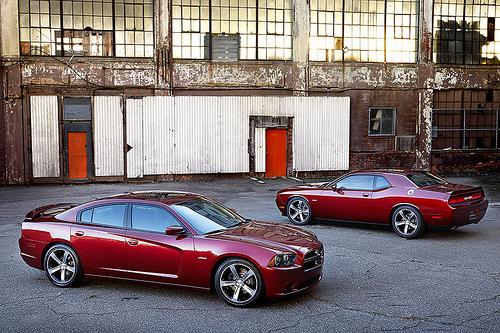 In addition to a Charger- or Challenger-shaped birthday cake with 100 candles that will surely be served at its headquarters, Dodge is releasing special editions of the 2014 Charger and 2014 Challenger to commemorate the brand's centennial.
More 2013 Los Angeles Auto Show Coverage
Both packages feature an exclusive and optional High Octane Red Pearl exterior color, special wheels, commemorative badges, leather interior and other interior appointments. In all, it's about what you'd expect in a centennial package, plus a little extra.
The Charger 100th Anniversary packages start life as an SXT Plus trim level with a 300-horsepower V-6 and an eight-speed automatic transmission and costs $32,290, including a $995 destination fee, or an R/T Plus trim level with 375 hp V-8 and a five-speed automatic transmission for $33,490. From there, the Charger's $2,200 package adds an attractive set of 20-inch five-spoke wheels, Beats by Dr. Dre stereo system, Nappa leather interior in a choice of two colors, brass-colored accent stitching and brushed graphite bezels for an industrial look, plus numerous "Dodge Est. 1914" badges and logos throughout the interior.
The speedometer's 100 mph mark that's painted red is a nice touch to call out the commemorative year. Let's not stop there. The package also includes a unique startup screen graphic on the Uconnect multimedia system's 8.4-inch touch-screen "evoking the industrious nature of Detroit," according to Dodge, and unique key fobs with jeweled logo on the back, customized owner's kit and to top it off, a commemorative book of Dodge's history.
The 2014 Challenger's package is essentially the same for $2,500, but instead of a Beats by Dr. Dre stereo system, the Challenger has a Boston Acoustics stereo system and the Challenger's 100th Anniversary Edition's unique startup graphic displays on a 6.5-inch touch-screen. The commemorative package is available on the SXT Plus ($29,290) and R/T Plus ($33,490) trim levels.
Both the Charger and Challenger 100th Anniversary packages go on sale in the first quarter of 2014.