Mercedes-Benz Concept GLA45 AMG at the 2013 L.A. Auto Show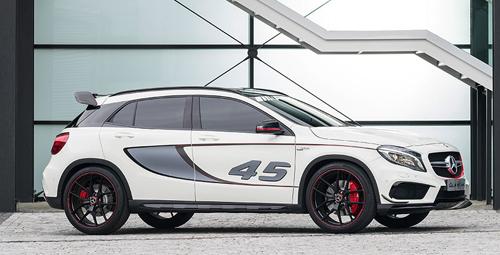 Looks like: A rally-ready version of the just-introduced GLA250 crossover
Defining characteristics: AMG engine, wheels, decals and more
Ridiculous features: Nothing that can't be optioned out
Chance of being mass-produced: Likely
The Concept GLA45 AMG is a not-very-concepty concept, which is to say it looks ready to turn into a real product — minus the decals and more aggressive body treatments, perhaps.
More 2013 Los Angeles Auto Show Coverage
The GLA-Class is based on the CLA-Class car, and the Concept GLA45 AMG understandably uses the same staggering 355-horsepower engine as the CLA45 AMG coupe. It's staggering only because it's a 2.0-liter four-cylinder, turbocharged to provide more output than any other production engine of its size.
Powering all four wheels through a Speedshift DCT seven-speed automatic transmission, the engine propels the crossover to 60 mph in less than 5 seconds, according to Mercedes. The 21-inch forged AMG wheels are matte-black with a red rim flange that complements the clearly visible red AMG brake calipers, which clamp slotted, cross-drilled rotors.
Matching gloss-black aerodynamic elements include a front splitter, rear spoiler and rear diffuser. The twin tailpipes are finished in gloss black. Mercedes says the sport exhaust system features electronically controlled vanes to reduce back pressure at high revs.
Should this concept turn into a real product, you can expect it to go without the decals and number 45 on the doors — but there's something about this design scheme that works. The GLA250 looks awkward, and this thing wears its strange proportions much, much better.
Click any image for a larger version.