Volkswagen CrossBlue Coupe Concept at the 2013 L.A. Auto Show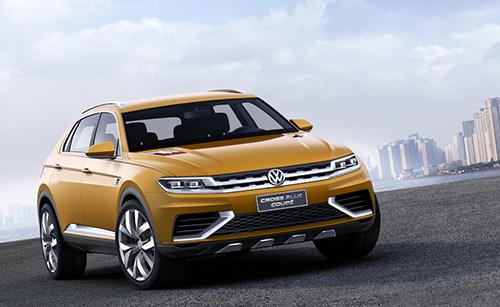 Looks like: A sporty take on VW's CrossBlue concept from this year's Detroit auto show
Defining characteristics: Plug-in hybrid drivetrain with emergency generator capability, sporty appearance, all-wheel drive
Ridiculous features: 22-inch wheels, rising dashboard controls, driving mode-synced ambient lighting
Chance of being mass-produced: A production version of this, or the larger CrossBlue, is likely for the U.S. market
First shown earlier this year at the Shanghai auto show, Volkswagen's CrossBlue Coupe concept makes its first U.S. appearance at the 2013 Los Angeles Auto Show. The concept features a plug-in hybrid drivetrain, seating for five and aggressive styling that provides a "glimpse at the future and at a new era of SUV design," Volkswagen said in a statement.
More 2013 Los Angeles Auto Show Coverage
Though Volkswagen calls it a coupe, the concept has four traditional doors. And it's not small. It's actually a few inches longer than the automaker's Touareg midsize SUV, but it has a wider stance and lower roofline. The concept has the same kind of stylish lines as the Land Rover Range Rover Evoque, a crossover that went from concept to production with relatively few design changes.
The CrossBlue Coupe is a plug-in hybrid that's powered by a turbocharged V-6 gas engine that works with two electric motors. Total output is 415 horsepower, and VW says it can go from zero to 60 mph in 5.8 seconds. Besides being quick, it can also travel a claimed 13 miles on electric power alone, which is supplied by a lithium-ion battery pack. VW says the concept uses the automaker's new modular platform and could accommodate conventional gas or diesel powertrains, too.
As concept cars go, the CrossBlue Coupe's cabin is relatively conventional, taking design cues from the automaker's redesigned Golf hatchback. It's fitted with premium materials like Nappa leather, aluminum and wood. The extensive amount of ambient lighting changes with the driving mode; it's orange in Eco and red in Sport.
Check out the gallery below.
Related
2013 L.A. Auto Show: What To Expect
Volkswagen CrossBlue Concept: Photo Gallery
More L.A. Auto Show News of Cars.com