What is Hyundai's Blue Link 'Community Average'?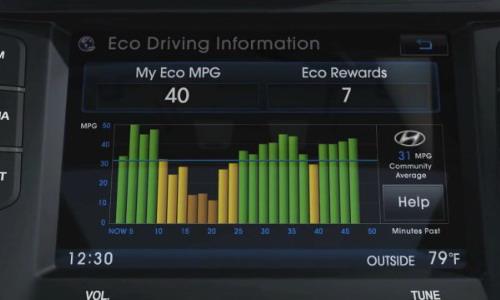 Like many telematics systems, Hyundai's Blue Link is chock-full of features. One of them, dubbed Eco Coach, is sure to interest efficiency-conscious drivers. It shows recent mileage and uses a point system dubbed Eco Rewards to incentivize efficient driving. Automakers from Ford to Toyota have similar systems (including Ford's dashboard shrubbery), but Blue Link also reports something called a Community Average of mpg.
We noticed it in an Equus sedan and Santa Fe SUV in the press fleet, so we asked Hyundai to explain. Is it some sort of average based on owners of the same Hyundai model? It's plausible, given the automaker could collect mileage data via telematics.
Not so much, it turns out. Hyundai says Eco Rewards simply accumulate as you drive more efficiency, and the Community Average comes from, well, a community of one: yourself. "The full roll out of the community value has not occurred yet, so right now the points are kind of just a personal goal," Hyundai spokesman Miles Johnson told us. "It's just you against yourself."
And those Eco Rewards? They come as you exceed a gas mileage goal for the car, Johnson said. "It has a blue line that goes up and down every month," he said. "Some days, you might be over the blue line, and other days you might be way down. … The Eco points are just personal rewards to indicate how many times you've exceeded the goal for each period of time."
The Community Average could change as Eco Coach extends to more vehicles, but hit the snooze button for now. It's no different from your own mileage average over time.
Related
Hyundai Blue Link: An OnStar Rival and More
Hyundai Adds New Features to Blue Link Mobile App
More Hyundai News