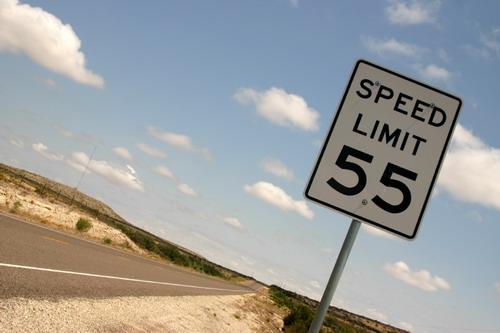 Drivers around our Chicago offices are channeling their inner Sammy Hagar, it seems. Studies obtained by the Chicago Tribune found that along seven stretches of Illinois tollway with 55-mph posted speed limits, most cars exceeded 66 mph. In fact, just one in 20 drivers went at or below the speed limit, the Tribune reports.
Data gathered in April, May and September show that 91 to 98 percent of tollway drivers exceeded the 55-mph limit, with average speeds of 66 mph to 70 mph. This comes despite a Tribune analysis that found each state trooper along the tollway issued an average of 72 tickets per day — and they're among the most productive officers, an Illinois State Police spokeswoman told the newspaper. The story comes as Illinois moves to increase speed limits to 70 mph for three stretches of tollway in Chicago's outlying suburbs. The new limits take effect in January 2014.
Would a higher limit encourage drivers to speed more? It's up for debate. A study published in 2010 in the Journal of Trauma and Acute Care Surgery found that when New York State thruways and interstates increased speed limits from 55 mph to 65 mph in the 1990s, the percentage of traffic speeding by more the 10 mph fell from 39 percent to 8 percent. The National Motorists Association points to the New York Thruway example, too, noting that during the two posted limits, average traffic speed remained at 68 mph.
Indeed, the Tribune analyzed speeds on two stretches of Illinois tollway — a patch of Interstate 88 west of Chicago and I-94 north of the city, with respective speed limits of 65 mph and 55 mph. Despite the difference in posted limits, the Tribune reported that traffic moved at about the same speed along each stretch.
The Michigan State Patrol has a booklet that tackles the subject. Speed limits should adhere to the "85th percentile" rule, where 85 percent of drivers move at or below the speed.
"Posting speed limits lower or higher than what the majority of drivers are traveling produces two distinct groups of drivers — those attempting to observe the limit and those driving at what they feel is reasonable and prudent," the booklet says. "These differences in speeds may result in increased crashes due to tailgating, improper passing, reckless driving and weaving from lane to lane."
The Tribune notes that 85th percentile rule would suggest a tollway speed limit of 70 mph or 75 mph.
However, the Insurance Institute for Highway Safety says absolute speed — not just speed differentials — is an equal safety problem. Raising speed limits can cause drivers just to speed more, IIHS notes. The institute references studies in Texas, California, Nevada and New Mexico, which found that raising speed limits significantly increased the proportion of drivers who went 5 mph higher above the new limits. Revising speed limits to the 85th percentile would only push drivers to eventually go even faster, the agency says.
IIHS says speed plays a part in nearly a third of all motor-vehicle fatalities. It's a statistic that plays a tragic note on the heels of "Fast and the Furious" star Paul Walker's death in a California car crash in a 2005 Porsche Carrera GT. The Los Angeles County Sheriff's office said speed played a part in the Saturday afternoon accident, which left fans and celebrities stunned.
Illinois Tollway engineers said some highways near Chicago have too much traffic to safely raise the 55-mph limits. "Increasing the speed limit on some sections may exacerbate safety and operational issues that are currently marginal," engineers said in a September memo, according to the Tribune.
Speed limits remain an ongoing debate — and not just in Illinois. Florida is debating higher limits in rural areas. Pennsylvania will go ahead with it.
What are your thoughts? Weigh in below.
Related
NHTSA: Road Deaths Up for First Time Since 2005
AAA: Open Your Eyes to the Dangers of Drowsy Driving
More Safety News