2014 Infiniti Q50 Earns NHTSA Five-Star Honor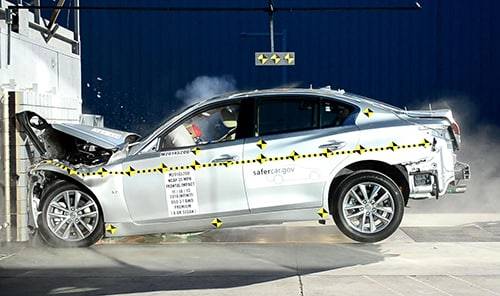 A pair of luxury nameplates vied for membership in the National Highway Traffic Safety Administration's coveted five-star safety club, but only one made the cut. The 2014 Infiniti Q50 became the latest to earn the title, while the 2014 Mercedes-Benz E-Class fell just short of the mark.
Both the Q50's gas-only and hybrid models, including rear-wheel-drive and all-wheel-drive versions of both, earned an overall score of five stars in NHTSA crash testing. In individual tests, including frontal-crash, side-impact and rollover evaluations, all versions of the luxury compact sedan scored four, five and five, respectively.
The E-Class didn't fare quite as well, with all tested versions of the midsize luxury car scoring four, five and five in frontal, side and rollover ratings, but finishing with an overall score of four stars. E-Class crash testing included the rear-wheel-drive and all-wheel-drive sedan and wagon versions, as well as the rear-wheel-drive hybrid sedan.
Related
Several 2014s Earn NHSA Five-Star Safety Rating
2014 Infiniti Q50 Cars.com Review
More Safety News on Cars.com