2014 Toyota Corolla Joins NHTSA Five-Star Safety Club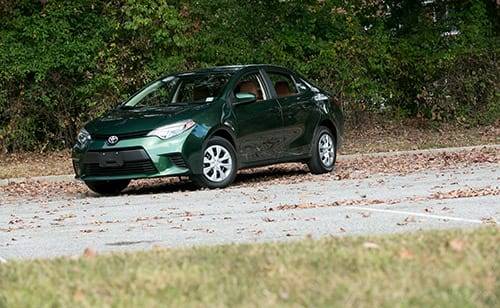 After scoring poorly earlier this year in the Insurance Institute for Highway Safety's stringent small overlap frontal crash test, the 2014 Toyota Corolla received a bit of redemption from the National Highway Traffic Safety Administration. The agency today announced that the redesigned-for-2014 compact sedan earned its five-star overall safety designation, receiving individual scores of five stars in both frontal- and side-impact crashes and a score of four stars in the rollover test.
In October, IIHS announced that the 2014 Corolla had scored marginal in its small overlap crash test, which is only one step up from poor — the lowest rating — preventing the car from earning the institute's Top Safety Pick Plus credentials. The small overlap test simulates a car striking an object such as a tree or light pole at 40 mph. The Corolla earned good ratings in IIHS' other four tests and was named a Top Safety Pick (a step down from Plus designation), falling behind competitors including the Dodge Dart, Ford Focus, Honda Civic and Hyundai Elantra sedan.
Related
2014 Toyota Corolla Scores Poorly on New Crash Test
2014 Toyota Corolla Cars.com Review
More Safety News on Cars.com