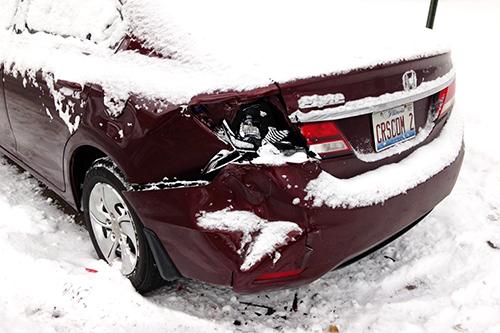 If you've been following Cars.com's long-term 2013 Honda Civic tester, you know it's been a fairly uneventful 15,000 miles with just ordinary maintenance and repair. Our streak of uneventfulness came to a crashing halt recently when the Civic was an innocent victim of a three-car collision.
Cars.com Research Editor Mike Hanley walked out to a disintegrated driver's side taillight, crumpled rear fender and cracked bumper inflicted after a two-car collision at a nearby intersection spilled onto the street outside his home where the Civic was parked. While the damage initially didn't look bad, and the car was drivable, the repair estimate of more than $5,000 dropped a few jaws around the office.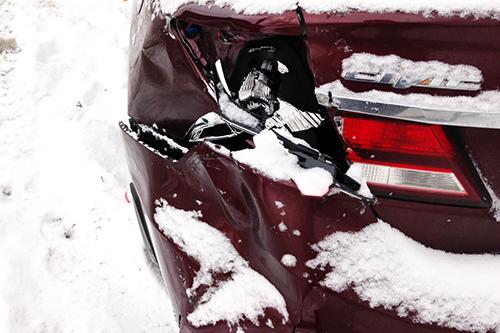 Racking up most of the Civic's repair bill was having to cut the damaged fender from the car and weld in a new rear fender. The labor-intensive repair had the collision center cutting as far up as the pillar over the rear door to replace the rear driver's side quarter panel. Roughly a quarter of the Civic was repainted; the paint was blended halfway into the rear passenger door. Luckily, there was no frame or structural damage; Hanley noted the car's rear was shoved 5 to 6 inches after the hit.

Repairs that should have taken three to four weeks took almost six weeks because of the holidays and Chicago's subzero weather affecting the collision center's ability to get replacement parts. The extensive list of new items on the Civic includes a new fender, trunk lid, taillight, bumper and dozens of little items like moldings and plastic linings. The parts alone tallied to $2,297.51, while labor and paint were $3,160 — the grand total with tax was $5,721.37. Insurance, however, covered the repairs.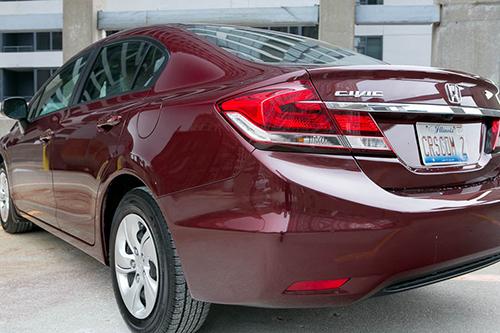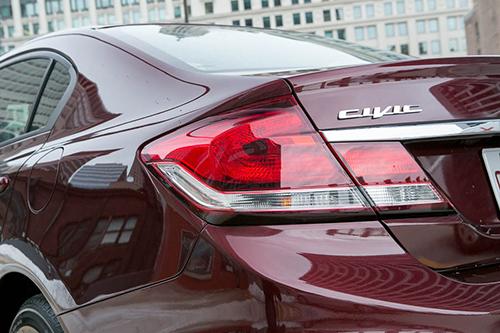 The Civic was returned in pristine condition (photos above) with one remaining ding: to the vehicle's history report. We have experience selling a vehicle that's been in an accident — our 2011 Chevrolet Volt — though we're curious how badly the seller-repellent "Accident reported" on the report affects a more mainstream car like the Civic. We'll know shortly because our time in the Civic is almost finished.