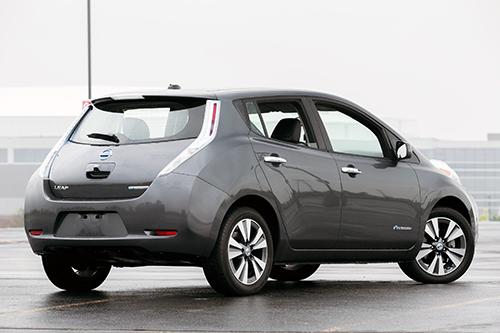 Since its introduction for the 2011 model year, the Nissan Leaf has been a key player in changing the notion that electric cars are golf-cart-sized toys with little practicality for hauling people and cargo.
The Leaf's efficient battery packaging and hatchback body style mean the EPA-estimated 75-mile-range Leaf has impressive amounts of cargo room for an electric car, and also good usability compared to non-electric hatchbacks.
The 24 cubic feet of cargo space behind the rear seat compares favorably to the Ford Focus Electric's 14.5 cubic feet, GM's range-extended gas/electric Chevrolet Volt's 10.6 cubic feet as well as traditional hatchbacks. The cargo area is located behind the battery pack and is tall and deep. Where the Leaf strays from traditional hatchbacks is its cargo floor shape, which isn't flat like a Mazda3 (20.2 cubic feet) or Hyundai Elantra GT (23 cubic feet).
You can see in the animation above about a foot difference in elevation between the cargo floor and the rear seats when folded, plus the sides of the cargo area intrude slightly. Cargo capacity increases to a maximum 30 cubic feet when the rear seats are folded.
Find the Right New Green Car/Hybrid