2015 Porsche 911 Targa at the 2014 Detroit Auto Show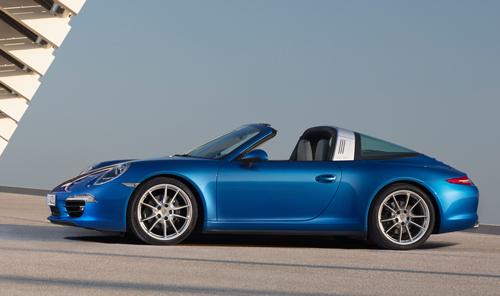 Competes with: Jaguar F-Type, Audi R8 Spyder, Maserati Gran Turismo, BMW M6
Looks like: The iconic 911 with a very different roof treatment
Powertrains: 350-horsepower, 3.4-liter six-cylinder boxer engine (Targa 4); 400-hp, 3.8-liter six-cylinder boxer engine (Targa 4S); seven-speed manual or dual-clutch PDK automatic transmission, standard all-wheel drive
On sale: Summer 2014
Starting price: $102,595 (Targa 4), $117,195 (Targa 4S)
In the continuing and endless list of variants of Porsche's venerable 911 sports car, the Targa model has always been an interesting choice. Not quite a convertible, not quite a coupe, it features a fixed rear wraparound glass window and a retractable roof panel to open up the cabin — similar to the top on the 2014 Chevrolet Corvette Stingray.
More 2014 Detroit Auto Show Coverage
Porsche just unveiled a new 911 Targa at the 2014 North American International Auto Show in Detroit, and the updated shape definitely puts a twist on the classic 911 silhouette.
Exterior
The new 911 Targa looks mostly like the coupe, but the retractable top that slides down into the rear window creates a different greenhouse. Gone is the sweeping oval window opening along the car's side, interrupted now by a metal hoop that stretches over the car like a roll bar. It's brushed metal and accompanied by a wraparound rear window that takes away some of the 911's fluidic grace and replaces it with a more upright profile. It's not unattractive, but definitely different — and it should make the Targa variant easier to differentiate on sight from other 911 models.
Press a button and the entire rear glass section lifts up to allow the roof panel to fold down behind the rear seats. Cargo room is unaffected, of course, as is the trunk up front; the 911 is a rear-engine sports car.
Interior
The passenger cabin of the 911 Targa is nearly identical to the coupe, with the exception of the aforementioned retractable top and wraparound rear window. It offers the same high-quality materials and construction, leather and real metal, and customization options that can add tens of thousands of dollars to the price tag.
Under the Hood
The Targa comes in two versions, and both feature standard all-wheel drive. The Targa 4 comes with a 3.4-liter boxer six-cylinder engine making 350 horsepower and 287 pounds-feet of torque, while the 4S ups that to a 3.8- liter boxer six that pumps out 400 hp and 325 pounds-feet of torque. Transmissions are a choice of a standard seven-speed manual or dual-clutch PDK automatic. With the PDK and optional Sport Chrono Package, Porsche says that the Targa 4 will do zero to 60 mph in 4.8 seconds, a time that drops to 4.2 seconds for the Targa 4S.
Both variants are expected to go on sale later this summer in the U.S. The starting price for the Targa 4 will be $102,595, while the Targa 4S will go for a cool $117,195, including destination fee.