2015 Porsche 911 Targa Photo Gallery (28 Photos)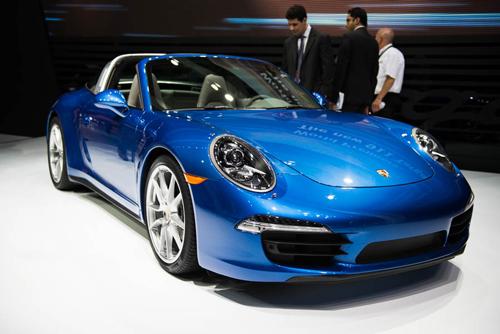 Porsche's 911 Carrera gets a retractable Targa top for 2015, giving performance-addicted drivers a chance to experience a bit of open-air motoring without the sacrifices you get from a traditional convertible.
More 2014 Detroit Auto Show Coverage
What's a Targa top? Instead of a soft-top convertible or a regular fixed roof, there's a roof panel that retracts underneath a wraparound rear window. A brushed metal "hoop" that stretches over the car differentiates this 911 Targa from other models. Like other 911 Carreras, the new 911 Targa comes with either rear- or all-wheel drive, and it's powered by either a 350-horsepower, 3.4-liter six-cylinder boxer engine or 400-hp, 3.8-liter six-cylinder boxer engine (Targa S models). Check out the gallery below.
Cars.com photos by Steven Pham.
Click on any image below for a larger version.