Whether your need for speed manifests itself on the track or online, GM is offering two new ways to get a quick fix. This past weekend at the Consumer Electronics Show in Las Vegas, the automaker announced a first-of-its-kind performance data recorder for the 2015 Chevrolet Corvette Stingray, which allows drivers to record video and audio of their hot laps and then use telemetry technology to analyze and improve their times. Meanwhile, the Stingray and a host of other 2015 Chevrolet models will also be available soon with an accelerated data connection to AT&T's high-speed 4G LTE network.
GM developed the performance data recorder with British motorsports-engineering firm Cosworth, and the system will be available on the 2015 Corvette; pricing will be announced later. The PDR's three major components are a high-definition camera mounted in the windshield header to record the driver's point of view, a self-contained telemetry recorder that uses a GPS receiver to record performance data and a 32-gigabyte memory-card slot in the glove box for recording and transferring video and vehicle data of up to 13 hours.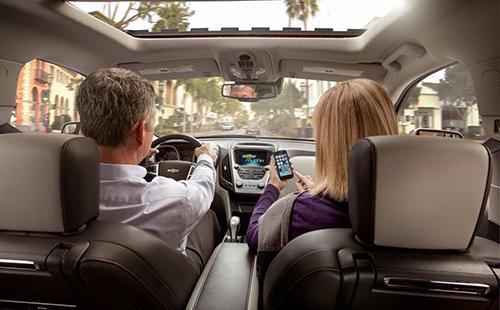 The PDR can record data in four modes, including Track, Sport, Touring and Performance and then render it in real time for viewing on the Stingray's 8-inch color touch-screen when the car is in Park; it can also be downloaded to a computer for further editing or sharing. Data comparisons include corner traces, vehicle speed and cornering force. "It's like having a 32-GB crew chief trackside providing you with real-time feedback to improve your driving skills," said Tadge Juechter, Corvette chief engineer, in a statement.
Also arriving in the summer will be the new OnStar 4G LTE connection — the system's strongest connection ever — starting as an option on four 2015 Chevrolet models: the Stingray, Impala, Malibu and Volt; the Equinox, Silverado, Silverado Heavy Duty, Spark and Spark EV will follow. The 4G LTE ultimately will extend to most Chevy vehicles, allowing passengers to connect multiple personal electronic devices to a high-speed wireless internet connection that does not rely on a brought-in mobile device.
"A 4G LTE hotspot that's built into a car's architecture will provide a more consistent and powerful Wi-Fi connection than a smartphone," said Mary Chan, GM's Global Connected Consumer president, in a statement.
Through Chevrolet MyLink, customers will have access to the Chevrolet AppShop, which shows all applications available for download directly to the vehicle, such as vehicle data, music, news, weather and travel info. Pricing and data packages for Chevrolet's 4G LTE system will be announced later this year.
Related
GM Vehicles to Have 4G Wireless in 2014
GM Adding Wireless Smartphone Charging to Some 2014 Models
More Car Gadgets News on Cars.com