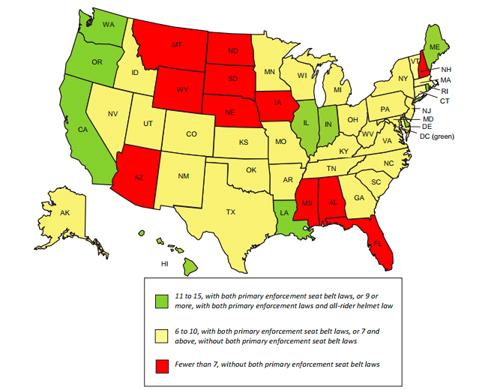 How safe is your state to drive in? The Advocates for Highway and Auto Safety group this month released its annual report rating all 50 states and the District of Columbia on 15 basic traffic-safety laws. The "2014 Roadmap of State Highway Safety Laws" gives states a rating of Green (good), Yellow (caution) or Red (danger). A new feature of the 2014 Roadmap Report evaluates whether states have a primary-enforcement (meaning police can stop drivers for that offense alone) seat-belt law covering backseat passengers; any state without such a law was ineligible for a Green rating.
NHTSA: Road Deaths Up for First Time Since 2005
The report comes at a time when traffic fatalities have seen their first increase in several years. In November, the National Highway Traffic Safety Administration reported that 2012's 33,561 highway deaths represented a 3.3 percent year-over-year spike, the first since 2005. Generally over the past seven decades, traffic fatalities have been on the decline. Between 1989 and 2012, the death toll declined by 12,000, a nearly 27 percent dip.
"The tragic and life-altering consequences of motor vehicle crashes are predictable and preventable," Dr. Georges Benjamin, American Public Health Association executive director, said in a statement.
New state laws enacted in 2013 include:
Primary enforcement of seat belts in West Virginia for front passengers and Hawaii for rear passengers, with 17 states still lacking front-seat laws and 33 backseat laws.
Booster seats for children ages 4 to 7, none adopted and 19 states still without.
Graduated driver licensing for teen drivers in Hawaii, Maryland and Utah (with cell-phone restrictions) and Texas (with supervised-driving requirements).
Impaired driving in Maine and Tennessee with ignition-interlock devices for all offenders. Still lacking laws are 39 states and the District of Columbia.
All-driver text-messaging restriction for Hawaii and Virginia with 13 states still lacking such a law.
To achieve a Green rating, states must have 11 to 15 laws, including primary-enforcement seat-belt laws for front and rear passengers, or nine or more laws including both primary-enforcement seat-belt laws and an all-rider helmet law for motorcyclists. The Red rating means states are "dangerously behind" in adoption of optimal laws, having fewer than seven laws and without primary-enforcement front and rear seat-belt laws. The best (Green) and worst (Red) states for traffic laws, followed by their number of laws, are as follows (all states not listed are designated as Yellow):
GREEN STATES
District of Columbia, 12 laws
Illinois, 12
Oregon, 12
Delaware, 11
Hawaii, 11
Indiana, 11
Maine, 11
Rhode Island, 11
Washington, 11
California, nine
Louisiana, nine
RED STATES
South Dakota, two
Mississippi, four
Arizona, five
Iowa, five
Montana, five
Nebraska, five
Alabama, six
Florida, six
New Hampshire, six
North Dakota, six
Wyoming, six