2014 Chevrolet Impala Mileage Update: 2,838 Miles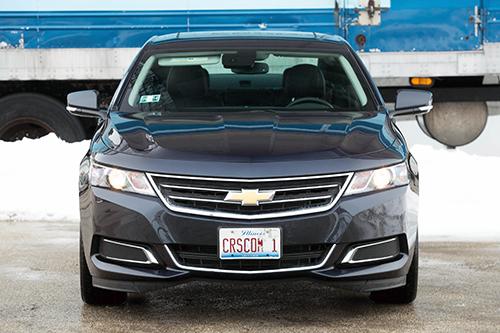 This month was a relatively mild one for Cars.com's long-term 2014 Chevrolet Impala tester, with the odometer only turning 676 miles since the last update. Filled with the recommended regular octane gasoline since day one, E85 coursed its way through the fuel lines of our flexible-fuel 3.6-liter Impala by mistake and looks to have slightly dinged our fuel economy after burning 5 gallons of the economy-sapping fuel.
Five gallons is a small amount considering the Impala's 18.5-gallon tank, but our observed fuel economy this month — calculated over the long haul from pump fill-ups — is 0.76 mpg lower than 676 miles ago. EPA ratings for the Impala drop from 19/29/22 mpg city/highway/combined on regular gasoline to 14/20/16 mpg on E85.
The 85 percent ethanol alcohol blended fuel produces 27 percent less energy per gallon than gasoline. It's also less expensive. E85's current national average is $2.911 per gallon compared with $3.521 per gallon for regular, according to AAA's daily fuel gauge report. We won't be filling up with E85 again until we decide if a more thorough examination of how the fuel affects mileage is needed.