2015 Infiniti Q70: Up Close
Infiniti is making a play to take its products a bit further upmarket, making them nicer and more luxurious than outgoing models by focusing more attention on the interior appointments. The latest model to get that attention is the new 2015 Q70 sedan, unveiled at the 2014 New York International Auto Show.
More 2014 New York Auto Show Coverage
The brand's big sedan has languished a bit when compared to its competition, but this new redesign should finally turn some heads at valet stands everywhere.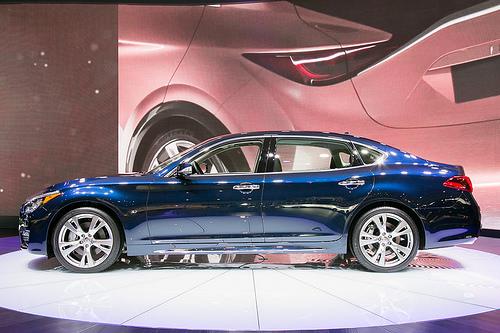 The exterior redesign brings style elements from the smaller Q50 sedan to the big Q70, but on a car this large the flowing lines and sweeping elements make a bit more sense and look more elegant. The overall look could easily be mistaken for the Maserati Quattroporte, especially from the rear, and that's not a bad thing at all. Muscular curves for front and rear fenders imply a grace and power that should be delivered from the car's surprisingly powerful engines.
The Q70 is now available in a long wheelbase version, the Q70 L, which looks even better with its stretched wheelbase adding even more limousinelike length to the sedan. It may not be on the cutting edge of style, but the new Q70 can certainly be called more elegant than anything Infiniti has shown in a long while.
As nice as the exterior updates are, the interior changes are even better. Infiniti has spent some money to upgrade the materials in the passenger space, and it shows in how everything looks, feels and even smells.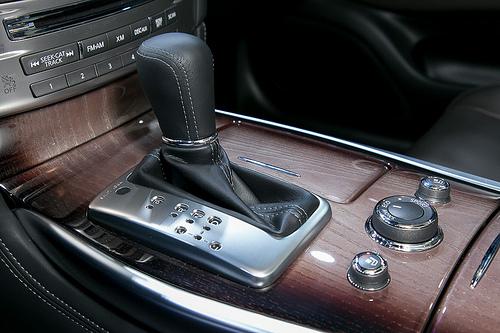 Slip into the driver's seat, and the buttons and fonts are familiar but the real wood and leather is a grade better than the outgoing model. The wood trim is frankly stunning, with a gradient pattern on the dashboard and center console that is unique and demonstrates an attention to artistic detail that has been lacking in Infiniti models.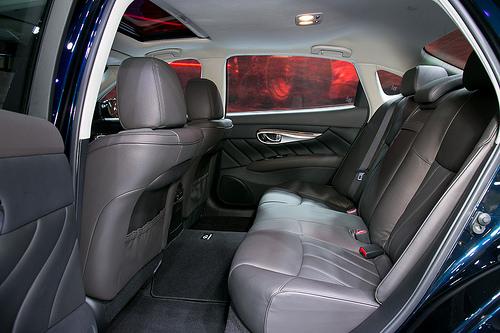 But the most impressive seat in the house may be in the back of the long wheelbase model. Thanks to nearly 6 inches of more legroom than the standard Q70, there is room to spare for legs and knees in the backseat, even with the front seat pushed all the way back. As long as Infiniti doesn't charge a ridiculous price for the L model, this would be the one to get just for that extra room alone. Sadly, headroom isn't as copious for the rear-seat occupants, with the headliner oddly close to the passengers' noggins. The lack of a panoramic roof is also unusual in this age of glass ceilings.
The Q70 is perhaps Infiniti's best execution to date of the company's latest styling theme, and with the significant upgrades to interior materials and electronics, the Q70 can hold its own in the highly competitive luxury sedan market.
Cars.com photos by Evan Sears