Toyota and Ford Disagree (Again) Over Global Best-Seller Title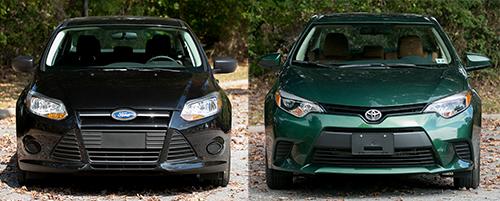 The Toyota Corolla ended 2013 in ninth place on the U.S. sales ladder, eclipsed by a cadre of full-size Detroit pickup trucks and three popular family sedans — including Toyota's own Camry. But car shoppers across the world, where the streets aren't so Texas-sized, preferred the Corolla to every other car model in 2013.
$20,000 Compact Sedan Challenge
This is according to Toyota, citing registration data from analytics firm Polk. The automaker says the data, which captures 96 percent of new-car sales worldwide, indicated 1,098,524 Corolla registrations in 2013. That beat an April 9 proclamation by Ford that the Focus was 2013's global best-seller with 1,097,618 registrations. Ford, like Toyota, cited Polk data.

It would seem that Toyota won by a hair. But, as a certain former president might say, it depends how you define the terms.
Ford sales analyst Erich Merkle told us Focus registrations are limited to the Focus sedan and hatchback, plus the Focus wagon sold in various international markets.
"It doesn't include any vehicle derivatives like C-Max, and it doesn't include any vehicles that might go outside the compact sedan category," Merkle said.
Corolla registrations, by contrast, include all global variations of the Corolla — among them cars like the Corolla Axio, Corolla Altis, Corolla EX, Corolla Fielder and Corolla Rumion. Most of those examples make sense, but some don't. The Corolla Altis is a version of the sedan sold overseas, while the Corolla EX is a warmed-over prior generation in certain markets. But the Corolla Rumion is basically a rebadged Scion xB. Toyota defended the classification: "Various competitive claims based on 'single nameplate' registrations may have excluded data" for the car's many variants, the automaker said, "which are identified and marketed as Corolla sedans and wagons."
What's more, Toyota claims the registration data is even more restrictive than its own sales tally, which has global Corolla sales at 1.22 million cars in 2013. That includes sales in some 150 countries, and it's up 5 percent over 2012. Spokeswoman Carly Schaffner told us Polk covers just 60 of those 150 areas — albeit all major markets — and excludes non-Corolla badged cars like the now-defunct (but heavily related) Matrix.
Polk, of course, is caught in the middle.
"Ford uses nameplate for Focus, and Toyota uses model name for Corolla, so therein is the difference," Michelle Culver, a spokeswoman for Polk parent company IHS Automotive, told us.
The company's dual statements illustrate as much. "The IHS Automotive data reported by Toyota last week is accurate based on the model name 'Toyota Corolla,' " IHS said in response to Toyota's statement. By contrast, the company confirmed Ford's April 9 data is based on the "single nameplate 'Ford Focus,' " adding that it "does not include any rebadged vehicles or platform derivatives for Ford Focus or any other vehicle nameplate versions."
Sound familiar? Ford and Toyota had a similar spat in April 2013 over Focus and Corolla sales in 2012; Ford claimed its 1.02 million Focus sales led 872,774 Corolla deliveries for the global sales title. Toyota responded that it had, in fact, sold 1.16 million Corollas worldwide. A clash of definitions ensued.
The more things change, the more they stay the same.
Cars.com photos by Evan Sears