2015 Subaru Legacy First Drive
Quick: Name an all-wheel-drive midsize sedan? Maybe you remembered that the redesigned 2015 Chrysler 200 will have all-wheel drive available, but most likely you answered, Subaru Legacy. Through the years, standard all-wheel drive has been the lone distinguishable attribute a sedan shopper in this class would home in on if considering the Legacy.
2015 Subaru Legacy Starts at $22,490
The problem is, not many people even think to jot the Legacy down on a sedan-shopping list. The 2015 has a chance to lure more potential buyers thanks to a new design and much improved interior. It doesn't hurt that it's exceptionally comfortable to drive and oh, yeah, has standard all-wheel drive for the commuter who might need to get to work after a snowstorm.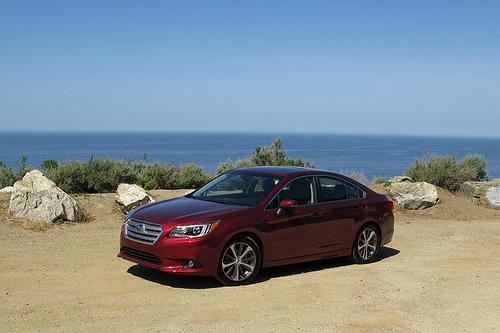 Click an image for a larger version
All-Wheel-Drive Performance
Driving along the winding, dry roads of the Pacific Coast Highway between Big Sur and San Simeon, Calif., during a recent drive event, the all-wheel-drive system wasn't able to display its foul weather capability. But all-wheel drive also aids in handling — no matter the conditions.
The Legacy's new system, which is straight from the high-performance Subaru STI, is split 60/40 front/rear, but it can adjust distribution depending on driving conditions.
There was hardly an inch of road that wasn't curving during my drive route, so the Legacy's handling was put to the test. During a majority of the turns, the all-wheel drive performed well, with a nice steering response, too. However, on the trickiest of turns there was some lack of grip that just couldn't be prevented.
While the handling certainly stands out, the smooth ride - and exceptionally comfortable, wide seats - will likely be the saving grace for commuters. Most road surfaces we traveled were smooth, but on bumpy patches the Legacy handled the imperfections well. There was a little road and wind noise as well, but not enough to be a turn-off.
The Boxers
Most Legacy sedans will be sold with a 2.5-liter four-cylinder boxer engine. These flat powerplants give a bit of an edge in handling because of a lower center of gravity. Horsepower and torque haven't changed much versus the outgoing model — 175 hp versus 173 hp while torque remains the same at 174 pounds-feet — but nearly every part of the engine has been upgraded or straight-out replaced. It seems Subaru wasn't comfortable calling it "new" because the specs aren't eye-catching.
One spec that has dramatically changed is, of course, fuel efficiency. In the 2.5-liter, combined mileage has increased from 27 mpg to 30 mpg, with highway ratings at 36 mpg. These are similar or better numbers versus the Honda Accord (29 mpg combined) and Toyota Camry (28 mpg), while the Nissan Altima (31) and Mazda6 (32) still have an edge. However, the Legacy's all-wheel-drive system impacts mileage, and the rest of the class is largely front-wheel drive.
On the road it isn't the additional 2 hp that make a difference, it's the upgraded continuously variable automatic transmission. The latest iteration from Subaru is quite remarkable and allowed for easy passing on the few straight stretches of road I encountered. Subaru has artificially injected shift points into the CVT, so it responds like a traditional automatic instead of a long wind-out of steady acceleration that consumers have complained about. It is roughly two generations removed from the CVT I drive every week in my 2010 Outback, and it responds a million times better.
There is again a 3.6-liter six-cylinder offered but only in the highest Limited trim level. I tested it on the reverse route and despite offering more passing oomph, I didn't experience much that would sway me away from the more affordable, efficient 2.5.
Upgraded interior
One knock against the previous Legacy was its interior. The 2015 has been significantly upgraded with padded surface materials wherever passengers come in contact with them. The materials on the control stack and even the gauge cluster are also nicely done. It's unlikely an Accord or Camry shopper will find much of a drop-off in interior quality when sitting in the Legacy.
New Technology
One of the biggest gripes we've had with recent Subaru vehicles are the subpar multimedia offerings. The Legacy is the first Subaru to feature the company's next-generation system. A 6.2-inch touch-screen radio comes standard, and when you move up to the Premium trim, you get a 7-inch version that I tested while riding shotgun.
There are touch-sensitive shortcuts on the screen's side that react quickly, as do the on-screen controls. This lag time has proven a deciding factor among Cars.com editors on whether a system like this is successful or not.
The bright California sun also generated a bit of glare on the screen, but it didn't completely wash it out. Without the sun shining on it, the screen was quite crisp with detailed graphics.
Winding Down
There is certainly a lot to be said about the Legacy's looks and whether they're too bold or bland. That might impact the all-important consideration, but once inside shoppers will likely find it on par with others in this ultra-competitive segment. We'll have more details in a full review of the 2015 Subaru Legacy soon.
Cars.com photos by David Thomas