Gas Prices Continue Downward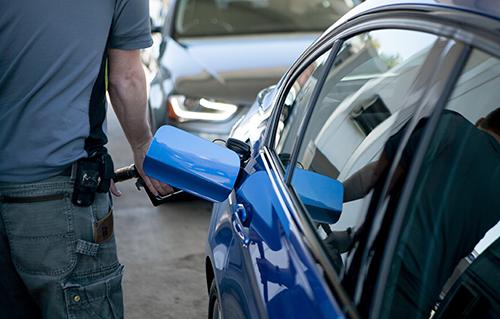 Gas prices retreated in most parts of the country the past week, and according to the AAA Daily Fuel Gauge Report, prices should continue to fall as Memorial Day weekend approaches. The national average for regular unleaded fell by 2 cents the past week to $3.64 on Thursday, but motorists in several states saw bigger declines at the pump. The average price fell by 7 cents in Delaware, 5 cents in California, Kansas and Minnesota, and 4 cents in Illinois.
AAA: Car Ownership Costs Dip Slightly
A steady drop during the first two weeks of May ended a string of 12 straight weeks of price increases that started in early February. The national average price is now on par with a month ago, though at $3.64 it is 5 cents higher than a year ago. The average price for diesel fuel fell by a penny the past week to $3.94, 2 cents less than a month ago but 6 cents higher than on May 15 last year.
With seasonal refinery maintenance and the annual switch to summer gasoline blends now complete, AAA said "falling averages are increasingly likely to reflect that gas prices have reached their peak for the spring in many parts of the country."
Pump prices peaked early in 2013, with regular unleaded hitting $3.79 on Feb. 27. So far this year, the highest average national price was $3.70 on April 28. AAA noted that at this time last year, prices were on their way up, but increased production this year has created a different outlook.
"The country's record high stockpile of gasoline has the potential to keep downward pressure on prices entering this summer," AAA said in its weekly analysis of gas price trends.
States that recently experienced steep increases at the pump are now seeing relief. The average price has dropped 9 cents the past two weeks to $4.17 in California and 10 cents in Illinois to $3.78. Motorists in major metro areas, where prices tend to be higher, are seeing bigger declines. In Los Angeles, the $4.20 average is 12 cents lower than two weeks ago, and in the Chicago area the $3.92 average is 15 cents lower.
Missouri had the lowest statewide average of $3.36 for regular unleaded, followed by Arkansas and Oklahoma, $3.39, and Montana, $3.40. Prices in Missouri and Arkansas are 10 cents lower than a month ago. Prices also have eased in Minnesota, where the $3.45 statewide average is down 9 cents from April 15. The average has dropped 12 cents the past month in the Minneapolis-St. Paul area to $3.42.
Though prices fell in most states, they continued to rise in some, particularly in the West. The average moved up 4 cents in Idaho to $3.63 and in Utah to $3.62. Prices have jumped 24 cents in Idaho and 30 cents in Utah during the past month. Hawaii had the highest-priced gas at $4.36 a gallon, followed by California at $4.17, Alaska at $3.95 (5 cents higher than a week ago) and Connecticut at $3.93.
Cars.com photo by Evan Sears