New Baby Sometimes Means New Car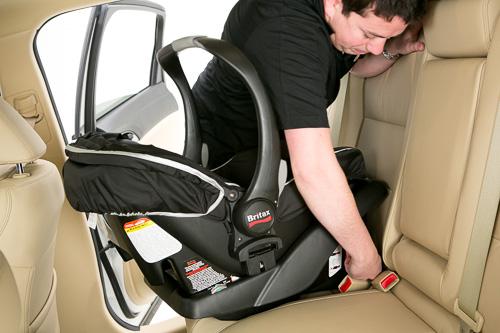 Sometimes babies are planned, sometimes they aren't. In my case, it's a little of both as I went from expecting one to expecting two children this summer.
With twins on the way, my family has entered extreme planning mode. Aside from getting double of everything ready around the house, my current family of three has to figure out how five of us are going to fit in a car this July.
Big changes mean big challenges. The biggest automotive challenge is fitting three (or more!) child safety seats in a single vehicle, a feat not very many cars can do well. Check out our tips below for getting your car ready for that extra baby.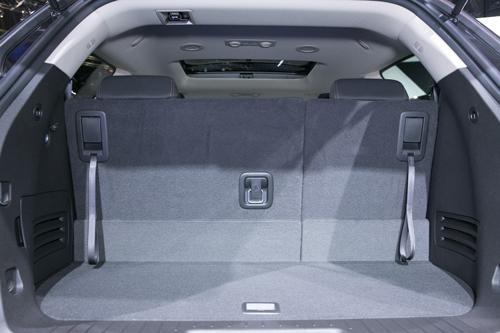 The Third Row
If you already have a three-row minivan or crossover, odds are you'll be in pretty good shape when it comes time to bring home your new addition. Not all third rows are created equal, however. Room could be an issue, and car seat connections could also be a problem.
If you're like a lot of two-child families, that third row is usually stowed in order to make room for all the stuff you cart around. If you're planning on installing a child safety seat back there, it's time to raise the seats and test which seat you'll most likely be using back there.
Does the third row have Latch anchors? Does it have tether anchors? By law, automakers have to put two sets of lower Latch anchors and three top tether anchors in the second row (if there are three seating positions there), but no such rules apply to the third row. If there's enough room, you can install a car seat in the third row using a seatbelt, but if it's a forward-facing car seat, you must also connect the tether strap to maximize head and neck protection in a crash.
Click here for a list of which three-row vehicles have Latch and tether anchors in the third row.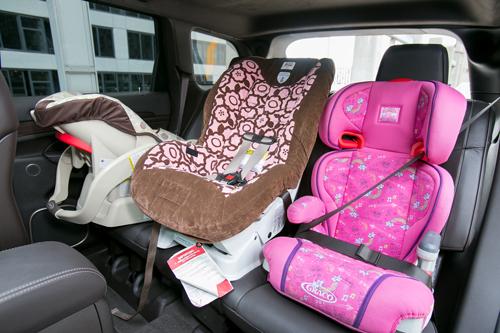 Which Cars Fit Three Car Seats?
There are some non-three-row vehicles that excel at accommodating three child safety seats. Wide, flat backseats are best.
Click here for our list of vehicles that can comfortably handle three child safety seats. Keep in mind our test parameters, however: We install the booster behind the driver's seat, the infant seat in the middle position and the convertible seat is installed behind the front passenger. A child sitting in the booster seat must be able to reach the seat belt buckle, so the seats can't be squeezed together too tightly.
Is your car not on the list? Continue below for some narrow car seat suggestions.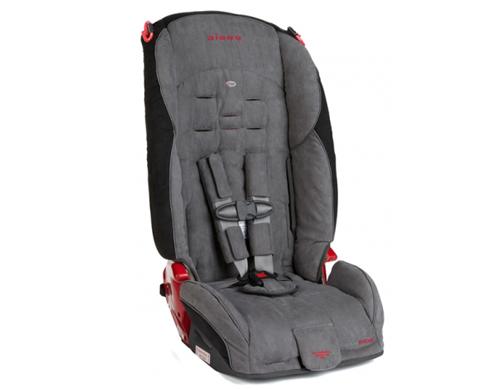 Space-Saving Car Seats
Most car seats, especially convertibles, are heavy and wide, with extras like padding and cupholders taking up valuable space in the backseat. However, there are a few car seats out there that put a big emphasis on saving space - and every inch counts.
Click here for our test of the slim Clek Foonf. At just 17 inches wide, it's much narrower than the average convertible, but those inches will cost you. The Foonf retails for more than $400. Although we haven't tested it yet, the Diono Radian is another narrow car seat option and retails for around $200.
If playing car seat Tetris doesn't solve your space problem, read on.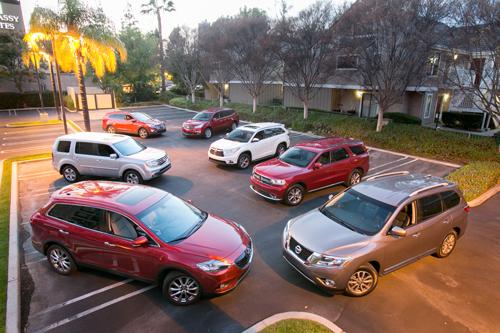 Time to Upgrade?
If you've decided that upgrading to something larger is the best move for your family, you're likely considering a minivan or three-row crossover. Well, we've driven them all, and the moms and dads on staff have made these family vehicles work hard during our road tests. Click here to read about Cars.com's $40,000 3-Row SUV Challenge and here to research minivans.
Manufacturer car seat image; Cars.com photos by Evan Sears