Post-Holiday Gas Prices Stay Put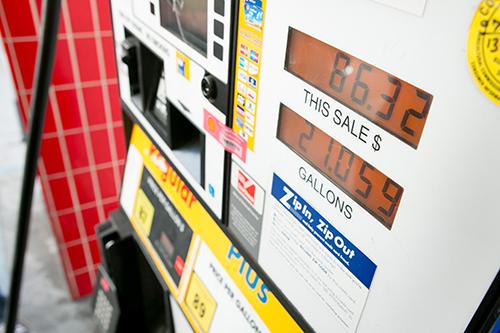 The national average price for a gallon of regular unleaded gas was unchanged from a week ago at $3.65, as few states saw major swings at the pump after the Memorial Day weekend, according to Thursday's AAA Daily Fuel Gauge Report. Though prices in some states have had significant swings in recent weeks, the national average is just 4 cents less than a month ago and 3 cents higher than on May 29, 2013.
Gas Prices Are Up, but So Is Average MPG
AAA noted in its weekly report on trends that the benchmark price of West Texas Intermediate crude oil has remained above $100 per barrel for three weeks. "Elevated global oil prices have kept a relative floor under retail prices for motorists," AAA said. If this year's pattern follows what occurred the past three years, prices should drop to a summer-driving-season low by early July. That was the pattern in 2011 through 2013, when prices rose during July and August before falling again in late fall.
AAA noted that for the first time in 2014, three states pump prices averaged more than $4: Hawaii, $4.36; California, $4.12; and Alaska, $4.01. Alaska's average price has climbed 11 cents in the past month, but the average in California continued to edge downward, falling 2 cents in the past week and 14 cents in the past month.
Further north, prices have remained stubbornly high: Oregon's $3.88 average is just a penny less than a month ago, and Washington's $3.90 average is 2 cents higher. Missouri had the least expensive gas at $3.40, followed by Arkansas and Mississippi at $3.41 and Louisiana at $3.42. Oklahoma saw its statewide average move up 4 cents in the past week to $3.45.
Prices were relatively stable in the Great Lakes region, rising 2 cents a gallon or less in Illinois, Indiana, Michigan and Ohio. The average prices in all four states were in a narrow range between $3.78 and $3.82. In contrast, earlier this year, Illinois' gas cost as much as 19 cents more than that of its neighbors.
Some major metro areas, where prices tend to be higher because of taxes and demand, have benefited from recent price drops. In Los Angeles, for example, the $4.15 average is 17 cents lower than a month ago, and the Chicago area's average is 14 cents lower than a month ago at $3.95. Around New York City, though, the average price of $3.99 is only 2 cents lower than it was four weeks ago.
Diesel fuel fell by a penny the past week to a national average of $3.92 a gallon, 5 cents lower than a month ago but 4 cents higher than a year ago.
Cars.com photo by Evan Sears