Why I Can't Buy a Scion FR-S (Even Though I Want To)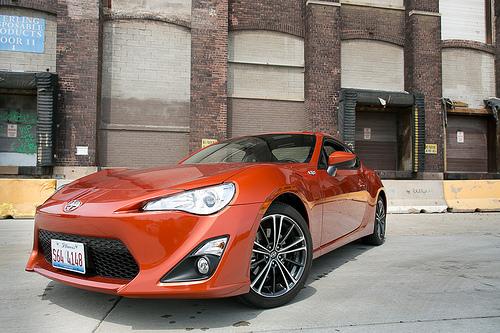 Cars.com named the Subaru BRZ and Scion FR-S our Best Cars of 2013, and we ended up buying a BRZ for our long-term test fleet. During the following 12 months I discovered it was a practical daily driver on top of being fun to drive.
Follow Our Long-Term Test Fleet
I loved the BRZ. Then I spent a few days with a Hot Lava 2014 Scion FR-S. It fixed the one complaint I had with the BRZ, offering a better entertainment system, plus it came with an ear-pleasing racing exhaust (courtesy of Toyota Racing Development) that doesn't sound anything like a coffee-can-equipped Honda Civic racing down Main Street on a Friday night.
Granted, if I truly owned the BRZ I would've been at Best Buy getting the stereo swapped out. But even though I liked the Scion's color and exhaust better — plus it had the preferred off-the-lot entertainment system — I still wouldn't buy it because of the name.
Maybe it's not even the name. Maybe it's the outdated Scion emblem on the front and back and the connotation that Scion is a "hip" youth brand. Yes. Yes, it's both those things. I'm also neither hip nor young.
I'm pushing 40, and even if I was pushing 30 I don't think I'd feel right piloting a bright orange Scion sports car. A brightly colored Subaru sports car? I have no problem with that. And yes, I realize that besides the 4-inch badges on the front and rear, these two cars look practically identical.
Does this make me jaded? Narcissistic? I don't know. But I can't be the only one out there who feels this way. So far in 2014, sales of the Scion FR-S are at 4,870 units, down 22.3 percent from last year at this time; meanwhile 2,886 Subaru BRZs have been sold, up 11percent from last year.
Looking at those numbers it does seem like I'm in the minority.
Check out the photo gallery below and let us know if you think the brand matters.
Cars.com photos by Evan Sears