2014 Chevrolet Impala Ownership Costs: Half Year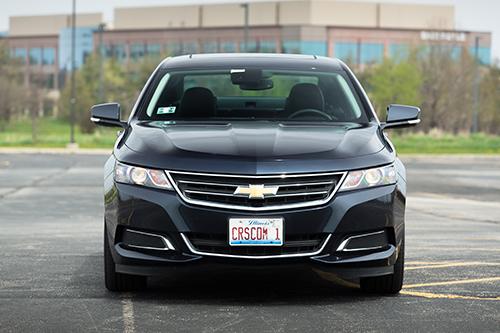 The first six months and 8,000 miles of owning our Best of 2014 winner, the 2014 Chevrolet Impala, have so far been painless. We threw in a set of $99.95 floormats for the horrible winter, but otherwise haven't had to put any money into maintenance thanks to Chevrolet's complimentary two-year maintenance program.
More on Our Long-Term Test Fleet
At around 6,000 miles the Impala's information display lit up with an uncryptic "change oil soon" notification. Chevrolet recommends changing the oil within 600 miles of the indicator illuminating, so we were off to the dealership to take advantage of the no-charge service plan.
Along with the oil change, we also got the tires rotated — recommended at the 7,500-mile mark. Overall, using the no-charge maintenance plan was a breeze. The program isn't a cheesy promotion where you have to send in the invoice and box top for a refund after the purchase. It was like any other service appointment except we walked out of the dealership with a big fat "$0" on the invoice.
Once the maintenance plan expires, the same service will cost us around $70. Our local Chevrolet dealership charges $44.95 for an oil change that includes the Impala's recommended synthetic blend 5W30 weight oil and $24.95 for a tire rotation. Still, only $140 in annual maintenance costs for an oil change and tire rotation isn't that bad considering both would be twice a year occurrences for the amount of miles we've so far logged on the Impala.
Cars.com photo by Evan Sears