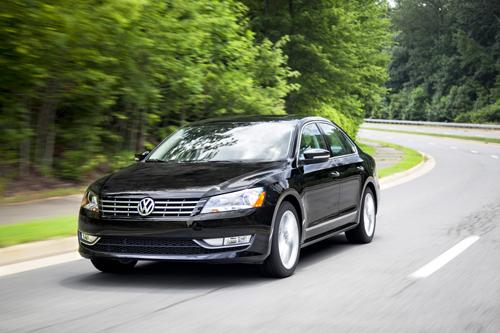 Most significant changes: More power, better fuel economy for TDI models
Price change: TBD
On sale: TBD
Which you should buy, 2014 or 2015? 2014 gas, but 2015 diesel
Volkswagen's midsize family sedan receives only a few minor trim and package changes for 2015, with the most notable to the base model S and Wolfsburg Edition trims. An optional Technology Package is available for the two trims and includes a backup camera and a touch-screen stereo system with eight speakers (instead of the current six). Satellite radio also is part of the Technology Package on the S trim; it's already standard on the Wolfsburg.
Related: What Is the Most Affordable Midsize Sedan for 2014?
All TDI diesel models get a new 2.0-liter engine that comes with a 10-horsepower bump to 150 hp as well as increased fuel economy. The Passat TDI now gets an EPA-estimated 44 mpg highway for the manual transmission and 42 mpg highway for the automatic.
Other trim level changes include a SE Convenience model replacing the SE with Sunroof trim. The SE with Sunroof + Navigation trim adds chrome trim, sport seats and fog lights. The SEL Premium adds standard rain-sensing wipers.
Passat sales were strong when the current Tennessee-made version went on sale in 2011, but it hasn't been revised since its update. It's still an excellent family sedan with an exceptionally roomy backseat, a variety of engines catering either to frugality-minded buyers or speed freaks, with every trim level feeling more upscale than many of its rivals.
With pricing not yet available and not that many changes between the 2014 and 2015 models, the 2014 gasoline-powered models are likely a better bet as dealers try to clear inventory with special incentives in preparation for the 2015 models. For the Passat TDI models, however, the 2015 might be worth waiting for as the all-new diesel engine, which makes more power and has better fuel economy, will be standard in TDI models across VW's lineup.
Manufacturer image