Not All Small Cars Shine in Latest IIHS Crash Tests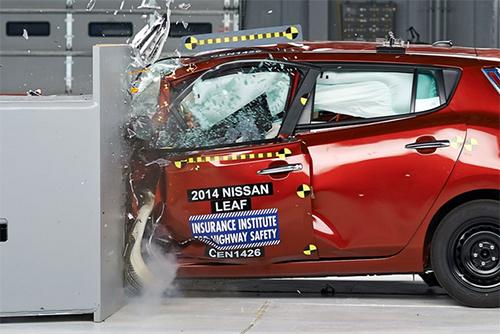 In its latest round of tests the Insurance Institute for Highway Safety found that diminutive cars still have issues with its challenging small overlap front crash test. This time out electric cars like the range-extender 2014 Chevrolet Volt and 2014 Nissan Leaf were tested for the first time with mixed results, while the Mini Countryman was the only small car in the group to earn a top grade in the test.
Related: Tougher IIHS Crash Test Could Mean Fewer Top Safety Picks
The Volt popped up on IIHS' scale of poor, marginal, acceptable and good with a score of acceptable, good enough for the Volt to be awarded a 2014 Top Safety Pick+ designation, the institute's highest award. The Leaf didn't fare as well in the 40-mph test designed to simulate a collision with another vehicle or a pole and earned a poor rating. IIHS observed intrusion in the lower and upper compartments indicating likely injuries to the left knee and left lower leg, while a left thigh injury would also be possible. Neither electric car had any issue with the batteries or electrical systems post-crash.
Ten other small cars went through this round of IIHS small overlap crash tests along with the Volt and Leaf, including the Mini Cooper Countryman and the Mazda5, which IIHS says is one of the worst-performing models the institute has evaluated in the small overlap test.
"When we tested the Mazda5 we saw a host of structural and restraint system problems. Parts of the occupant compartment essentially buckled, allowing way too much intrusion," said Joe Nolan, the institute's senior vice president for vehicle research, in a statement.
Other models dinged as badly as the Mazda5 in the small overlap test include the previously tested 2014 Kia Forte and the 2012 Toyota Prius V. Adding insult to injury, IIHS also noted the Mazda5 is the only vehicle in this group with a marginal side-impact crash test rating and is the only 2014 model IIHS has evaluated to receive less than an acceptable side test rating.
The Ford C-Max Hybrid, Mitsubishi Lancer and the Subaru BRZ and Scion FR-S twins were also tested. All did well enough to qualify for the institute's second-highest Top Safety Pick award but missed the highest accolade because they don't have an available front crash prevention system.
In the small-car category, IIHS has named the following cars a Top Safety Pick+: Mazda3 sedan and hatchback, Honda Civic sedan, Volkswagen Golf, Volkswagen GTI, Toyota Prius and the newly added Chevrolet Volt.
Below are IIHS' small overlap front crash test ratings for the latest group of small cars tested: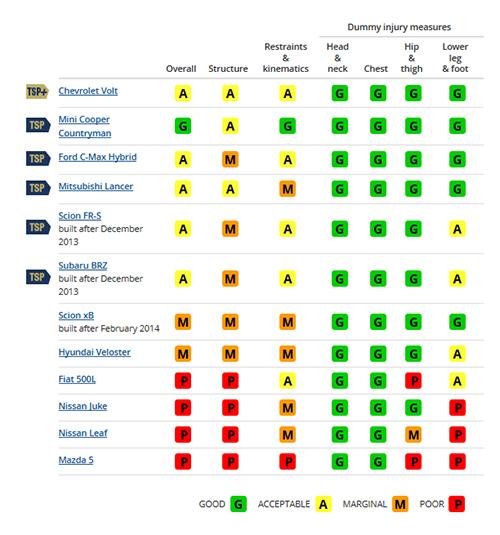 IIHS image