2014 Chevrolet Impala: Five Surprising Features
The 8-inch touch-screen in Cars.com's 2014 Chevrolet Impala long-term test car is a powerful command center. Powered by Chevrolet's MyLink software, you can use its touch-screen to access and control far more features than just the audio system.
More on Our Long-Term Test Fleet
It may come as no surprise that its list of capabilities fill a 96-page owner's manual — separate from the honkin' primary one. Who has time to read through the owner's manual to find every trick in the book? Well, us, but we'll save you some time. We picked out a collection of the system's interesting, useful and likely surprising features: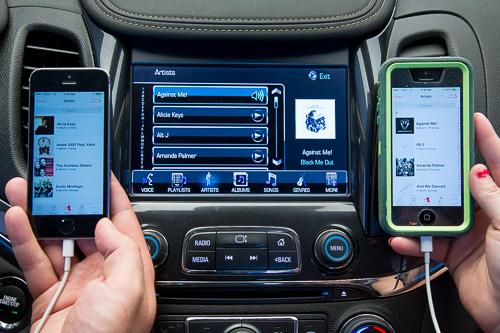 MyMedia Combines Multiple USB Devices
Want to combine music forces with your audiophile road-trip passenger but don't want to give up your own tunes? All three of the Impala's USB inputs read compatible music devices (they're not just charge ports) and a feature called MyMedia combines the library of multiple devices into one device menu. The 2014 Impala has two USB inputs in the center console storage compartment and a third hidden behind the retractable radio screen. The MyMedia input is selectable by hitting the Impala's Media button until it scrolls past the individual connected devices to the MyMedia input.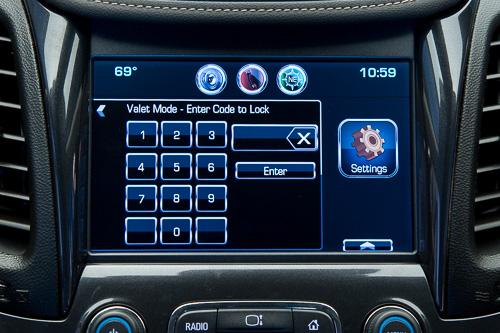 Valet Mode
You don't need a $100,000 car or one with 700 horsepower to benefit from a valet mode like the Impala's. After creating a security code within the settings menu, activating Valet mode with the four-digit PIN locks out the multimedia and navigation system, steering-wheel controls and in-dash retractable storage compartment. Private information such as a home address or contacts is kept under wraps.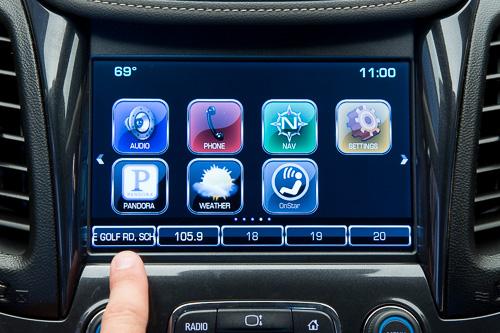 Store More Than Just Radio Presets
The Impala's touch-screen has room for an impressive 60 programmed presets. Why would you ever need that many? MyLink gives you more than enough space for AM, FM and satellite radio stations. Those blank spaces can also be filled with presets for navigation destinations, phone contacts, songs, artists and applications. Swiping the main preset display upward increases the number of viewable presets from five to 15, a useful trick if you're taking advantage of all 60 slots.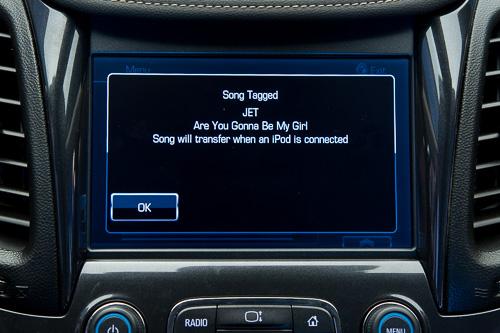 Tag a Song for iTunes Download
Tagging a song for download later may be one of the more common features on this list. Still, satellite radio subscribers and HD radio listeners can tag a song on the fly and download later so they never have to wait to hear that head-bangin' riff again. A tagged song can be downloaded the next time the music player is linked with iTunes.
Link Heated/Ventilated Seats to Remote Start
We put this feature to the test over the frigid winter. Only a few taps on the touch-screen made the brutally cold winter practically bearable after we synced up the Impala's heated front seats with the remote start system. The seats don't get as hot without being occupied, but walking out to a warm car and warm-enough seats is a good start. Available ventilated seats have the same capability for the summer.
2014 Chevrolet Impala Expert Review
Cars.com photos by Evan Sears