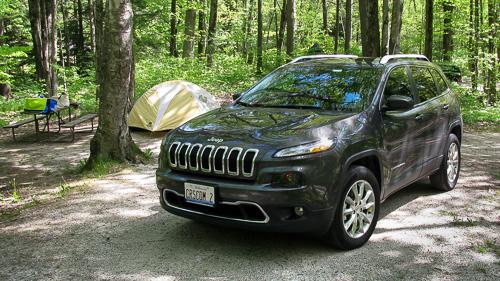 By Bill Jackson

The Jeep Cherokee has been put through its paces here at Cars.com as one of our long-term cars, but nobody's taken it out camping until now. To test it, I took it on a 530-mile round trip to a campground and triathlon and found it to be a great tool for the job.
Related: More Long-Term Test Car Coverage
For starters, the Jeep drives like a small SUV, but carries stuff like a larger one. I was expecting to have to make some compromises — compressing my sleeping bag, consolidating some of my other luggage — and I found I really didn't have to.
For the purposes of the test, I used our Cherokee's optional cooler as well. (To see how the cooler worked in a more in-depth test, click here.)
The cooler was overkill for me in terms of space — it offered lots more room than I needed for food and drink and cut a bit into the cargo area — but I appreciated the security of having it locked in place via the Cherokee's cargo rail system. That solves one problem I've noticed with my plastic coolers: They slide on a cargo floor as fast as a hockey puck on ice. If I owned this car, the cooler would be something I'd probably buy.
The rest of the cargo area is nicely laid out. The seats fold easily and, while it wasn't needed for this test, the front passenger seat folds completely flat for the really long items. Obviously, a feature like that restricts how many people you can carry, but I find it welcome when I need to haul skis, or similar things. It's a nice touch.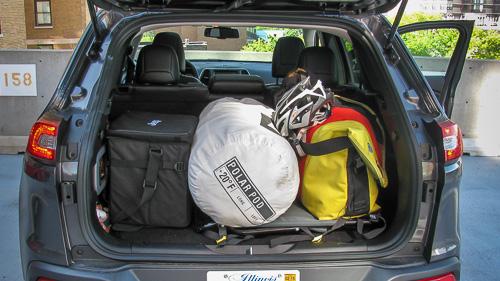 Overall, for camping or weekend tailgating, I'd give the Cherokee high marks. I could easily see this being a car to take you and two buddies camping. If they're heavy packers, you might need to use part of the rear seat. If you're looking for a total camping trip of four people, then things might get tight, especially if you have a bulky tent and want to use a bigger cooler. For one person, though, this was like a limousine.
As mentioned, I worked a triathlon into my camping trip. That meant I needed to carry a bike as well as one extra bag of race stuff. The bike went in without having to take a wheel off, though as you can see I had to turn the handlebars slightly. The cooler was still there, but I did unhook it from the cargo rail. Everything fit in just fine, and nothing was too snug.
The Cherokee was also an easy SUV to live with around the campground. It's small enough to easily position it where needed around the campsite, and the rearview camera is well-done. Where I parked the Cherokee was nice and wide, but to get to it I had to drive up a small rise, then angle downward to park in between several trees and stumps. Getting in was not a problem; getting out had me concerned. But the camera gave me a view the mirrors couldn't, as well as peace of mind. And it helped greatly when I had to parallel park a couple times during the journey.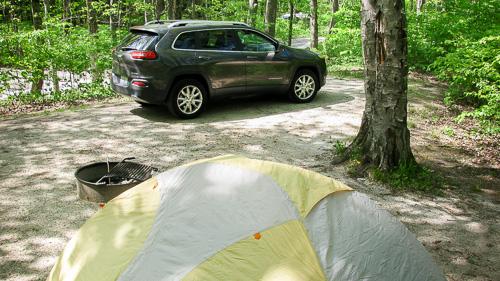 Overall, a small crossover or wagon is, for my money, the nicest way to go camping, assuming you're not towing something large or hauling a large group. A good small crossover will offer a blend of nice features, a small footprint and a large interior space.
I found the Cherokee to offer all of those things. If it shows up in my driveway again for a weekend, I have a pretty good idea of what I'll be doing with it.
Cars.com photos by Bill Jackson