2015 Mercedes-Benz C-Class: First Drive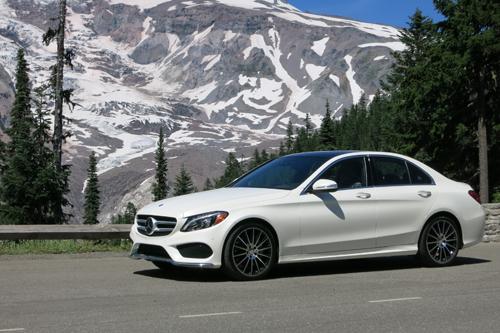 Want a taste of the good life without eviscerating the kids' college fund? Buy an entry-luxury sedan like the Mercedes-Benz C-Class, a car that's anchored the bottom of Mercedes' U.S. lineup for more than two decades.
Related: Mercedes Prices All-New 2015 C-Class at $39,325
Or not. The outgoing C-Class sedan sputtered into last place in 2013's $46,000 Sport Sedan Challenge. That was for a turbocharged four-cylinder C250 Sport, but we drove a V-6 C350 soon after, and it didn't redeem much. If this is the baby Benz, a lot of bathwater needed draining.
Drain it, Mercedes did. With the CLA-Class now anchoring the bottom of the lineup, Mercedes moved the redesigned C-Class upmarket in terms of both quality and price. The redesign hits dealers late this month in all-wheel-drive C300/C400 form and early 2015 in rear-drive C300 form, and it's eminently more desirable than the car it replaces.
Quality and technology distinguish the 2015 Mercedes-Benz C-Class, which drives pretty well, too. It's no all-out sport sedan, but it's a heck of a decent luxury car.
I drove the all-wheel-drive (4Matic) C300 and C400 sedans, both with Sport packages, at a media preview in Washington state. The C-Class coupe soldiers on in prior-gen form for 2015, but M. Bart Herring, who oversees product management at Mercedes' U.S. arm, said to expect a coupe replacement within in a year or so. Oh, and yes, there will be an AMG version.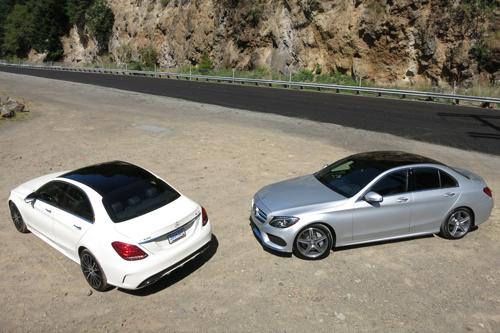 S-Class Styling
Mercedes has a habit of tailoring successive generations of the C-Class after the latest flagship S-Class, and the new C-Class follows that mold even more than usual. The sinewy headlights and curvaceous lower grille signal a clear resemblance to the brand's top-flight sedan, which Mercedes redesigned just a year ago. The C-Class is a little closer in size, too: Overall length is up 3.7 inches versus the outgoing sedan, with width up 1.6 inches.
Despite the extra size, overall weight is down as much as 200 pounds versus the old C-Class sedan, thanks to a chassis that mixes aluminum and steel versus the all-steel chassis in the outgoing car. Officials say much of the new C-Class' body panels — including the hood, doors, roof and trunk — are aluminum, too.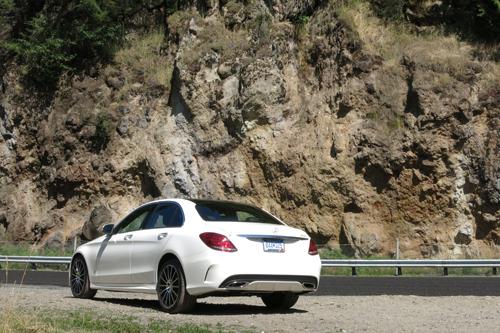 How It Drives
Fire up the C300's 241-horsepower, turbocharged 2.0-liter four-cylinder and the extra power is immediately noticeable. The engine has little in common with the outgoing C250's 201-hp, turbo 1.8-liter four-cylinder. It has a flat torque curve — 273 pounds-feet that plateaus from just 1,300 rpm on up — that evokes the BMW 328i's excellent turbo four-cylinder. Where the 2014 C250 ran out of steam, the new C300 moves out. Accelerator progression has improved versus the prior car's sleepy pedal, and the standard seven-speed automatic kicks down readily with little gear hunting, particularly in the drivetrain's Sport or Sport Plus modes. You control all of that through an Agility Select switch, which also adjusts steering assist, accelerator progression and climate control in one convenient toggle.
With the optional Airmatic adaptive air suspension — a first for the C-Class — Agility Select also changes suspension damping. In the all-wheel-drive, Airmatic-equipped C400 test car, the system's various modes dialed up subtle but noticeable differences in ride comfort. Still, the C-Class lacks the all-consuming isolation that characterizes other Airmatic-equipped Benzes. Ride composure was good over rapid dips and rises on my drive around Washington's Mount Rainier National Park, but Airmatic allowed pockmarked highways around Seattle to send up a degree of cabin disturbance that was little different from my time in a fixed-suspension C300 Sport, and the 1-inch difference in wheel size (my C400 tester had 19s; the C300 had 18s) doesn't justify the lack of difference. There are also fixed (non-Airmatic) base and Comfort suspensions, as well as cushier 17-inch wheels and higher-profile tires, across the lineup. All of those will affect ride quality, so test-drive and decide for yourself. My take? Airmatic, a standalone option on the C300 and C400, isn't worth its $1,190 price.
Mercedes expects less than 20 percent of C-Class buyers to opt for the C400, and it's easy to see why. It's a capable car whose turbo 3.0-liter V-6 makes a stout 329 hp, and the wall-o'-torque (354 pounds-feet from just 1,600 rpm) crests early to send you flying past slower traffic with half the pedal to go. But it's unnecessary; the C300 does this in a pinch, too, albeit with less power in reserve.
It handles better, too. Though Mercedes claims just a 2 percent difference in weight distribution between the C300 and C400, the latter feels more nose-heavy, with a touch more sloppiness up front in sweeping corners. Flip the Agility Select to Sport Plus and the Airmatic seems to quell body roll better than even the sport-tuned fixed suspension, which pitches off-center a bit as you throw it around. But the C-Class is still no 3 Series or Cadillac ATS; the tail was loathe to drift in my all-wheel-drive test cars, and the sole rear-driver of the lineup — the non-4Matic C300, available in 2015 — doesn't come with the bigger engine.
Brake-pedal feel, at least, improves a lot versus the outgoing C-Class' mushy pedal. And both the C300 and C400 steer with a light touch, even in Sport Plus mode. The wheel feels precise enough as you dial into a corner, but overall feedback has a degree of numbness at just about every speed. It keeps with today's luxury cars, but it will limit the C-Class' appeal to driving enthusiasts.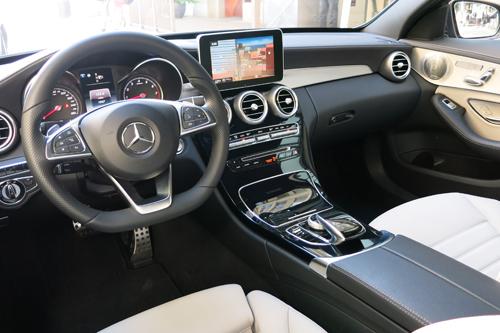 World-Class Cabin
If luxury enthusiasts exist, the C-Class will get their stamp of approval. Or their trophy. Real wood and metal adorn a cabin with first-rate materials from the dashboard to the doors. Anywhere your arms, elbows or knees touch has padding, with available stitched MB-Tex vinyl on areas of the dash and upper doors. Consistent, low-gloss materials are virtually everywhere — a level of quality you don't often find in this class.
Mercedes' Comand system, with a 7- or 8.4-inch screen, is controlled by a rotary knob and a new touchpad, much like on the new S-Class. You can spin and click through submenus if swiping on the touchpad isn't your thing. The Burmester stereo, optional in the C300 and standard in the C400, is pretty darn good.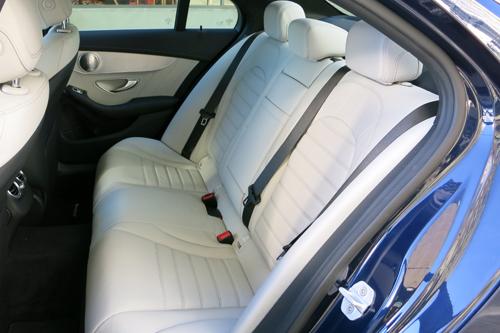 My C300 and C400 had comfortable sport seats, save for their smallish lower cushions. Non-sport seats with lower side bolsters are also available. MB-Tex vinyl seats are standard; leather seating is optional. Alas, the backseat still sits low to the floor — an issue in the previous C-Class, too — without a lot of payoff in headroom. Despite a claimed improvement in backseat space, legroom for adults remains only adequate.
Overall Value
We'll have to wait for the whole story on gas mileage. The all-wheel-drive C400 gets an EPA-estimated 22/29/24 mpg city/highway/combined, which is decent for the six-cylinder competition, but EPA figures are still pending for the more popular C300. Herring said he expects "things moving in the right direction" on EPA figures, which would suggest better ratings than the current C250/C300, which are as high as 25 mpg combined.
The outgoing C-Class sedan started at $36,725 for a rear-drive C250 Sport, including destination. There's no C250, at least for now, but when the rear-drive C300 goes on sale in early 2015, it will start at $39,325. The extra power and newly standard forward collision warning with auto braking justifies much of the increase. Other convenience features incur the usual shuffle: A memory driver's seat and power tilt/telescope steering column move to the standard equipment list, while last year's moonroof moves to the options list.
A loaded C400 should top out around $60,000, which is a stone's throw from the current C350, so I suspect shoppers will accept the increase. Even with the CLA-Class on sale, the C-Class topped 33,000 sales through the first six months of 2014. That makes it the second-most-popular Benz and fifth most popular U.S. luxury nameplate. Outside the U.S., it's the brand's best-selling car, according to Mercedes. This 2015 redesign should help it stay there — and also move up a few rungs among U.S. luxury shoppers.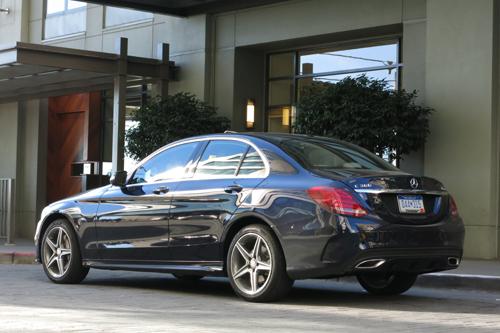 Editor's note: This post was updated on Aug. 6 to reflect Mercedes'
revised figures on weight distribution between the C300 and C400.
Cars.com photos by Kelsey Mays