Navdy Rethinks the Head-Up Display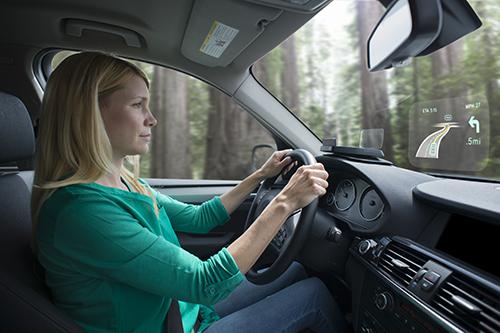 Imagine: You're driving to meet a client, following turn-by-turn directions on a small display that's superimposed on the windshield. An incoming call alert appears on the display's right side; it's your spouse. You lift your hand, give a thumbs-up to a small projecting device that sits atop your dash, and the call commences via Bluetooth. Sure, you'll pick up the dry cleaning tonight. You make a swiping gesture across the air above the steering wheel and the call ends.
And you're doing this in your 8-year-old Honda.
It's all thanks to Navdy, a San Francisco-based company whose $499 aftermarket head-up display combines the usual HUD assortment (vehicle speed, engine rpm, warning lights) with navigation directions, phone calls, texts and more. It streams off an iOS or Android smartphone via Bluetooth and Navdy's dedicated apps.
Navdy's HUD has the potential to become a sort of Google Glass for cars; it ships in early 2015, with discounted preorders starting today for $299. Google's techie eye-ware has invited some controversy behind the wheel, and Navdy's device could prompt similar complaints. But if it works as advertised, this HUD holds promise.
How It Works
The HUD projector is a little bigger than your hand. Prop it atop the instrument panel on a silicone-based, anti-slip material and deploy the projector and a flip-up screen toward the windshield. From there, it projects bite-sized pieces of information to a rectangular display that looks like it's about 6 feet ahead of the car. It can recognize a few simple gestures to do things like answer a call, hang up or read an incoming text. One of the gestures activates a Siri-like assistant, which takes voice requests through an embedded microphone to play music, compose tweets, you name it. You can even share your location with a friend.
Check out Navdy's video to see the HUD in action:
I chatted with CEO Doug Simpson, the passenger in the last 30 seconds of the video. The San Francisco-based company began about a year and a half ago, Simpson told me. The system draws power from a 12-volt outlet or the car's OBD-II port somewhere in the driver's side footwell– installed on all vehicles from 1996 on. With OBD-II input, the HUD can relay information like vehicle speed, engine rpm, warning lights and more.
Gesture recognition, meanwhile, works through an infrared camera. Image-processing logic allows it to differentiate between a gesture and, say, scratching your chin.
But simplicity is key.
"We've defined just three gestures: swiping left and right, and, as we show in the video, a thumbs-up," Simpson said. "Over time we may add additional gestures, but it's going to be a very small set."
Information Overload?
The HUD's scope is navigation, music and communication. It scrapes turn-by-turn directions off Google Maps and supports music apps like Pandora, Spotify, iTunes and Google Play. If your car has Bluetooth, anything from music to map directions can play through the car's speakers; Navdy's device acts as an intermediary that can take commands, for example, to change playlists. For cars without Bluetooth, you can connect the HUD to the speakers via an auxiliary jack. The device can also pull any major notifications that would appear on your phone, from new texts to social-media alerts, and toss them onto the display.
Therein lays some controversy. Should you really have texts and tweets at all while you're driving? Automakers have largely said yes; many new cars will read social media posts aloud through the multimedia system.
But displaying several lines of text, even at eye level, wades into sketchier territory. And that's what Navdy's HUD can do. Compose a tweet or text and the system displays it before you tell the system to send; the tweet composed on the company's video showed three lines of text and more than 50 characters. That runs afoul of the National Highway Traffic Safety Administration's 2013 distracted-driving guidelines, which recommends automakers display zero characters from social media or text messages while the car is moving.
Of course, Navdy is hardly the first company — automaker or aftermarket — to run afoul of those recommendations. And Simpson maintains that NHTSA's recommendation that no task take your eyes off the road for more than 2 seconds is a guiding principle.
"Are we going to allow an email to be displayed on the device? Definitely not," he said. "The text would be too small; the information would be too much to consume at one time."
"We're kind of empowering [users] to make that decision based on what they're comfortable with," Simpson added. "We can only put a maximum of six lines of text on the screen at the same time in order to make sure the text is large enough to be readable."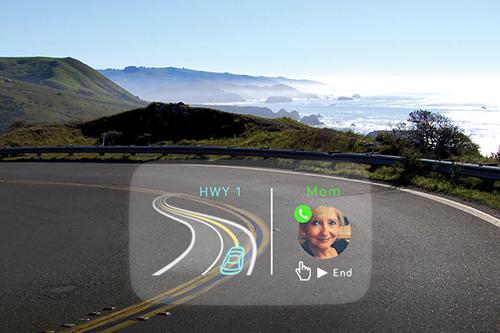 Proof is in the HUDding
Head-up displays are nothing new, having migrated from jet fighters to cars more than 20 years ago. They're proliferating among automakers today: Automotive News reports (subscription required) that 38 models offer head-up displays for 2014, or nearly three times the number of cars that had it in 2009.
Navdy isn't the first aftermarket company in the space, nor is it the first combination of multimedia features in one interface. Apple's Siri Eyes Free does a lot of this, minus the display. But the combination of gesture recognition, information and screen packaging is unique. And if it works as advertised — hardly a given, as anyone who's used voice recognition knows — then Navdy could have a winner.
Navdy images