2015 Jeep Cherokee: What's Changed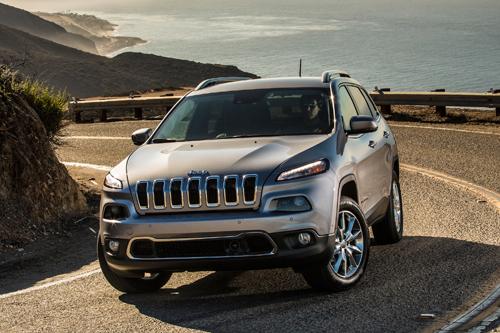 Most significant changes: Stop-start now standard on V-6-equipped models
Price change: Prices increase $100 on all models except the Sport trim
On sale: Since late July
Which you should buy, 2014 or 2015? 2015
Jeep's all-new Cherokee managed to make a big splash in the crowded compact SUV field with a combination of distinctive styling, commendable on-road performance and off-road capability, a choice of three four-wheel-drive systems and a roomy, well-finished interior. That helped its appeal with Jeep loyalists who value off-road prowess as well as those who drive only on smooth pavement but want the versatility of a small SUV.
Related: Cars.com Long-Term 2014 Jeep Cherokee Coverage

Jeep delayed the launch of the 2014 Cherokee for a couple of months while it tried to fix shift quality issues with the also-new nine-speed automatic transmission, and we aren't convinced it is fully sorted out based on our long-term Cherokee test vehicle.
Aside from the transmission, though, there is much to like about the Cherokee, which offers a broad portfolio of safety features, a voice-operated infotainment system, interior furnishings that are a cut above and family-friendly utility. Because it was all-new for 2014, there are few changes to the 2015, which just recently went on sale.
Stop-start technology is now a standard feature on models with the 3.2-liter V-6 engine. Latitude and Trailhawk models also add a standard rear camera and automatic headlamps. The available forward collision warning system gains low-speed crash mitigation support, and a new Safety Tec option group for Latitude, Limited and Trailhawk models includes blind spot monitoring, rear cross-path detection, rear park assist and signal mirrors.
Even though price changes are minimal for 2015, the cost of a Cherokee can climb north of $30,000 faster than it can charge to the top of a hill, so it pays to shop judiciously. One way to save is to stick with the standard 2.4-liter four-cylinder engine. The V-6's fuel economy might not be much worse, but two more cylinders add a hefty $1,695 to the price.
Because the Cherokee was all-new for 2014, and price changes are minimal, you would probably be well served to seek out a 2015 model to get the benefits of any quality changes Jeep has made in the last year.
Manufacturer image