2016 Volkswagen Passat: First Drive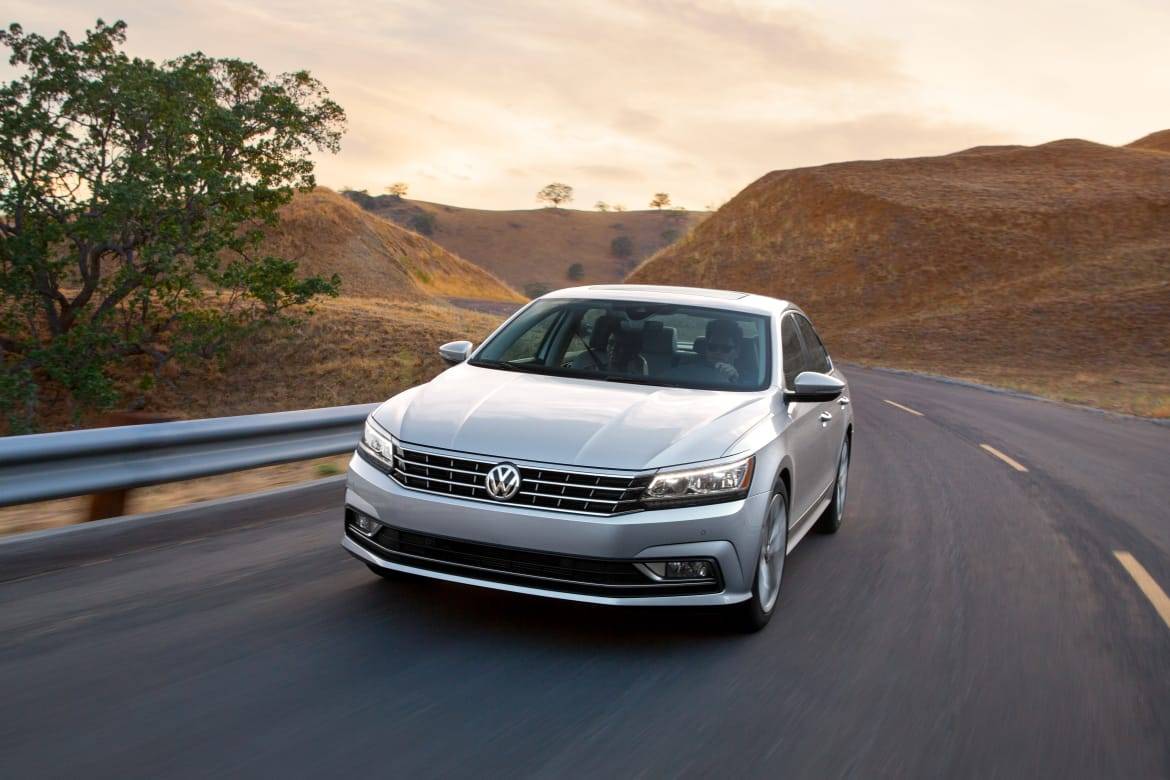 When it was introduced, the current-generation Volkswagen Passat sedan won Cars.com's top award, the Best of 2012. The midsize-priced, full-size sedan aged well, and the 2015 even took third place against nine competitors — most of which had been redesigned more recently — in our $27,000 Midsize Sedan Challenge. We liked many aspects but thought others needed improvement. So how did Volkswagen's product planners handle the 2016 Passat refresh? They left well enough alone and improved what was necessary. Mostly, at least.
Related: Research the 2016 Volkswagen Passat
When the 2016 Passat hits dealerships in November, it'll start at $23,260 including destination, roughly the same as the base 2015 with an automatic transmission, but with added features. (The manual gearbox is discontinued for 2016.) We can't ignore the fact that timing isn't great for Volkswagen to be launching an updated Passat. Cars are underperforming relative to SUVs and pickup trucks (in a market that's growing overall), and the larger the car class, the lower the apparent interest.
Then there's that whole diesel emissions cheating scandal, which included TDI versions of the 2012-2015 Passat. For now we'll say the TDI version of the 2016 Passat is on hold because VW withdrew its 2016 diesel models from consideration for EPA certification pending legitimately clean operation. No word on timing for that model's release.
So for now the Passat comes with a turbo four-cylinder or six-cylinder gasoline engine, each with a dedicated six-speed automatic transmission and both with front-wheel drive.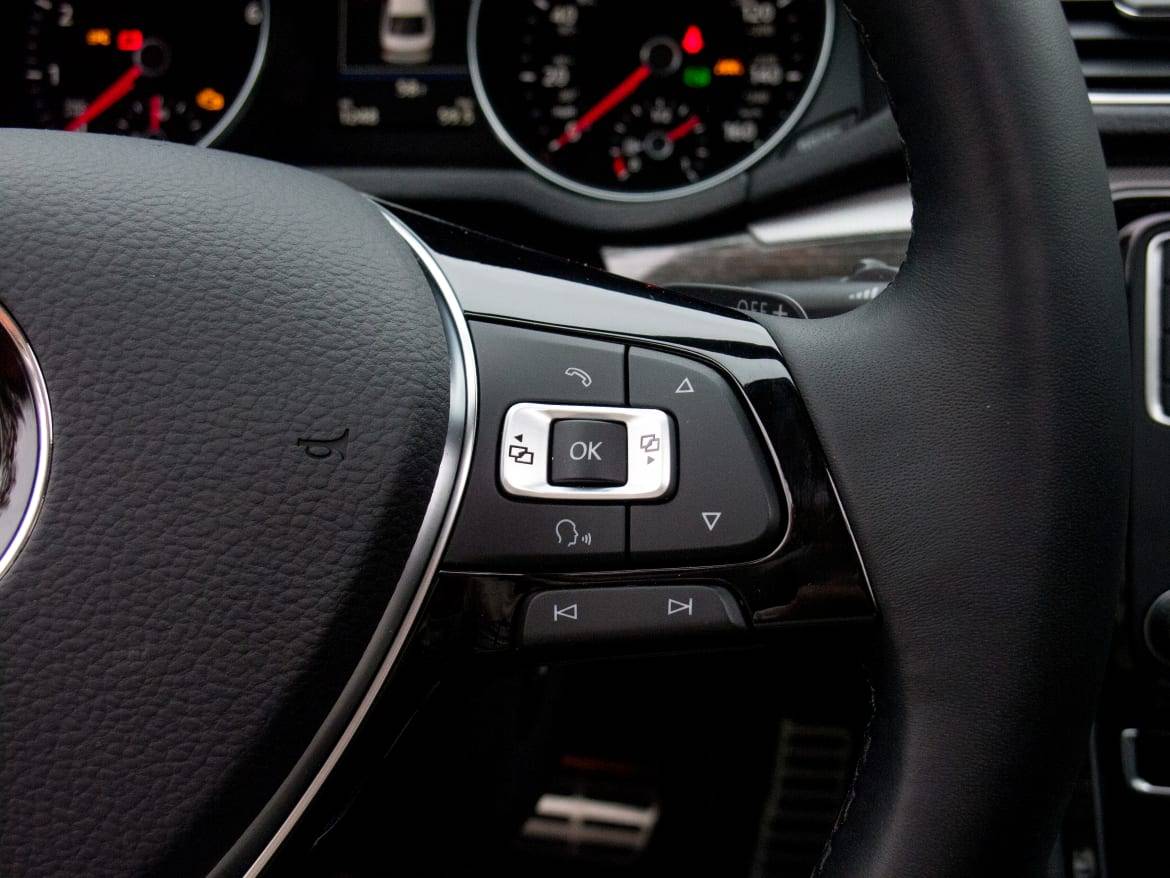 The car's trim levels have changed and now include the 1.8T four-cylinder in S, SE, SE with Technology, SEL and SEL Premium versions. A new 1.8T R-Line slots between the S and SE in price. The six-cylinder comes only as the V6 SEL Premium. I drove three versions at a national introduction in and around Stowe, Vt.
VW wisely didn't mess with the gasoline powertrains or the ride and handling, so I'll hold the regular driving impressions for my upcoming full 2016 Passat review and refer you to my 2015 review's How It Drives section, which still applies to the 2016 model.
One change of note is a mileage improvement for the four-cylinder; it gets a 2 mpg boost in its EPA-estimated highway rating and a 1 mpg combined bump, resulting in a 25/38/29 mpg city/highway/combined rating. VW says it results from underbody aerodynamic changes, an air conditioning compressor that can be decoupled from the engine and an alternator change that cuts wasteful drag by 85 percent. These steps shouldn't alter the driving experience, and didn't seem to. The six-cylinder's rating is unchanged at 20/28/23 mpg but it now accepts regular rather than premium gas, itself an improvement.
Updated Nose and Tail

One common complaint was the car's modest, boring styling, and VW has taken steps to address that with an updated nose and tail for 2016. The front fenders are more shapely and the hood is creased and domed. The VW badge no longer creeps up into a cutout in the hood; a thick header piece separates the leading edge of the hood from the headlights, badge and a grille with four horizontal bars (in place of three). The headlight clusters are slimmer and the front bumper is more intricately sculpted. Creases are sharper and all the chrome from higher 2015 trim levels now appears across the 2016 lineup, including the doors and window surrounds. LED headlights are available on all trims.
The rear enjoys a similar treatment, including a reworked trunk lid, taillights and bumper. Overall the Passat's styling changes are an improvement, but it will probably go widely unrecognized as a new car. The version most likely to be noticed is the R-Line, which is the most … exaggerated, with more pronounced rocker panels, black accents on the front and rear bumpers, and 19-inch wheels.
Interior Tweaks

Along with the outside, the interior gets a more liberal sprinkling of chrome and a "redesigned" dashboard that's little more than the addition of a textured chrome trim strip across its expanse, separating upper from lower. The steering wheel is updated with piano-black spokes and chrome – small steps that do make a better overall impression.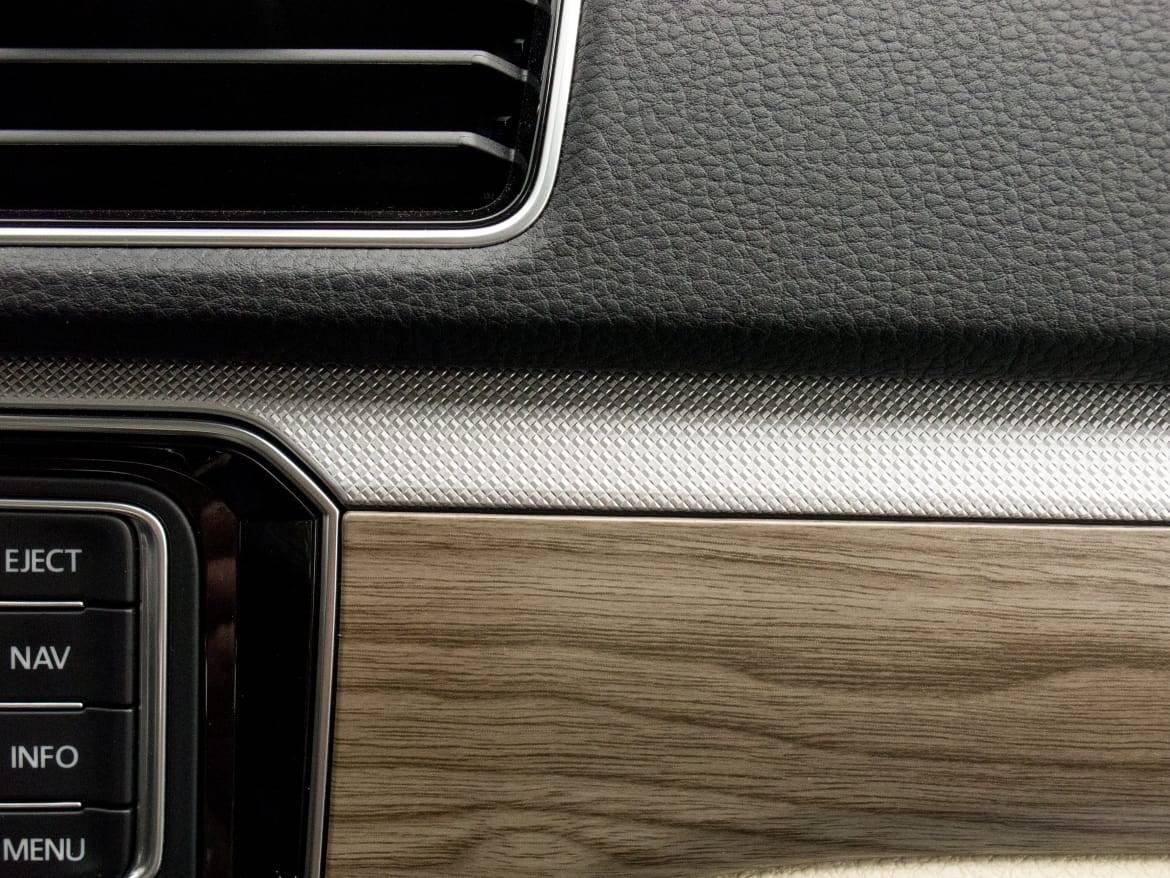 In the past we criticized the low-resolution, monochrome display between the gauges, and VW has remedied that too … on one version. The SEL Premium shrinks the pixel size down to 21st century levels and adds color but uses it too sparingly. Other trim levels have the old, "Space Invaders"-era display. Bad move.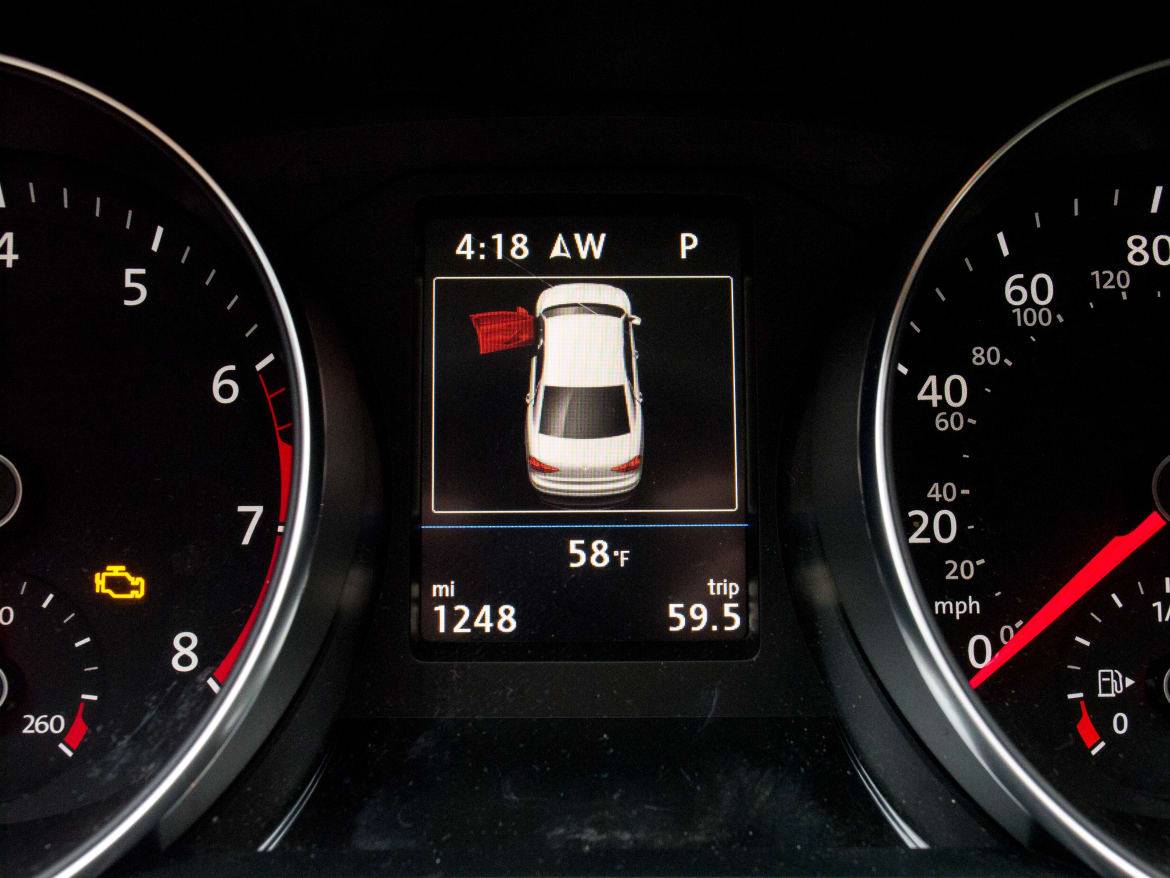 The SE with Technology adds a frameless auto-dimming rearview mirror.
Two of my main complaints about previous model-year Passats have not been remedied: The driver's seat needs a tilt adjustment for the bottom cushion and the steering wheel doesn't tilt down low enough. These characteristics bothered me just as much now as they have in the past. The Passat is so roomy these tweaks would put it over the top. The backseat is huge and high enough off the floor that your knees aren't raised as they are in so many other cars. Heated rear seats are now included starting with the SE with Technology.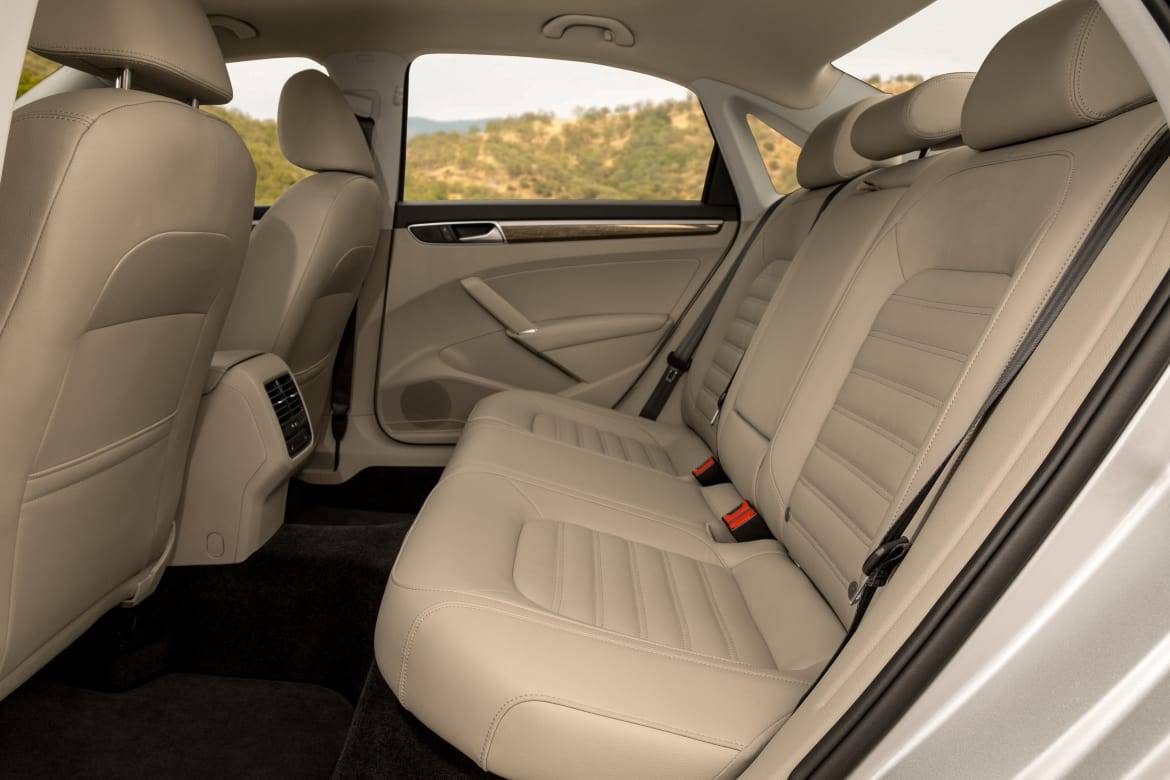 Multimedia and Smartphone Harmony

The Passat was way behind in connectivity and entertainment technology, and here VW really stepped it up with the release of in-dash MIB II, the next-generation Modulare Infotainment Baukasten (that's German for modular infotainment platform). There's now a device-agnostic USB port, replacing the Apple-only connector. The color touch-screens have faster processors for quicker response, starting with a 5-inch screen in the S and a 6.3-inch in the SE and higher.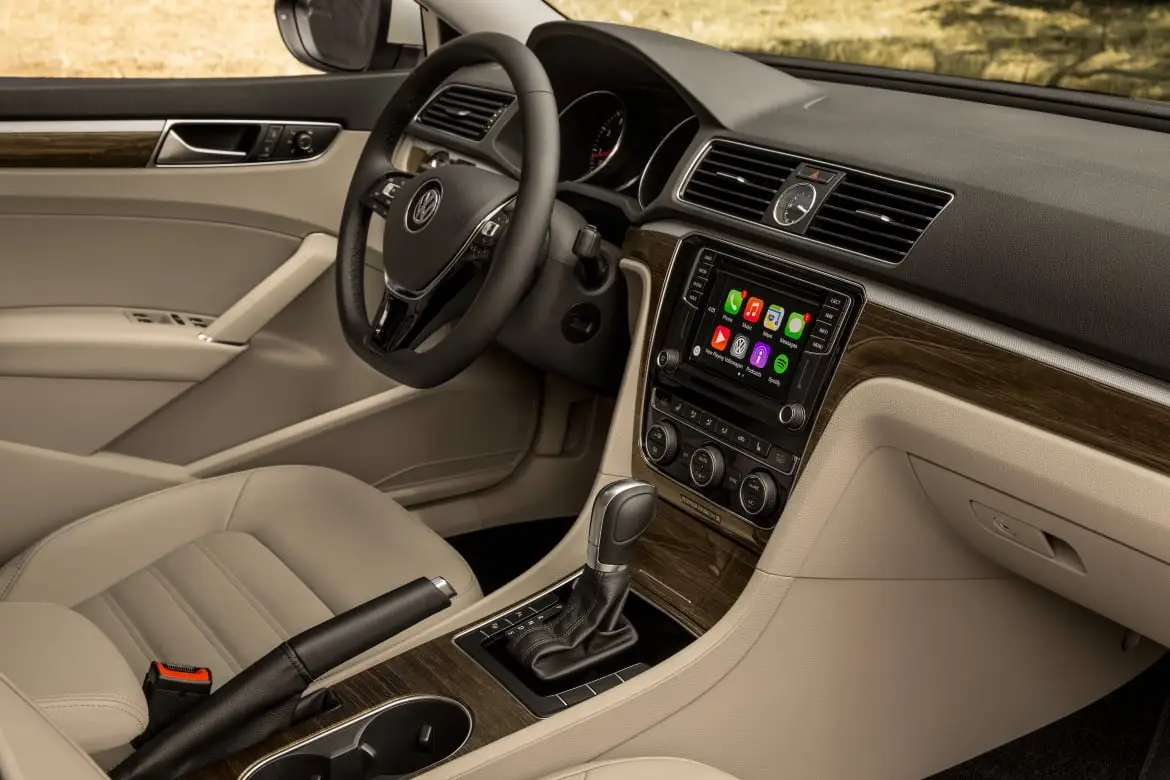 For those who opt for the onboard navigation option, which comes in the SE with Technology and higher trim levels, you can now input a destination via a Google-style field: Rather than go back and forth between city, street and address fields, you just type in the whole address for locations within 100 miles. The system also learns frequent destinations and can auto-complete entries – a touch of smartphone functionality.
The 6.3-inch touch-screen now recognizes when your hand gets close to it and presents more onscreen buttons (similar to the Cadillac User Experience screen). What this does is allow the map to make full use of the screen when you're not poking at it. Granted, 6.3 inches isn't huge, but once you take into account the cluttered displays some cars' larger screens have, the size comparison is much closer.
The car now allows two phones to be connected via Bluetooth at the same time in case you carry a personal and a work phone, for example. The hands-free system will work for an incoming call from either device.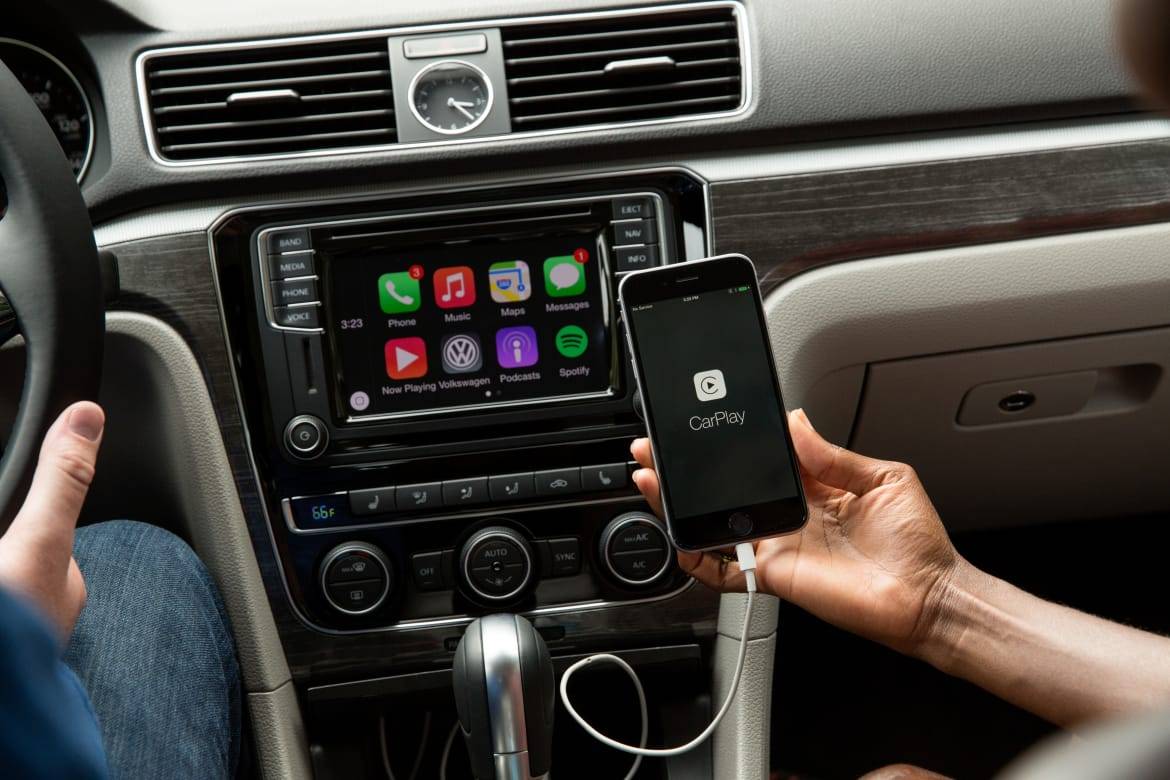 Most important for 2016, the Passat offers Apple CarPlay, Google's Android Auto and a third, European-centric system called MirrorLink that currently works with a limited number of phone models from Samsung, Sony, HTC and Fujitsu. CarPlay and Auto performed very well for me, and unlike some cars in which these features work only with in-dash systems that already include optional navigation (Hyundai Sonata), the Passat SE without its own navigation system supports the smartphone interfaces, so you get onscreen navigation by connecting your phone without essentially paying for nav twice. Though the base Passat S also has a touch-screen, its 5-inch size doesn't meet the minimum size and resolution standards for CarPlay, so it and the other interfaces aren't offered on this trim level.
With CarPlay and Auto, it's easy to see how automakers could dump embedded navigation altogether, though smartphone-app-based mapping doesn't do so great when you don't have a cellular signal, as I was reminded near the Canadian border. In metropolitan areas, that's never been a problem.
Safety Features Abound

Volkswagen says it modified the 2016 Passat's front-end structure to improve performance in the Insurance Institute for Highway Safety's small overlap front crash test. The 2015 model was already rated acceptable (from a possible good, acceptable, marginal or poor) in this test, good enough for Top Safety Pick status. The new collision warning option, if it tests well, would earn the Passat the highest designation, Top Safety Pick Plus.
When I first read of the Passat's standard Post-Collision Braking System, I thought I was being had, but it turns out the system does indeed lock the brakes after a collision because initial crashes are often followed by secondary ones, which is what the feature attempts to prevent or lessen. A significant sensor reading, not only a full airbag deployment, will activate the braking.
Fortunately, the 2016 Passat offers precollision braking, too (standard SE models and up), in the form of forward collision warning with automated braking. Unlike most vehicles, the Passat SE with Technology and higher trims will also brake when in Reverse if the driver doesn't heed the warning from the rear cross-traffic alert system. The Technology trim level also adds blind spot monitoring.
A backup camera is standard on all Passats.
Only if you step up to the SEL Premium will you get lane departure warning and prevention. I found the system's steering action nice and subtle, and you can choose to get a vibration warning through the steering wheel rather than automatic steering. This trim also adds an enhanced blind spot warning, Active Blind Spot Monitor, that will resist if you signal and attempt to steer into an adjacent car, rather than just issuing a warning. (I wasn't able to test this aspect due to a preponderance of two-lane roads.)
Sadly, the aggressiveness of the various safety systems isn't as adjustable as it is on some cars – apart from the forward collision warning and adaptive cruise control, which allow you to select the following distance. The cruise works only down to 12 mph before driver intervention is demanded, unfortunately.
If any of these aids annoy you, deactivating them requires many steps using steering-wheel buttons and the display between the gauges. Hard buttons on the dashboard would be much better.
Look for more details in our upcoming full review.