Hands-On With GM's Apple CarPlay, Android Auto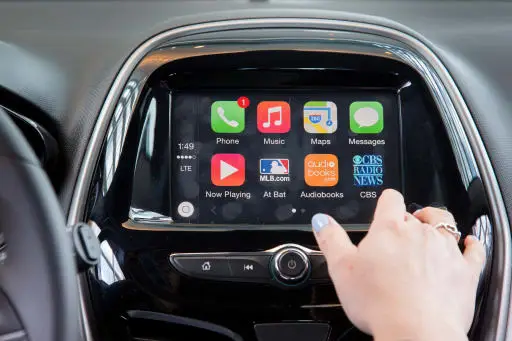 Unheard of until just 17 months ago, the Apple CarPlay and Android Auto smartphone integration systems are gaining automakers at a brisk pace. GM claims it has the industry's largest rollout, with 14 models from Chevrolet alone adding CarPlay and Android Auto for 2016. They include the Cruze, Silverado, Corvette and Tahoe. Together, those 14 cars account for about half of Chevrolet's global sales.
Related: 2016 Honda Accord Gets New Look, Apple and Android Friendly
Such services turn the car into what OnStar Chief Operating Officer Terry Inch calls a "network access device" accessible by anyone with an iPhone or Android smartphone. Inch works for GM's 19-year-old telematics division, whose 4G LTE Wi-Fi service has gone into more than half a million cars since GM rolled it out in 2014.
We spoke with Inch and also had a chance to see the in-car systems up close in a 2016 Chevrolet Spark.
Here's what we learned.
It's like your smartphone, sort of. You have to download an app for Android Auto, but CarPlay works right away from any late-model iPhone. Connect your phone, and an icon pops up on the Spark's dashboard screen that opens a portal to a simplified interface from your smartphone. If you want to navigate anywhere, Google Maps and Apple Maps do the trick. Well, kind of.
Both portals only offer their own proprietary navigation, so even if you have Google Maps on your iPhone, CarPlay won't fire it up. GM later confirmed that's the case for the near term, but "it's not to say it won't change down the line," spokesman Stuart Fowle told us.
Google Maps provides a similar experience to the smartphone interface, including pinching or swiping to zoom in or scroll around the map. It's responsive as far as in-car navigation goes, but it isn't as fast as on the phone itself.
Apple Maps is significantly worse. Gone are the pinching and swiping, replaced by old-school onscreen buttons to creep — slowly — around your location and zoom in or out in halting steps. You can still tell Siri where you want to go and get a route with turn-by-turn directions, but something was lost in translation.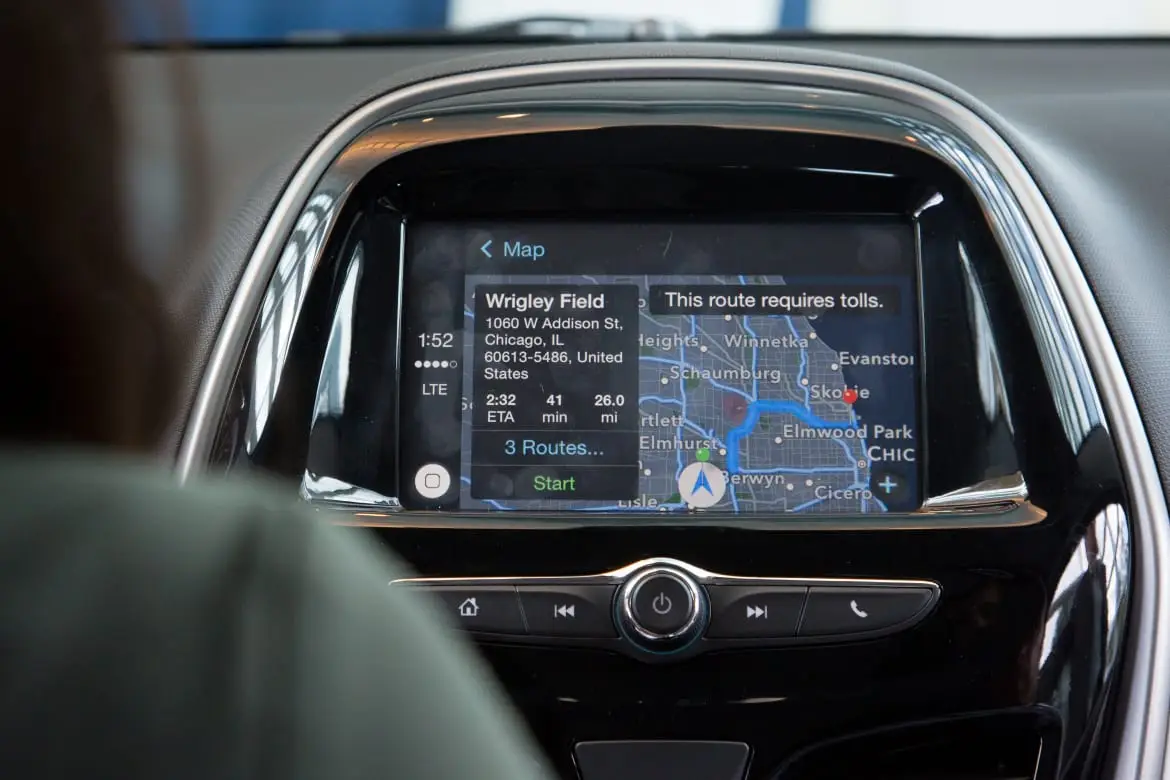 Fowle conceded the limitations but said they're "not necessarily" Apple's fault.
"For our own distracted-driver concerns, we can change certain data points," he said. "Apple has some of the different commands … [that were] tied to the pinch and zoom of the map. So to make one change we had to make, we had to sacrifice pinch and zoom on Apple maps. It's potentially possible [to bring them back], and we're working with them to see what we can do."
More apps, app compatibly needed. Otherwise CarPlay and Android Auto have much of what's on your phone, with the ability to read and compose text messages by voice, access your music library or dial up cloud-based music apps like Spotify or iHeartRadio.
Still, I plugged my iPhone 6 into CarPlay and found some strange omissions. Certain apps that should be very car-friendly, like ESPN Radio, were missing. And my Spotify Premium app allows free-form browsing for albums or artists on the iPhone — but not on CarPlay, which restricts you to existing playlists or Spotify stations. Pandora was conspicuously missing, too, but GM offers it as a stand-alone app outside the Apple and Android portals.
"Apple and Google are picking the apps and working with us," GM spokesman Brian Corbett said. Pandora isn't one of them yet, but it's "something that we can still offer" outside the portals, he added.
More apps will come, but Fowle notes that adding them is no easy task.
"Even though they're all different apps, they're in kind of the same template," he said. "App providers themselves have to create a version of the app that fits in that template, and that takes time and that takes resources."
GM can push back, too, if it thinks an app goes too far.
"We're not going to open Apple or Android [devices] and just let you have anything in there," OnStar's Inch said. "We're in a business and a partnership with these people, and the apps that [they] are able to integrate … are relevant to the vehicle. You're not going to be able to play 'Angry Birds.' "
There's no way to retrofit older cars. Existing GM owners can't update their cars to support CarPlay or Andoid Auto, even if they have a dashboard screen similar to the 2016 models.
"We can't offer the software back in time for older model years because it's not just the software," Fowle said. "We made some significant hardware changes for model year '16. The pinch and zoom ability is something new to that screen, so a 2015 car can't do that because it's an older, less-sophisticated screen."
Meanwhile, future updates to CarPlay and Android Auto should still be able to run on current cars, at least for now. GM already has "the head units that can support these things, for at least that minimum capability," Inch said. "It's them [the software companies] that are making the updates."