2016 Volvo XC90: Car Seat Check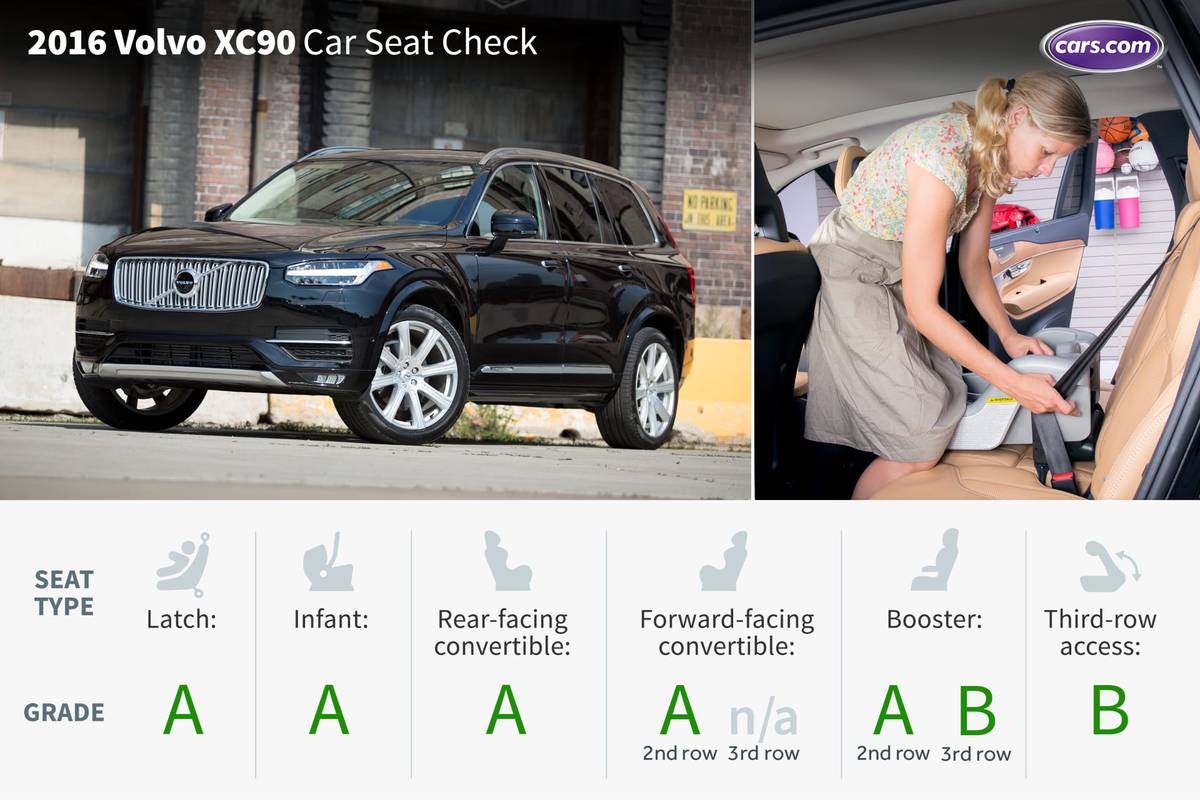 CARS.COM — Volvo finally redesigned its ancient family hauler for 2016, and the new XC90 was worth the wait. Exterior changes like a large waterfall grille and T-shaped headlights are huge departures from the old model. Inside, the changes are even more dramatic with a giant vertical touch-screen panel replacing traditional audio and climate controls. Families will love the second row, with room for three child-safety seats and an available integrated pop-up booster in the center seating spot.
How many car seats fit in the second row? Three
How many car seats fit in the third row? Two, but there are no top tether anchors, so the third row can only accommodates booster seats.
What We Like

There are two sets of Latch anchors in the outboard seats. They sit about a half-inch into the seat bight, where the back and bottom cushions meet.
In both forward- and rear-facing mode, the convertible went in easily and had plenty of room. There are three tether anchors on the second-row seatbacks; finding them and connecting our convertible's top tether strap to the tether anchor was easy.
We only had to move the front passenger seat forward less than an inch to accommodate the infant seat; the front passenger still had enough legroom.
The booster fit well despite the XC90's fixed head restraints. The outboard buckles are on stable bases, so kids should be able to buckle up independently. Our model was equipped with the available integrated booster, which pops up quickly and easily from the middle seat. It can be used for kids who weigh between 33 and 80 pounds and are at least 37 inches tall.  
What We Don't

There's no Latch or tether anchors in the third row. This means it's unsafe to install a forward-facing car seat back there; this is disappointing for a family vehicle.
In the two-position third row, the buckles are on recessed stalks, so kids may have trouble grasping them to buckle up.  
Heavy second-row seats and a high step-in complicated third-row access, though the walkway to get back to third row is fairly large.
Grading Scale

A: Plenty of room for the car seat and the child; doesn't impact driver or front-passenger legroom. Easy to find and connect to Latch and tether anchors. No fit issues involving head restraint or seat contouring. Easy access to the third row. 
B: Plenty of room. One fit or connection issue. Some problems accessing third row when available.
C: Marginal room. Two fit or connection issues. Difficult to access third row when available.
D: Insufficient room. Two or more fit or connection issues.
F: Does not fit or is unsafe.
About Cars.com's Car Seat Checks

Editors Jennifer Geiger and Jennifer Newman are certified child safety seat installation technicians.
For the Car Seat Check, we use a Graco SnugRide Classic Connect 30 infant-safety seat, a Britax Marathon convertible seat and Graco TurboBooster seat. The front seats are adjusted for a 6-foot driver and a 5-foot-6 passenger. The three child seats are installed in the second row. The booster seat sits behind the driver's seat, and the infant and convertible seats are installed behind the front passenger seat.
We also install the forward-facing convertible in the second row's middle seat with the booster and infant seat in the outboard seats to see if three car seats will fit; a child sitting in the booster seat must be able to reach the seat belt buckle. If there's a third row, we install the booster seat and a forward-facing convertible. To learn more about how we conduct our Car Seat Checks, go here.
Parents should also remember that they can use the Latch system or a seat belt to install a car seat, and that Latch anchors have a weight limit of 65 pounds, including the weight of the child and the weight of the seat itself.