2017 Chrysler Pacifica Vs. 2018 Honda Odyssey: Minivan Matchup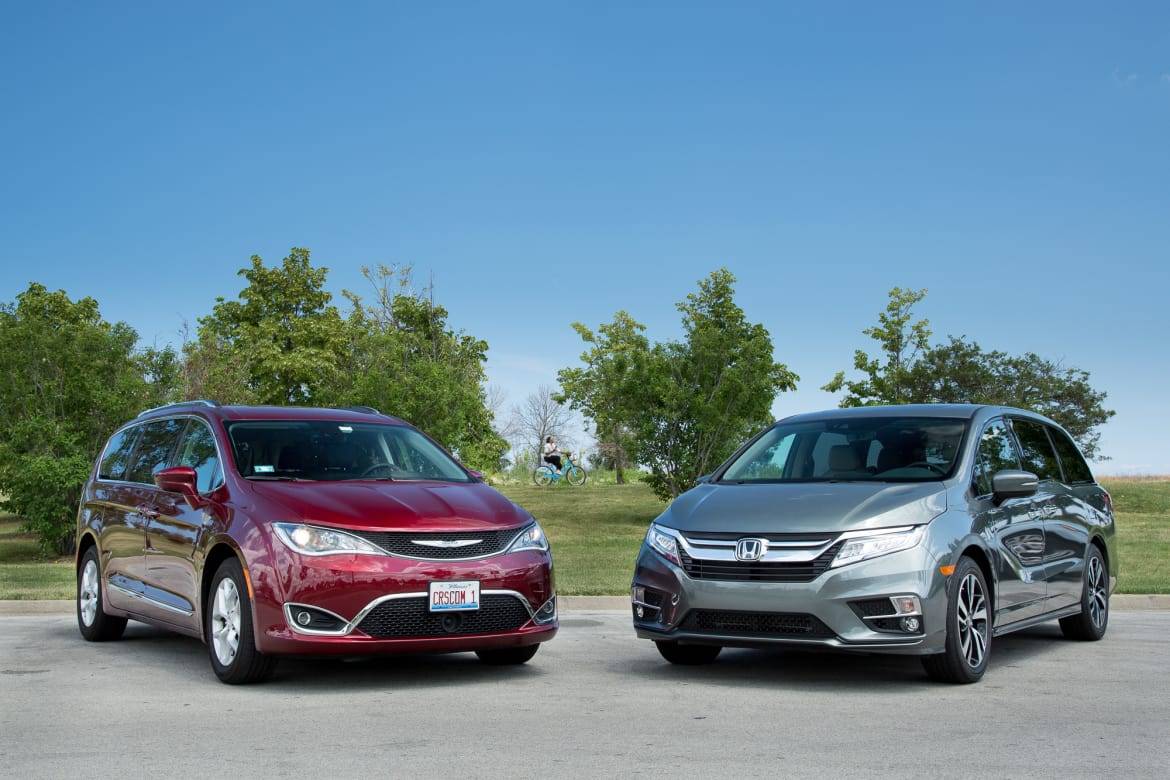 CARS.COM — If you lost the three-row-SUV-versus-minivan battle with your spouse, you're probably resigned to piloting a boring, clumsy, uncool kid bus. Put away the violins; it's not that bad. Two new minivans impress with their innovative features and ability to ferry loads of people and stuff in comfort — and in one case, style. We put the new-for-2017 Chrysler Pacifica and redesigned-for-2018 Honda Odyssey to the test, and these two new vans dazzled us in very different ways.
Related: 2018 Honda Odyssey Vs. 2017 Chrysler Pacifica: Second-Row Magic Challenge
Cars.com senior editor and dad of three, Mike Hanley, and myself, a news editor and mom of three, took the vans on back-to-back drives, crawled in and around all three rows, and let our kids have at the cabin. Which is better? Here's how they measured up in a few key areas: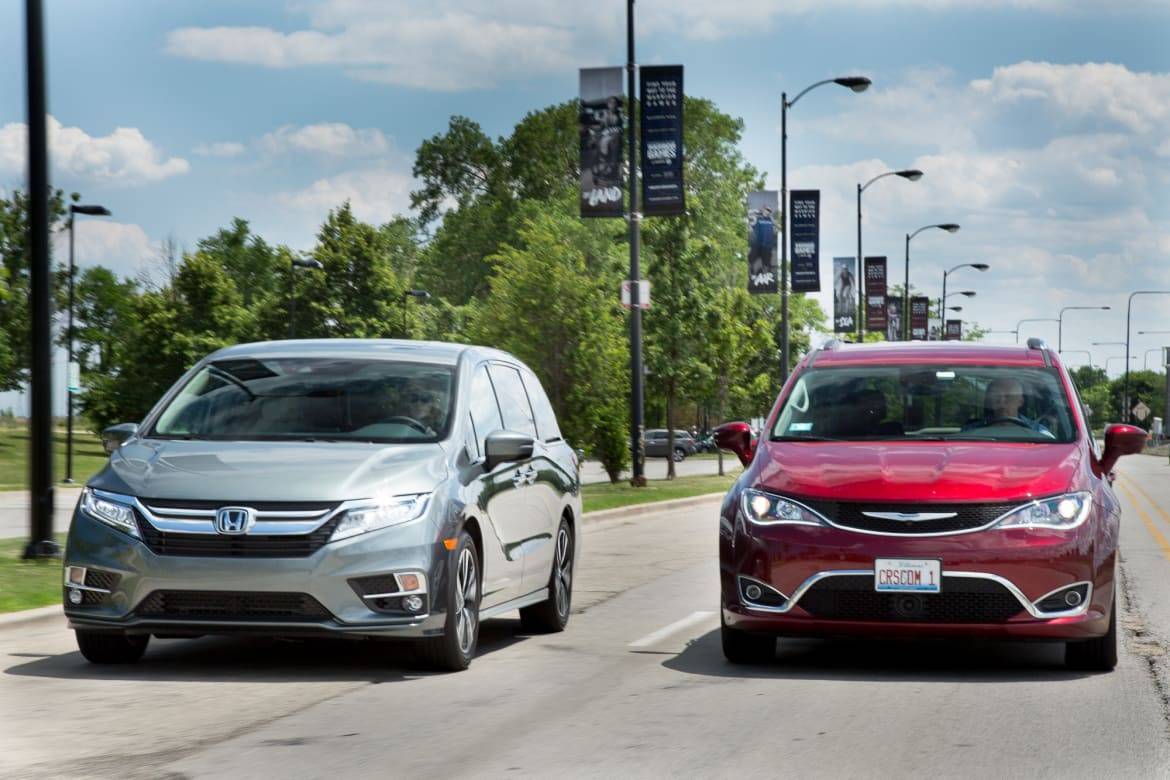 Front-Seat Comfort

Winner: Chrysler Pacifica
Both vans offer plenty of head- and legroom in front, but finding a comfortable position in the Odyssey can be challenging. The seat-height adjustment ran out of upward travel much sooner than expected, so some drivers will have to sit lower than they'd like. The Odyssey also lost points for its seats — they're not as cushy and form-fitting as the Pacifica's, and the driver's armrest is quirky. Its lowest position is still too high, so when you rest your arm, it pushes your shoulder up.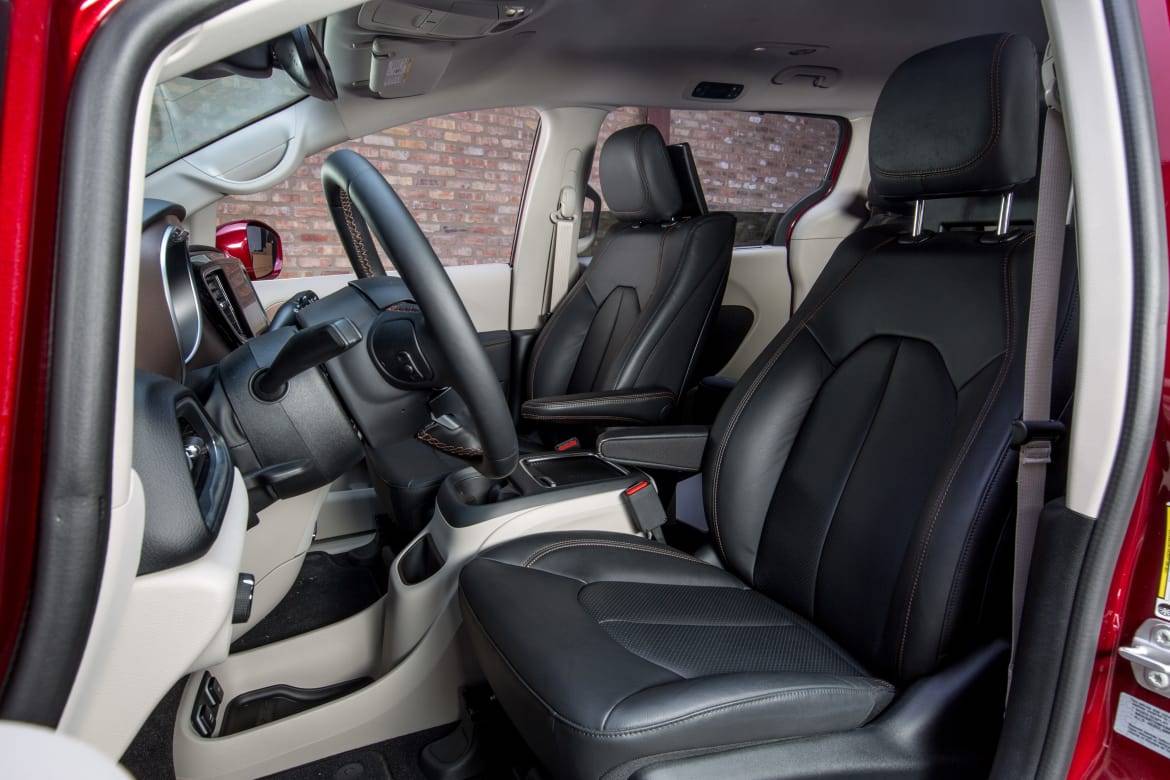 Second-Row Comfort

Winner: Honda Odyssey
Again, both vans have ample head- and legroom in the second row, so this was a close one; it came down to the seats themselves. The Odyssey's have an edge thanks to their larger size and extra cushioning over the Pacifica's slimmer, flatter Stow 'n Go seats. Unfortunately, the Pacifica's seats don't slide forward or backward like the Odyssey's, so you can't share available legroom with third-row passengers or take more for yourself if no one is back there.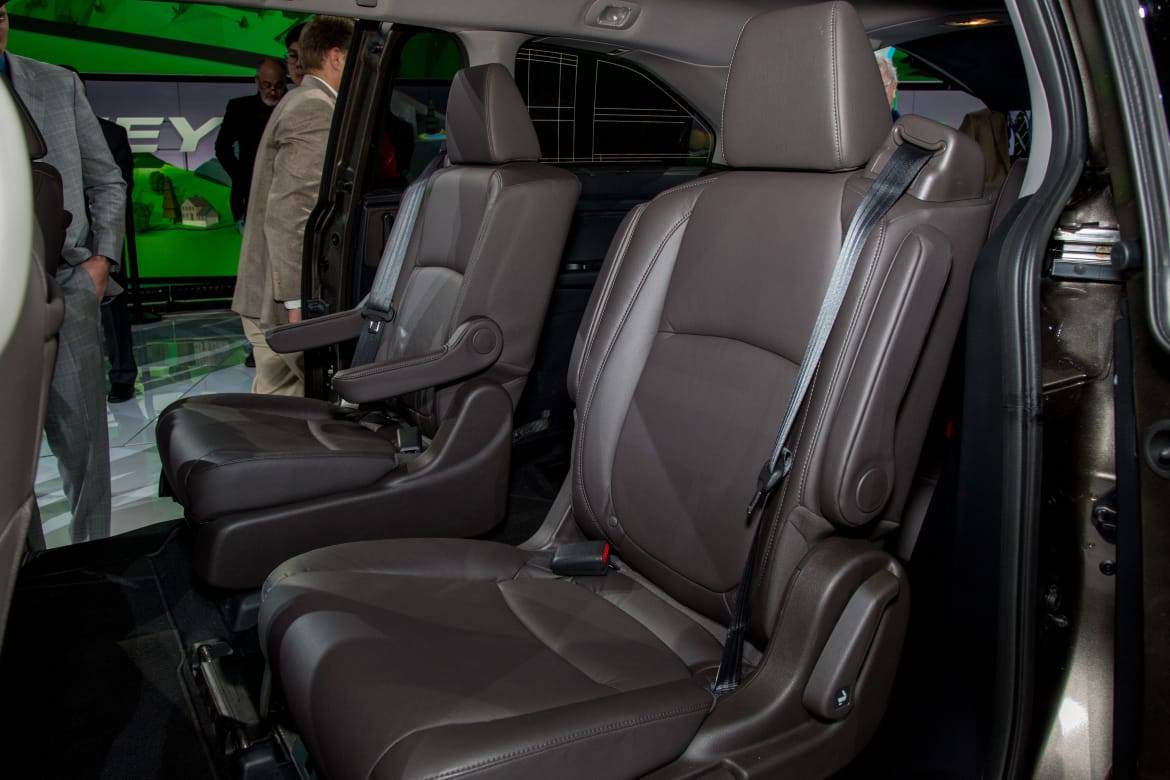 Third-Row Comfort

Winner: Chrysler Pacifica
This was another close one. In both third rows, you sit close to the floor with your knees raised; legroom is passable and headroom is fine. The Pacifica pulled ahead, however, because its lighter-colored headliner helped it seem more open and airy back there than in the Odyssey, which can feel closed off. The Odyssey got points, however, for its convenient armrest-mounted climate-control vents.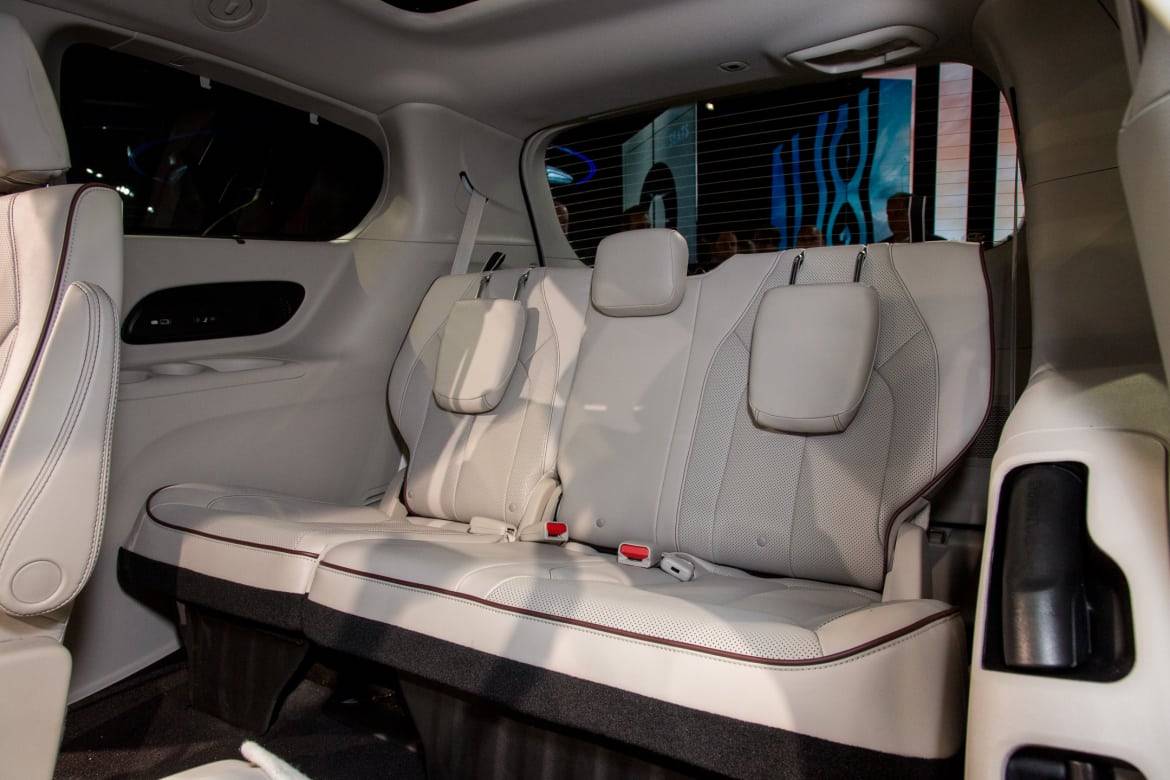 Car Seat Installation and Fit

Winner: Honda Odyssey
Both vans have plenty of room for car seats in their second and third rows, so it came down to the lower Latch anchors. In the Odyssey, they're exposed for easy connection in both rows; that's not the case in the Pacifica. The Pacifica's Latch anchors sit just inside the space between the back and bottom cushions, and we had to work hard to connect to the anchors because fabric partially obstructs them. The Odyssey also earned extra points because its second row slides to make more room for third-row occupants.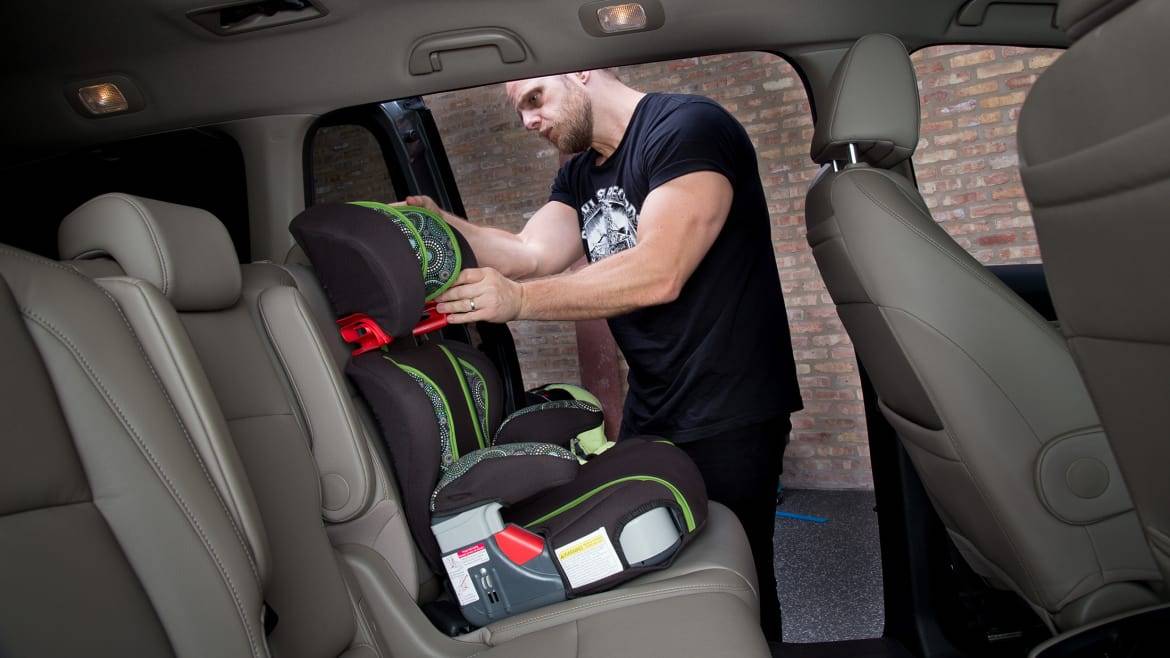 Interior Versatility

Winner: Chrysler Pacifica
This is a big category for these vans; they both offer loads of interior versatility, but in very different ways. Each vans' third row tumbles easily for more storage, but how the automakers approach second-row versatility is key here.
The Odyssey's second-row bench can fit three people across, but removing the center seat opens up a ton of flexibility and enables the Magic Slide system. The outboard seats can slide both forward and back and side-to-side into various positions. This setup is helpful when you need to create a large pathway to the third row even when rear-facing car seats are installed. It's also a boon when you need to separate feuding kids; push them to the sides of the van leaving space — and peace — in between.
The Pacifica's seats are equally magical but for hauling cargo instead of people. Chrysler's Stow 'n Go seats are useful in a lot of ways: Not only do they easily fold into underfloor bins — switching the van from people hauler to cargo hauler in a pinch — but when the seats are upright, the empty bins are the perfect place to stash stuff out of sight. For 2017, Chrysler improved the already excellent system with wider, cushier seats and an enhanced folding maneuver. If you want to remove the seats in the Odyssey, you have to physically take them out; they're very heavy and need to be stored somewhere.
Although this was another close one, the Pacifica gets the nod in this category for being able to quickly morph from people hauler to stuff hauler with ease.
Cabin Storage

Winner: Honda Odyssey
The Odyssey's enormous front center console earned it major points with its deep storage bin and expandable front section. The Pacifica's center console expands rearward, but its top bin is puny. The Pacifica's door pockets seemed smaller and less useful than the Odyssey's, but we appreciate its in-floor storage bins.
Controls and Multimedia

Winner: Chrysler Pacifica
The Odyssey's new Display Audio system is a big improvement over last year's cluttered two-screen setup. Although it's nice to see a volume knob next to the screen, the overall design needs further streamlining: There are still too many controls, making it look messy — especially next to the Pacifica's cleaner interface. The Pacifica's Uconnect system is a high point of the cabin; the large screen looks modern and is responsive, and the menu structure is easier to use. Apple CarPlay and Android Auto connectivity is a plus for the Odyssey, however.
The Odyssey also lost points for its odd electronic gear selector. It looks awkward nestled within the climate controls and feels awkward to use. The Pacifica's knob-style shifter fits better visually on the panel and is more intuitive to use.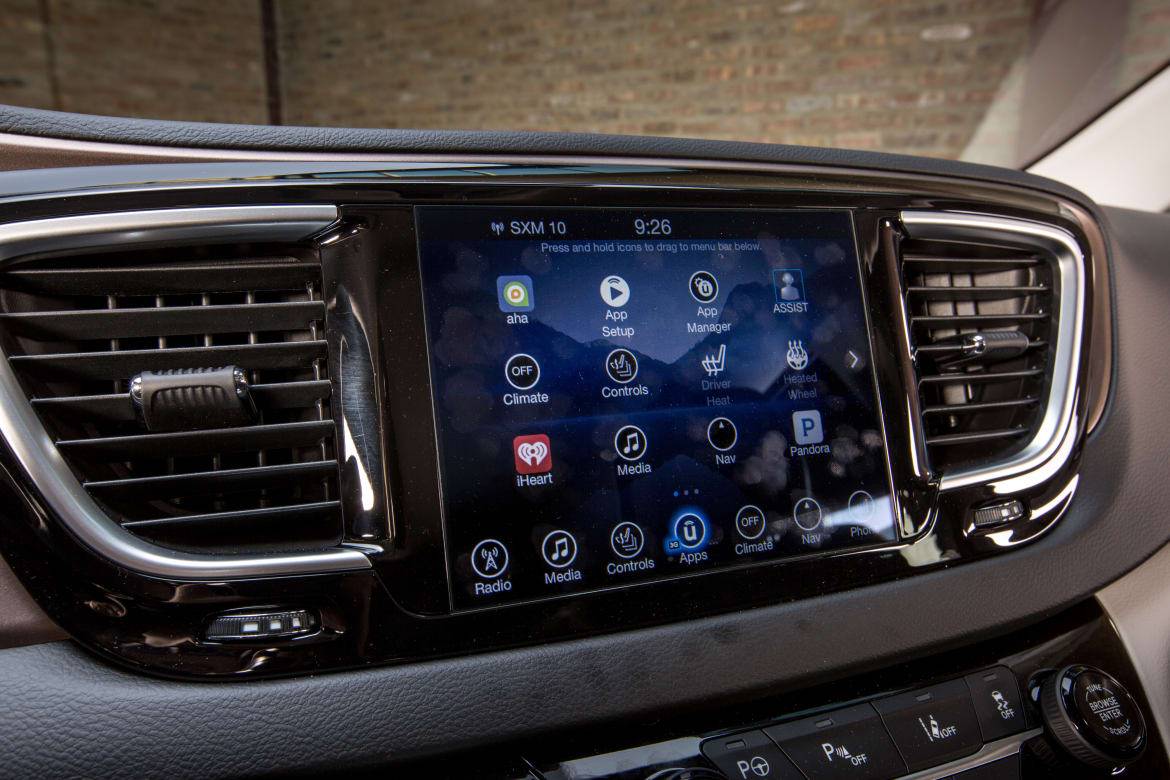 Features

Winner: Tie
Both vans have so. Many. Features. Small features like the Pacifica's remote-start system, one-touch sliding-door button, and heated first- and second-row seats stand out, but the biggest win comes from its dual touchscreen backseat entertainment system. Uconnect Theater should help quell any battles about what to watch or play before they happen, and there are plenty of ports for connecting your own devices and media if you get tired of the system's built-in games. The Odyssey also is chock-full of convenience features — such as heated and ventilated front seats and remote start — as well as some things that might not matter as much — like the built-in vacuum cleaner (also optional on the Pacifica) and the CabinWatch rear-seat surveillance system and CabinTalk voice projection system.
Ride and Handling

Winner: Chrysler Pacifica
Minivans are not known for their corner-carving abilities, so — not surprisingly — neither of these vans feel particularly sporty. The Pacifica does a better job managing its weight in corners than the Odyssey, which exhibits more body roll. Ride quality is reasonably smooth in both vans, but the Odyssey's suspension transmits more road imperfections to the cabin.
Acceleration

Winner: Chrysler Pacifica
The Pacifica pulled far ahead in this category (as it did at the drag strip against a Toyota 86). It's responsive from a stop with quick, ample low-end pep. The Odyssey's V-6 feels strong, and the 10-speed automatic is cooperative most of the time, but seriously bad kickdown lag is a problem: Floor the gas pedal at highway speeds and the transmission waits a couple of seconds before doing anything; when it does kick down, it drops to a low gear that sends engine rpm skyrocketing. Kickdowns from the Pacifica's nine-speed automatic transmission are more predictable — and thankfully, less eventful.
Worth the Money?

Winner: Chrysler Pacifica
Minivans are made for families, and these two vans have a lot of offer, but the nod here goes to the Pacifica. It was the cheaper van in this comparison ($43,765 for the Touring L Plus model to the Odyssey Elite's $47,610 price) and packed a lot in for the money. Its features, from the Uconnect multimedia system to the fold-into-the-floor second-row seats, are easier to use and provide more utility. Although we were impressed by the Magic Slide system, some of the Odyssey's features are harder to use (Display Audio system) or are of suspect benefit (CabinWatch). 
Results

Winner: Chrysler Pacifica
Of the 11 categories, The Pacifica nabbed 7 wins and the Odyssey 3 (with one tie). The Pacifica edged out the Odyssey with 154 points to the Honda's 141 points, most notably scoring higher than the Odyssey in handling, acceleration and controls. Both vans are capable and comfortable, but the Pacifica's driving dynamics were a big bonus in a segment known for its slow, unwieldy road manners. Though we didn't judge styling, the Pacifica's good looks add to its total package, too. The words "minivan" and "style" don't usually appear in the same sentence, but the van's sleek profile and classy, sweeping grille make it look more upscale than even some luxury SUVs — so everybody wins.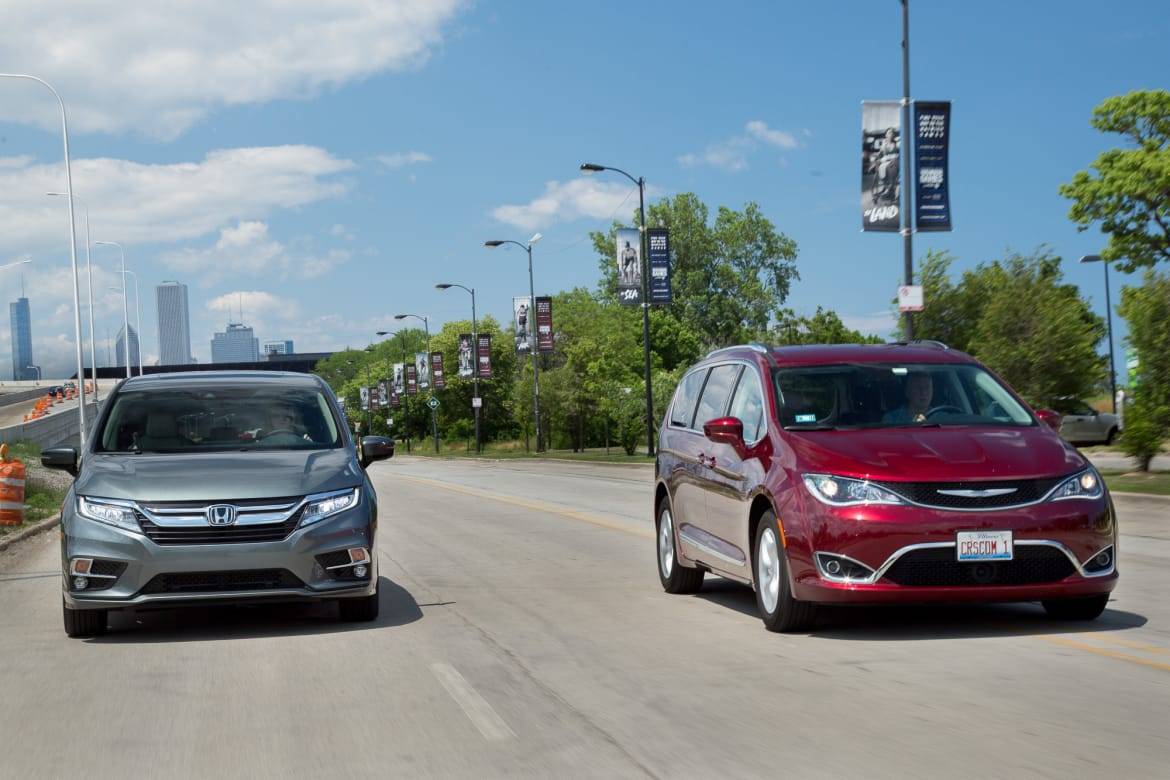 Editor's note: This story was updated on July 24, 2017, to reflect that the Pacifica's floormats above the bins do not need to be removed before accessing the storage compartments.
Cars.com's Editorial department is your source for automotive news and reviews. In line with Cars.com's long-standing ethics policy, editors and reviewers don't accept gifts or free trips from automakers. The Editorial department is independent of Cars.com's advertising, sales and sponsored content departments.