2017 Kia Cadenza Review: First Drive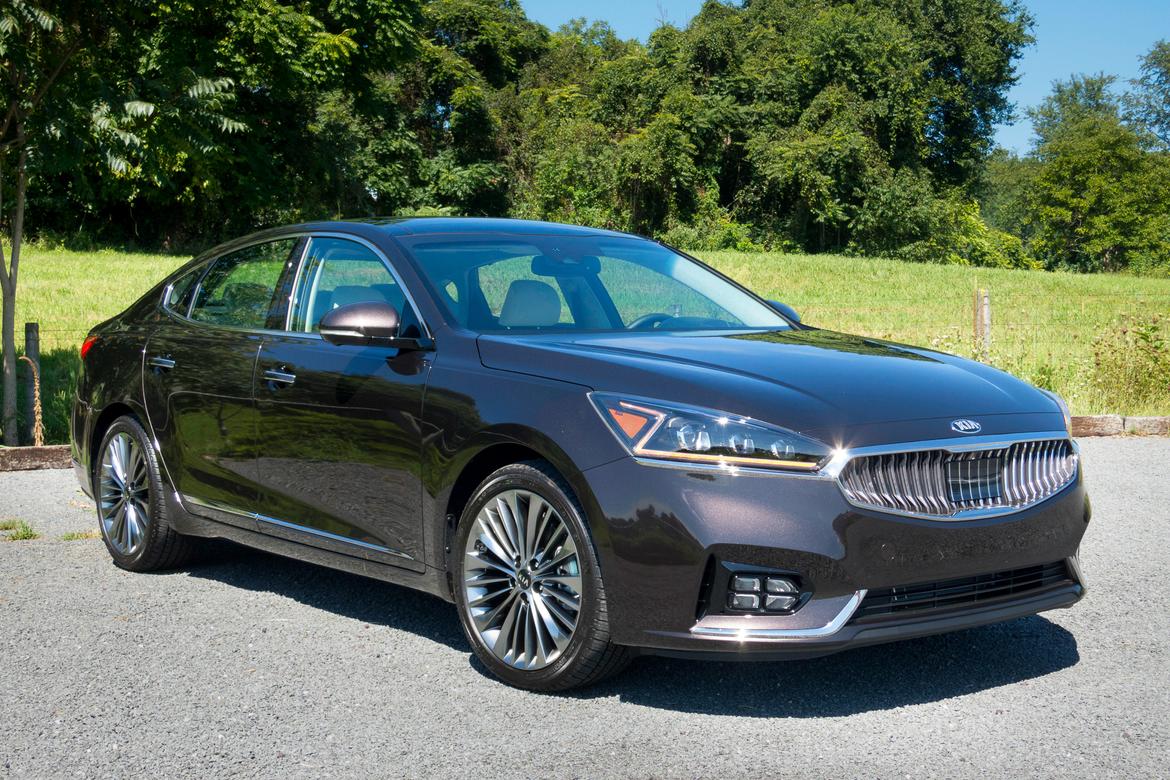 CARS.COM — Kia's redesign of the 2017 Cadenza significantly refines a car for buyers who want the stretch-out space and feature glut of a full-size luxury sedan at the price of an entry-level compact car from an established luxury brand.
Kia will need buyers of this description in order to grab a share of the pie in the near-premium full-size sedan market, a mixed-bag that ranges from boulevard cruisers to would-be sports sedans, from hybrids to V-8s. The battle is only getting more cutthroat as makers fight over the shrinking pool of buyers who will spend this kind of money on a big car rather than an SUV.
Related: 2017 Buick LaCrosse Review: First Drive
Give Kia points for sticking with it, rolling out a new generation of a car that has had total sales of fewer than 30,000 since it rolled out as a 2014 model. Kia continues to see competing in new segments as a key strategy in its rise to mainstream brand status from its past as a purveyor of cheap rides for the budget-impaired. In that sense, fielding a legitimate rival to the likes of a Toyota Avalon or Buick LaCrosse probably does more for Kia's image than does its pricey K900 luxury yacht.
And the remade Cadenza is, in fact, a legitimate contender, better all-around than its predecessor. It has to be because its rivals are a moving target: The LaCrosse is redesigned for 2017, Nissan's Maxima got a full makeover for 2016, and the Avalon and Lincoln MKZ have been recently refreshed.
For a Certain Kind of Buyer
In keeping with the Cadenza's upscale aspirations, Kia hosted the new version's national introduction in Middleburg, Va., a historic town in the heart of the state's posh horse country. In contrast to the usual automaker pitch claiming its latest product will lure the elusive younger buyer out of their Uber, Kia officials were candid that this vehicle is aimed at older buyers, equally men and women, they say, who still want a big comfortable car with lots of premium features. Kia says they are loyal buyers who don't really look at anything else. At the introduction, the car's millennial-era exterior designer summed up one of his goals for the Cadenza as creating a car his dad would want but wouldn't be embarrassed to drive.
The new Cadenza's trim lineup is Premium, Technology and SXL Limited. I tested the top trim.
Looking Good Is Half the Battle
The new Kia got a subtle lift here and tuck there rather than radical cosmetic surgery, but the overall look is a lot more like an upscale European car and a lot less like a dressed-up version of Kia's Optima mainstream sedan, with which the Cadenza shares its platform.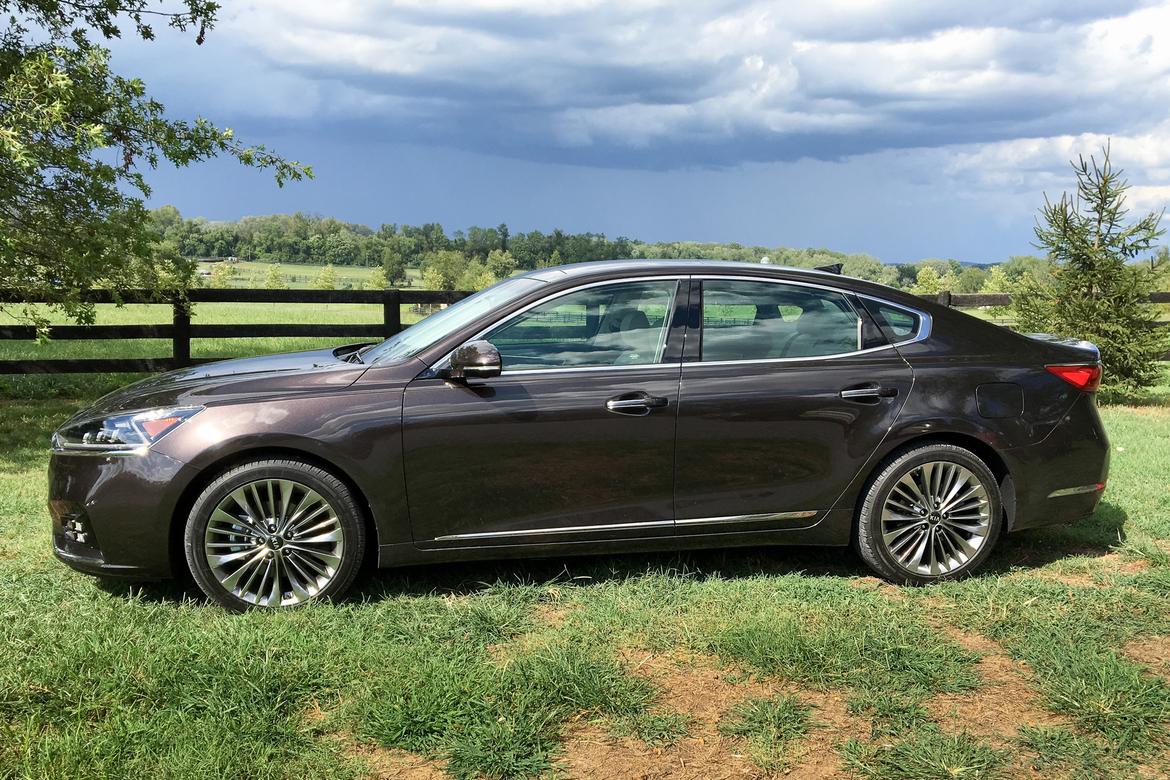 The new version is slightly lower and wider than the old model on a wheelbase stretched about a half-inch. It's not longer overall, but it looks that way, an effect amplified by a wider grille and headlight pods that stretch around the corners. The headlight clusters include striking Z-shaped LED daytime running lights that impart a sense of motion; the Technology and Limited trims add full LED headlights. The Z is amber on the SXL Limited, allowing the LEDs to also function as distinctive turn signals. The LED Z accent is repeated in back with wraparound taillights, and the Zs are linked by a horizontal character line that runs the length of the car.
The greenhouse also is stretched farther to the rear, which both makes the car look longer and increases rear head room, allowing more upright seating in the rear that makes the backseat feel roomier. At 6-foot-2, I could sit comfortably in back with room to spare behind someone my height — though not in the middle seat, where a humped seat cushion and dip in the ceiling left me with my head sideways. The downside of the roofline, however, is that it makes the trunk opening smaller and less convenient, despite the power lid and its no-touch operation on the test car.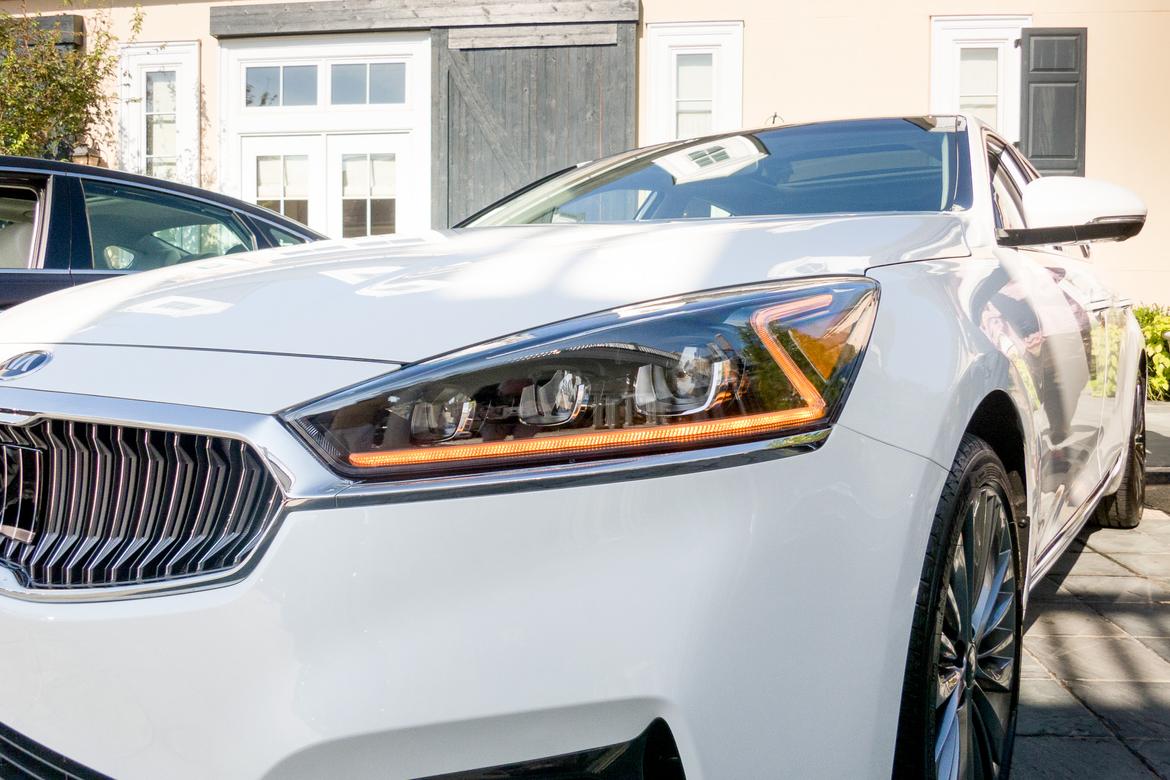 The wide hexagonal grille now has just a vestigial hint of the signature Kia "tiger nose." Fog light pods on the lower front corners (LEDs on the Technology and Limited trims) also house functional air inlets that channel air into the wheel wells to create an aerodynamic air curtain. Another new functional external feature that you don't see but might hear is a full underbody cover that Kia says cuts both drag and road noise.
That's just one of the improvements that impart an impressive hush to the interior, along with more sound insulation and acoustic glass for the windshield and front windows.
Comfort Is a Need, Not a Want in This Class
You ride in comfort as well as quiet in the new Cadenza's cabin. A makeover ups its game in design and technology, and provides a lengthy list of standard and optional premium features. The interior design also has taken a more European turn, though the "near" in near-premium showed in the juxtaposition of luxurious and not-so-much materials. The loaded test car's Nappa leather felt good, and the seats were comfortable through a long day's drive on mostly rural two-lane roads of varying quality as well as on winding roads into the mountains of Shenandoah National Park.
Most of the surfaces you touch feel good; the suede-like covering for the pillars and headliner also impart a quality look and feel. But hard plastic strikes a different note on surfaces closer to the floor and on the lower door panels. Perhaps most discordant, given the $40,000-plus price of the top-trim SXL Limited test car, were the front seats' hard plastic seatbacks.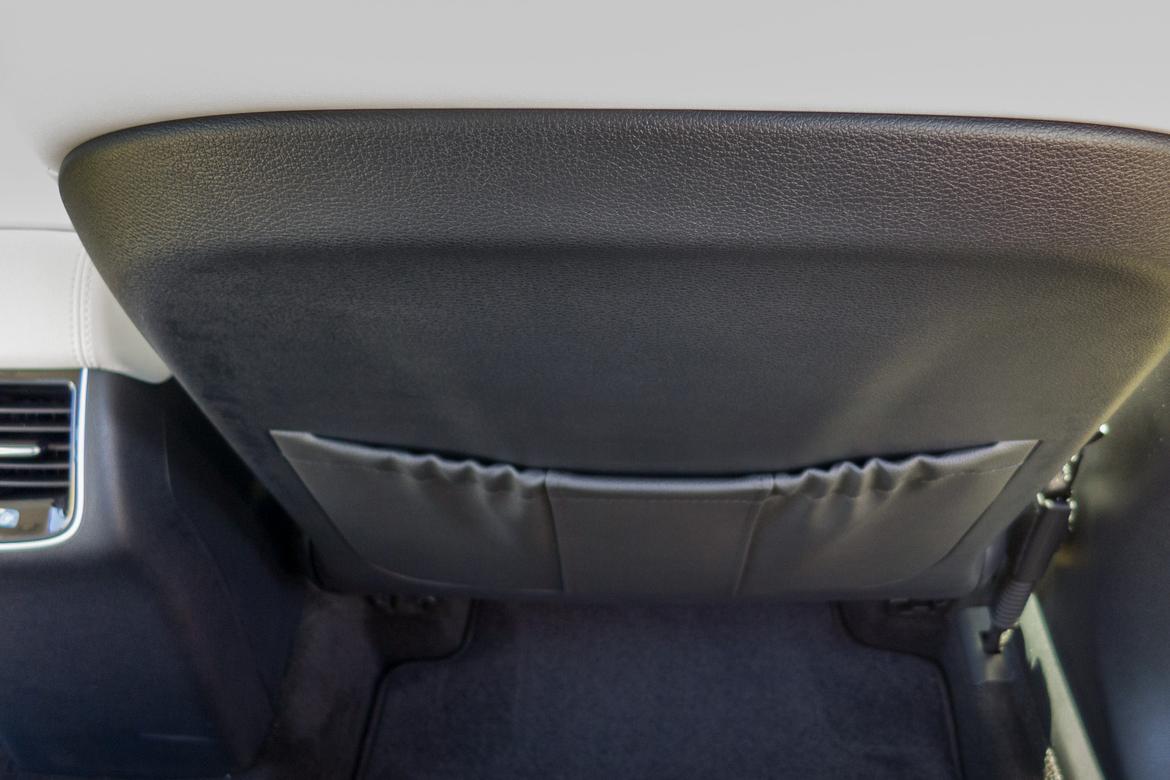 More consistent was the quality and attention to detail in the new technology and array of creature comforts, from the heated steering wheel and heated and cooled seats to the power sunshade in the rear and panoramic moonroof overhead. There is little to leave the buyer wishing they had spent more for a luxury nameplate. The car has the latest Kia UVO multimedia system, with an 8-inch touch-screen and standard Apple CarPlay and Android Auto. Screen response is a little slow, but there is a welcome array (even at the price of some visual clutter) of knobs and switch shortcuts, and voice commands were quickly recognized. The test car also came with an impressive 12-speaker Harman Kardon audio system with digital surround sound. Instrumentation included a head-up display, though it did not play well with my polarized sunglasses.
Neither Sport Sedan Nor Boat
Rather than spirited driving, a car like this is about sitting back and enjoying the ride. The new Cadenza provides that without being sloppy: Power is from an updated 290-horsepower, 3.3-liter V-6 mated to a new eight-speed automatic designed in-house by Kia. It now has a manual mode via the shift lever or optional wheel-mounted paddles. That might seem gratuitous in this car, which handles capably but does not invite carving twisty roads, but it was useful on this drive to manage engine braking in the mountains. Shifts were generally positive, though the transmission hesitated a couple of times making up its mind on downshifts. A Sport mode perks up throttle and transmission response, but not aggressively, and it was my preferred setting.
The brakes, with discs increased by an inch, were firm and linear. The steering is still a bit numb, less so thanks to upgrades in its electric assist. The ride is tuned for comfort, but suspension upgrades offer more road feel without more bumps.
Adding to a nimbler feel is that the new car is lighter and has a structure Kia says is 35 percent stiffer than the outgoing model. City and combined gas mileage improved by 1 mpg each to 23/20/28 mpg city/highway/combined.
Kia offers a full roster of standard and optional driver safety technology on the new car, including backup and surround-view cameras, forward collision warning with automatic emergency braking, lane departure warning and high-beam assist. The adaptive cruise control operates down to stop-and-go traffic; available blind spot detection includes not only visual and audible warnings, but it will brake the front wheel on the opposite side if you drift toward a vehicle in your blind spot.
Value Still Matters
Kia's rise to a first-place finish in the latest J.D. Power U.S. Initial Quality Study should boost acceptance of the new Cadenza, though another key factor in its success will be whether Kia's dealers deliver a near-premium owner experience to match the price.
Prices have not been set, but Kia says the base Premium will start at near $33,000 with destination, about $1,000 less than the former base entry trim, and the top SXL Limited will be priced less than $45,000, also down about $1,000. The mid-level trim, now Technology, has been repositioned with added standard features and a $4,000 price bump to about $40,000. The Cadenza is expected to arrive at dealers in late October.
While the pricing is competitive with other near-premium full-size sedans, the Cadenza's toughest competition may be the higher trims of Kia's capable and stylish — but substantially cheaper and nearly as roomy — Optima midsize sedan.
2017 Kia Cadenza; Cars.com photos by Fred Meier