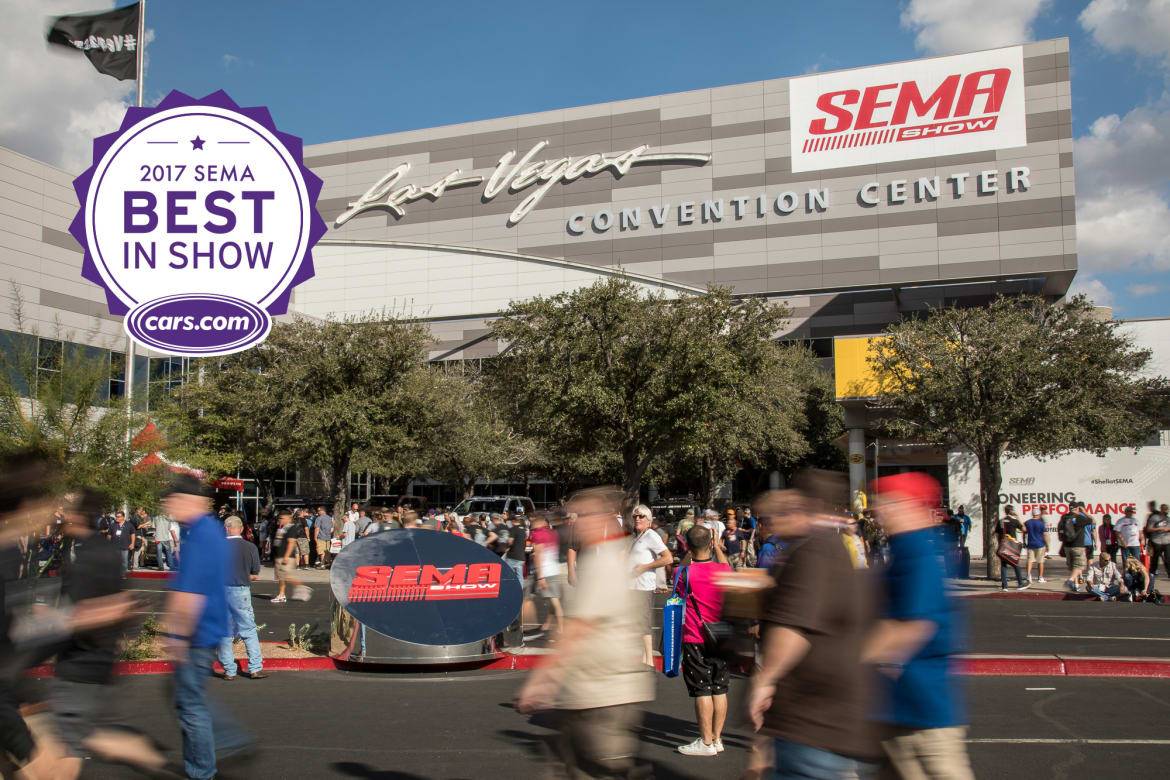 CARS.COM — The 2018 Kia Stinger GT is an unlikely candidate for a Best in Show award at the 2017 Specialty Equipment Market Association Show, an industry-only collection of the latest automotive aftermarket and high-performance parts that's heavy on highly modified muscle cars, big trucks, vintage steel and high-end exotics. A Kia just sounds out of place in that set, doesn't it? Cars.com was also somewhat out of place because Las Vegas' SEMA Show isn't one we usually cover, but increased automaker news and products led us to the desert to check out the 1.2 million square feet of exhibit space.
Related: 2018 Kia Stinger and Stinger GT: First Drive
I was left just as smitten with the 365-horsepower, twin-turbocharged rear-wheel-drive hatchback after the SEMA show as I was when we named the Stinger GT Cars.com's Best In Show of the 2017 North American International Auto Show in Detroit. At SEMA 2017, a vibrant orange Stinger GT was fitted with a curated selection of aftermarket parts that took it from a 10 to an 11.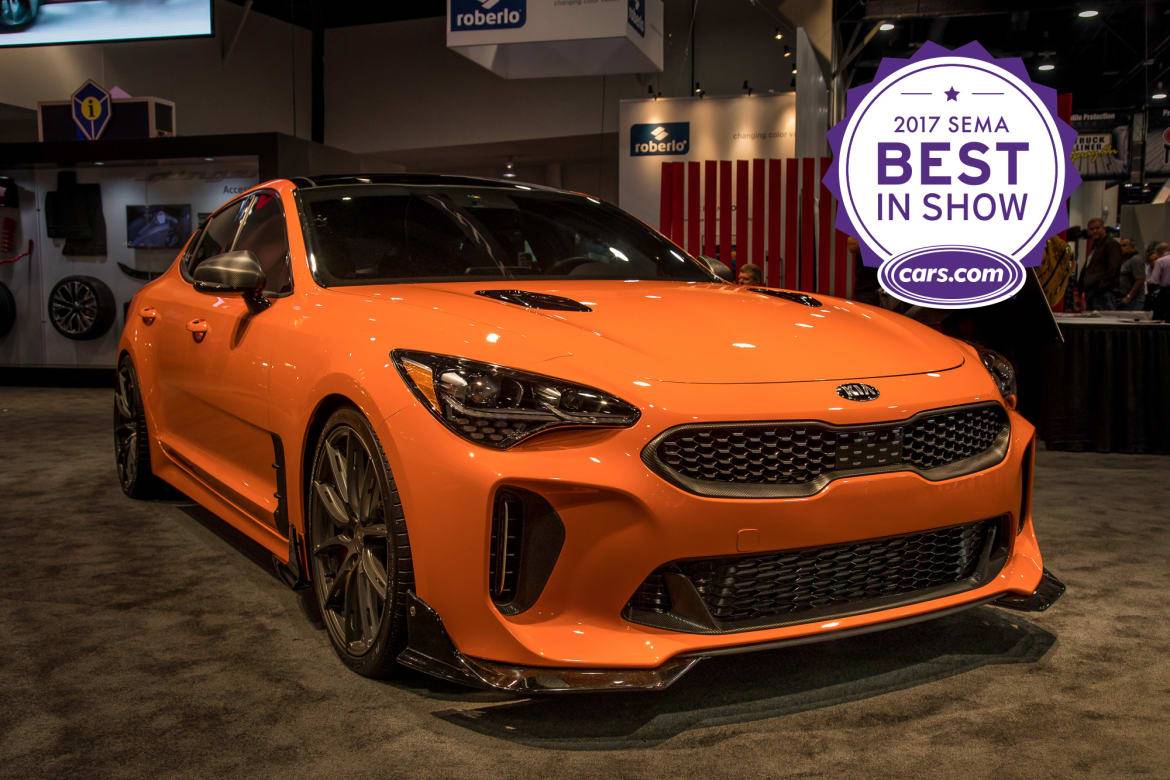 Parts 'n' Paint
Eibach lowering springs bring the Stinger GT Federation closer to the ground for a meaner stance; TSW 20-inch wheels better fill the wheel wells; and aero bits from Air Design USA seal the deal on making the Stinger GT Federation look even more expensive than it really is, a trait the regular Stinger GT already nails. The one-off orange paint on the show car helps, too; Kia, make this fetching paint job happen.
These parts — in addition to a Borla exhaust and K&N intake that bump horsepower to 380 hp — will be available for purchase through their respective manufacturers when the Stinger GT goes on sale in December.
'That's a Kia?'
More than the parts, however, was the reaction of show-goers that swayed my decision. To be completely honest, I was ready to give Cars.com's SEMA Best in Show award to the 707-hp Hellcat crate engine and installation kits, which appeared in a faithfully recreated 1970 Plymouth Superbird with a six-speed Tremec Magnum manual transmission in the Mopar booth.
But then I started overhearing people pass by the Kia Stinger GT Federation show car and ask, "That's a Kia?" or "What is this?" So I stuck around and started asking onlookers' opinions, and the reactions continued to surprise me. One show-goer proclaimed he didn't think he'd ever consider shopping for a Kia but changed his mind after seeing the Stinger, and another said she hasn't liked any Kias until seeing the Stinger GT.
The Cool Factor
There's no written formula for how we choose an auto show "Best in Show" award, but it's judged by a "cool factor" when a car stands out in a crowd or is something we want to revisit later in the day for the fun of it. In the case of the Stinger GT, it's one we want to and can drive because it's a car that shoppers can buy next month — and for me and others at SEMA, actually drive on a small autocross course as part of Kia's massive Stinger GT experience that included a ride-along drift demonstration.
With its mild set of aftermarket parts available at launch — ones that could address my complaints about the regular car handling a touch soft — I look forward to seeing Stinger GTs that could show up to the 2018 SEMA Show after it's already been on sale for a year. This could just be the tip of the iceberg for modifying Kia Stingers.
Cars.com's Editorial department is your source for automotive news and reviews. In line with Cars.com's long-standing ethics policy, editors and reviewers don't accept gifts or free trips from automakers. The Editorial department is independent of Cars.com's advertising, sales and sponsored content departments.