2017 Subaru Impreza: What You Get for $23,000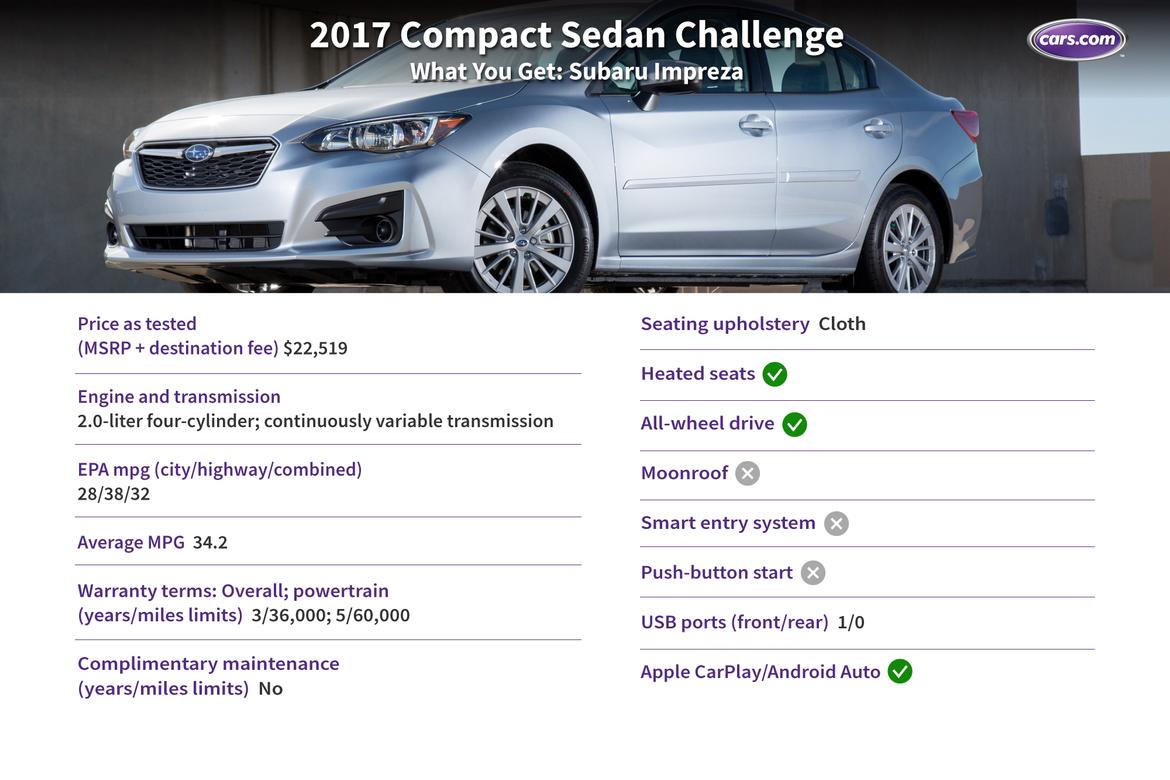 CARS.COM — The 2017 Subaru Impreza 2.0i Premium in Cars.com's 2017 Compact Sedan Challenge was priced mid-pack at $22,519 with destination, and besides one big differentiator, it didn't necessarily stand out in the number of features it had for the money.
The 2017 Compact Sedan Challenge
Results | Safety Features
Standout Features
Simple: all-wheel drive. The Impreza was the only car tested with all-wheel drive and the only one that offers it in the group, period. That may be a deal-sealer for many, but if you don't need it, then you can rest assured you'll be able to get more features for the money elsewhere in the class. The Impreza was also one of five to have Apple CarPlay and Android Auto. In addition to the standard 2.0i Premium equipment, our test car came equipped with all-weather floormats, a cargo tray, and a mirror with HomeLink and a compass.
What's Missing
This was one of two without a smart entry system where you can walk up to the car with the key in your pocket or purse and the door unlocks when the handle is pulled. Subaru owners of previous generations will recognize the fixed key and fob despite the car itself being all new. There's also no moonroof and only one USB port. This Impreza also didn't have Subaru's EyeSight crash avoidance technology, while others did have precollision systems.
Editor's note: Cars.com's What You Get series is a component of our multicar comparisons where we spend a week testing a class of vehicles to find the best one. Each car meets a price limit, which is set by Cars.com, for the comparison. The 2017 Compact Sedan Challenge tested the 2017 Chevrolet Cruze, 2017 Honda Civic, 2017 Hyundai Elantra, 2017 Kia Forte, 2017 Mazda3, 2017 Subaru Impreza, 2017 Toyota Corolla and 2017 Volkswagen Jetta.