2017 Toyota RAV4 Vs. RAV4 Hybrid: Mileage Matchup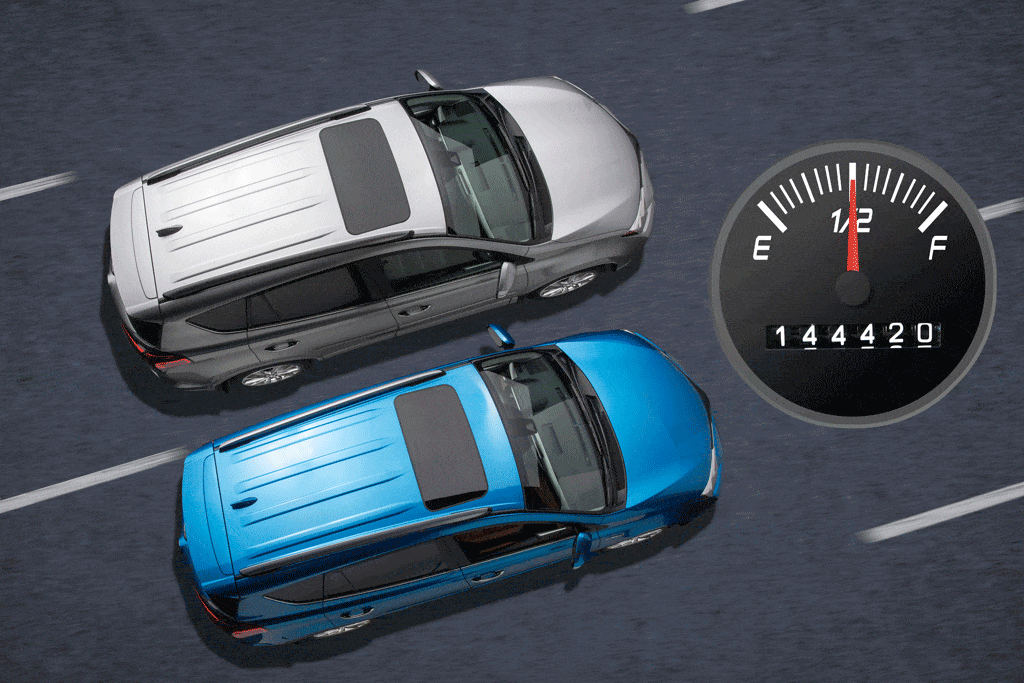 CARS.COM — The words "SUV" and "fuel economy" don't usually go together, but many compact SUVs are no slouch when it comes to getting good mileage, and lately, automakers have been upping the ante by adding hybrid versions to their lineups. One of the latest to enter the fray is the Toyota RAV4. The RAV4 Hybrid model is EPA-rated at 34/30/32 mpg city/highway/combined — higher than the rating for the gas-only Limited all-wheel-drive model that we tested, at 22/28/24 mpg.
How do the two compact crossovers compare in terms of real-world driving? We hit the road to find out.
Related: How Fuel-Efficient Is the Chrysler Pacifica Hybrid?
We took both models on a 126-mile loop from Cars.com's downtown Chicago headquarters to Kenosha, Wis., and back, traveling a mix of city streets, interstate highways and rural backroads. When we got back to the pump, the regular model's trip computer read 30.6 mpg and the hybrid model's read 33.0 mpg — both better than the EPA's combined rating for each car. Our fill-up calculations were a bit different, though. We calculated that the hybrid got 41.1 mpg and the regular model 30.7. Averaging the two figures for each returned fuel economy of 30.65 mpg for the regular model and 37.05 for the hybrid.
Why the big difference between the hybrid model's trip computer and our calculations? We're not sure.
We reached out to Toyota to see if the trip computer uses a different formula to calculate fuel economy, as we learned the Chrysler Pacifica Hybrid does when we tested it. Toyota representative Marissa Borjon confirmed that "any [electric vehicle] mode driving should have been factored into the fuel economy that you can find on the Multi-Information Display."
The RAV4 Hybrid combines a 2.5-liter four-cylinder engine with an electric motor and a nickel-metal-hydride hybrid battery back. The hybrid can drive on battery power alone in EV mode, but not for long: Toyota says that in EV mode, under certain conditions, it will run solely on the electric motor for up to 0.6 miles at lower speeds (slower than approximately 25 mph). During our test, we found the mode unpredictable and hard to sustain. It engaged and affected our fuel economy, but by just how much was tough to pin down.
Aside from differences in driving characteristics — like the hybrid model's firm regenerative brakes and whirring electronic noises — there's another big item that sets the hybrid apart: cost. When we filled up after the trip, the regular model took 4.13 gallons of fuel ($12.39) and the hybrid 3.07 gallons ($9.21). The cost savings is clear at the pump, but what will it cost at the dealership to get those savings?
The 2017 Toyota RAV4 Hybrid starts at $30,025, and the base model RAV4 is the XLE AWD trim level; a comparable non-hybrid XLE AWD starts at $27,895 (all prices include destination). If your hybrid car priority is to save money, consider this: The price premium is a couple of thousand dollars, and with gas prices still trending on the low side, it'll take a while to make up the difference. If your hybrid car priority skews more toward saving other types of green (say, the environment), then the RAV4 Hybrid's modest fuel-economy bump is a good start.
Cars.com's Editorial department is your source for automotive news and reviews. In line with Cars.com's long-standing ethics policy, editors and reviewers don't accept gifts or free trips from automakers. The Editorial department is independent of Cars.com's advertising, sales and sponsored content departments.