2018 Honda Clarity Plug-In Hybrid's 47-Mile Range Bests Rivals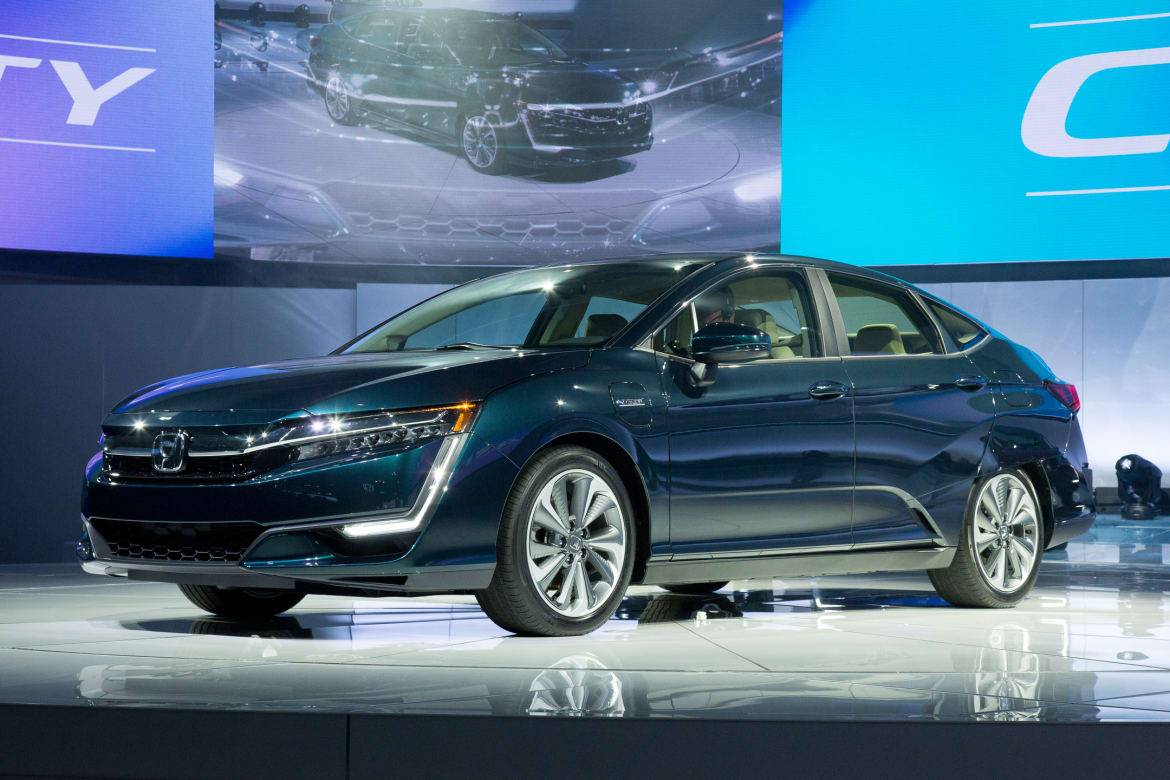 CARS.COM — Honda has announced that its plug-in hybrid Clarity mid-size sedan has achieved an EPA-rated range of 47 miles on a charge before the engine kicks in to operate as a regular hybrid.
Related: 2017 Honda Clarity Fuel Cell Review: First Drive
The Clarity is actually a family of electrified vehicles, and the plug-in gasoline-electric hybrid is the last to arrive. A fuel-cell electric version became available in 2016 in markets with hydrogen availability, and a battery electric version with an EPA-rated 89 miles of range went on sale on the West Coast this year.
The plug-in hybrid, unveiled this spring along with the battery EV, will go on sale nationwide later this year and will be the volume model. Pricing has not been announced, but Honda said at the unveiling that it would start in the "mid-30s"; the automaker did not specify if that price range included any government plug-in hybrid electric vehicle incentives. It will offer base and Touring trims.
The Clarity plug-in's range of 47 miles is the top EPA range rating among mid-size PHEV rivals, including the Toyota Prius Prime (25 miles), Kia Optima (29) and Ford Fusion Energi (21). And it falls just under the smaller Chevrolet Volt compact sedan's 53 miles. Running on gasoline as a hybrid, the Clarity is rated at an estimated 42 mpg in combined city and highway driving, which compares with 54 mpg for the Prius Prime, 42 for the Fusion Energi and Volt, and 40 for the Optima. Compare them here.
The Clarity's power will come primarily from a 181-horsepower electric motor with 232 pounds-feet of instant torque. Energy is stored in a 17-kilowatt-hour battery pack, which takes 2.5 hours to fully charge on 240 volts, Honda says. The gas engine is an Atkinson cycle 1.5-liter four-cylinder that powers a generator and, under certain conditions, will provide direct power to the wheels. It has Normal, Econ and Sport modes to let drivers balance energy efficiency and performance, and it also offers a battery-management feature that lets you save the battery charge for later in a drive.
The appeal of a PHEV is based on the idea that you can do most of your daily driving on electric, with overnight charging, but have the hybrid mode available as needed for no "range anxiety." Our real-world test of the Optima PHEV indicated that the electric range is achievable in daily commuter traffic, backed by hybrid security for unexpected demands.
These mid-size plug-ins offer that greater efficiency with most of the practical attributes of a conventional mid-size sedan. Time spent in a fuel-cell version of the Clarity indicates that, while its looks are a little offbeat, the Clarity Plug-In Hybrid feels as much like a "real" mid-size car as the Accord regular hybrid, with a comfortable, well-trimmed interior and a full range of Honda multimedia and advanced safety technology.
The Clarity family is part of Honda's effort to have electrified vehicles be two-thirds of its global sales by 2030.