2018 Land Rover Range Rover, 2019 P400e Hybrid Preview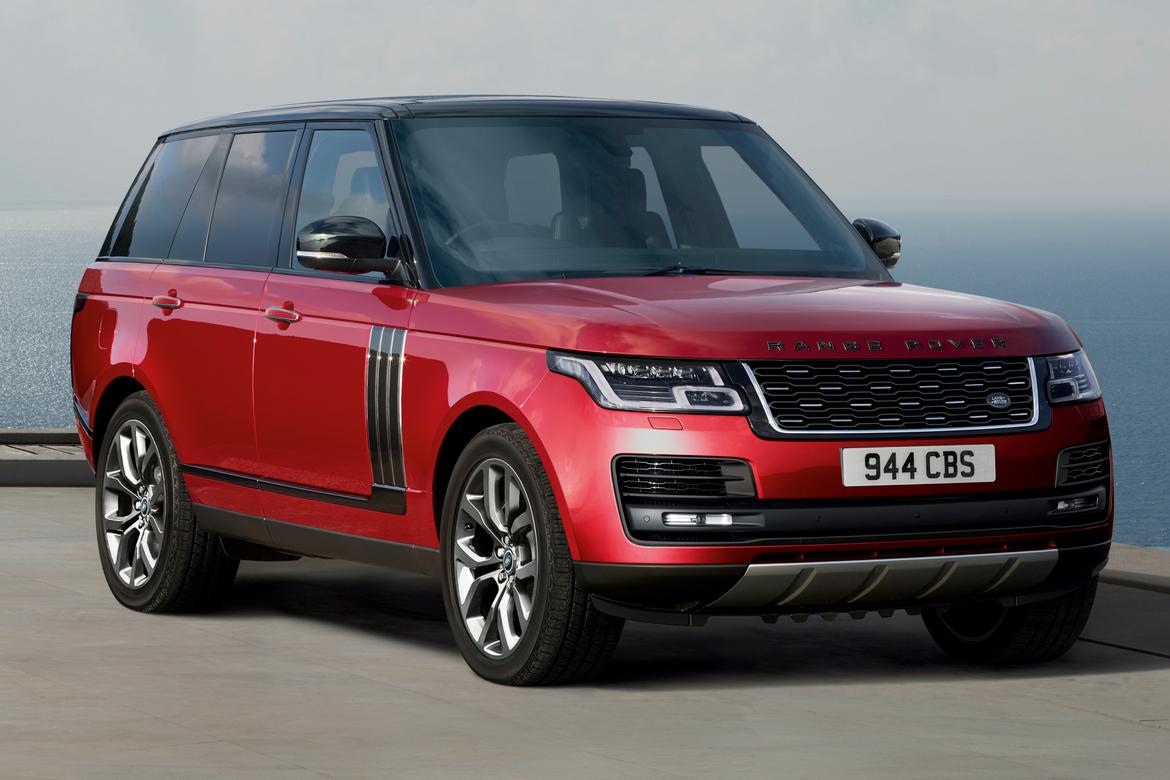 CARS.COM
Competes with: Porsche Cayenne, Maserati Levante, Mercedes-Benz GLS-Class, Cadillac Escalade
Looks like: It did before the redo
Drivetrains: 340-horsepower or 380-hp, supercharged 3.0-liter V-6; 254-hp, turbo-diesel 3.0-liter V-6; 518-hp or 557-hp, supercharged 5.0-liter V-8; 398-system-hp, turbocharged 2.0-liter four-cylinder hybrid; eight-speed automatic transmission; standard all-wheel drive
Hits dealerships: Late 2017 (for the 2018 model)
The flagship model of the Land Rover brand is getting some updates to its features and looks, as the 2018 Range Rover lineup has been unveiled. Powertrains have not changed, with the exception of the new top-trim SVAutobiography Dynamic model. And hot on the heels of the new 2018 version will be a Range Rover first — a model-year 2019 plug-in hybrid that continues Land Rover's trend of offering an electrified powertrain in every vehicle by 2020.
Related: Jamie Oliver's Land Rover Discovery Makes Meals on Wheels, Literally
Exterior
Outside, the new Range Rover gets some subtle updates. New LED headlights are fitted, and a new grille with mesh and colors that vary by trim model sit up front. The hood is now longer as well, while a new front bumper with widened vents is added.
Out back, another new bumper is present, featuring integrated tailpipes. There are six new wheel designs, two new metallic paint colors and two exterior black trim packages — the Black Exterior Pack or Shadow Exterior Pack, depending on which accent color you prefer.
2018 Land Rover Range Rover
Interior
The bigger changes are coming inside, where a completely redesigned cabin layout has been installed. New seat frames up front are wider and deeper, and they feature heated armrests and optional 20- or 24-way movement. A new Executive Seating option is available for backseat passengers, featuring a power-deployed center console. This enables three-abreast seating or two passengers side-by-side with the console in the middle.
The backseats and cargo area have also been redone, offering a 40-degree power recline with optional heat and hot stone massage. The long wheelbase model allows for 7.3 inches more rear legroom than the standard wheelbase Range Rover, for a total of 47.5 inches for backseat passengers.
The cabin now features up to 17 connection power points for passenger electronics. Those include standard household power plugs, USB and HDMI ports, and 12-volt automotive power sockets. A 4G Wi-Fi hot spot can be had that will connect up to eight personal electronic devices. The seats and much of the Range Rover's new Touch Pro Duo multimedia system, which now features two 10-inch screens in the center console that can transfer controls and information between them, can also be operated with a smartphone app from inside or outside the vehicle.
Other interesting electronic updates include a gesture-controlled sunblind for the panoramic moonroof, which opens and closes when drivers flips their hand backward or forward from the rearview mirror area. The shade also closes automatically when all occupants have left the vehicle and it has been switched off in an effort to keep the Range Rover cool. Moreover, there's a new tri-zone ambient LED lighting feature, with a choice of 10 color combinations that can be tailored to occupants' moods.
Safety
Land Rover has reconfigured how the electronic safety features are presented in Range Rover models. Standard equipment includes a backup camera, lane departure warning, front and rear parking sensors, autonomous emergency braking and cruise control.
Several different additional options packages can bring more content to the party, such as high-speed emergency braking, lane keep assist, blind spot warning and assist, driver condition monitoring, 360-degree parking cameras with reverse traffic monitor, and even a clear exit monitor that warns backseat passengers if a vehicle is coming when they open a door into traffic on the street.
Special Models
Two special models are coming as part of the new update — the first being the new SVAutobiography Dynamic trim, a range-topping model that features a more powerful 557-horsepower, supercharged V-8 engine. In addition to some unique styling bits, it also gets a special Comfort mode as part of its adjustable air suspension system, which lowers the SUV slightly to enhance the driving experience without sacrificing comfort. The SVAutobiography Dynamic model can go from zero-to-60 mph in just 5.1 seconds, according to Land Rover.
2018 Land Rover Range Rover SV Autobiography Dynamic, Manufacturer Photo
The second special model is the new P400e plug-in hybrid model, coming for the 2019 model year. The powertrain isn't a V-6 or V-8 like the standard Range Rover, but rather a gasoline-electric hybrid that combines a 296-hp, turbocharged four-cylinder engine with a 114-hp electric motor. The system features an eight-speed automatic transmission and permanent all-wheel drive.
The P400e is powered by a 13.1-kilowatt-hour lithium-ion battery pack that can propel the Range Rover P400e up to 31 miles on electric power only, albeit at limited speeds. Recharging happens through a port behind the grille and takes "overnight" at household 120-volt power levels, according to Land Rover. Specs for Level 2 charging for American models were not immediately available, but for European-spec models, it appears to be a little more than 2.5 hours on a 32-amp circuit.
The P400e can be operated in one of three modes: Parallel Hybrid or EV mode. Parallel Hybrid is the default, and it allows the vehicle to combine electric and gasoline power to provide the most efficient method of propulsion based on conditions. EV mode shuts off the gas engine and allows for emissions-free driving. There's a Save function within the Parallel Hybrid mode that operates only with the gas engine, maintaining the battery state of charge for later use. This is especially useful in cities like London, which charge a tax for internal combustion vehicles entering certain parts of the city — but not for electric ones.
2019 Land Rover Range Rover P400e, Manufacturer Photo
Pricing
There are several trim levels of Range Rover for 2018, ranging in price from $88,345, including a destination fee, for a base model Range Rover SWB SE trim all the way up to $178,195 for the SVAutobiography Dynamic model. No pricing is yet available for the 2019 P400e hybrid, however. Vehicles can be ordered now at Land Rover dealers, with delivery set to begin at the end of 2017.